We live in the golden age of applications. Whether it's Mac, iPhone, or iPad, apps are everywhere, and they're no longer one size fits all.
One size fits all? Apps these days are inexpensive and often focus on just one feature set, do one or two things, and avoid the monolithic approach whereby an app does everything and is only feature complete when it does email. Here's two you'll like.
Lists And More Lists
Based on the number of applications for Mac, iPhone, and iPad that keep track of lists, any newcomer from a distant planet would think humans are a forgetful race with a heavy dose of short term memory loss.
Take a look at Travel PackList and you'll see what I mean. This clever and inexpensive Mac app is more suited to iPhone than Mac, but it works much the same way.
Tell me what happens when we travel from here to there and back again. We forget something, right?
Travel PackList is a listing making app specifically for travelers. Instead of trying to remember what you need to back for a trip, or what you forgot to pack for your trip, use Travel PackLists travel template lists as a starter.
Add to a template list as needed and save it as your own template to be used the next time you travel.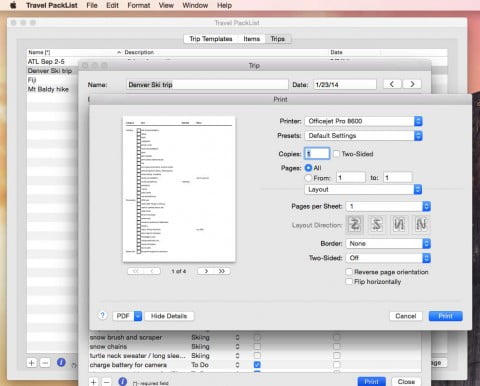 Just between you and me and the fencepost, TravelPackList is a perfect app for your iPhone, but if you're Mac-based, it works just as well.
Devices is another Mac app that personalizes lists of information you need but may not have a specific app that does the deed. Now you do.
What you get in Devices is a personal database for your devices. PCs, Macs, cameras, smartphones and tablets, refrigerators, washers and dryers, clock radios, televisions, or whatever other gadget you have that comes with a serial number and a warranty.
Devices stores each item and related information about the item, including where it was bought, the date it was bought, when the warranty expires, service and support phone numbers, and even a photo of the device. This is great for insurance purposes.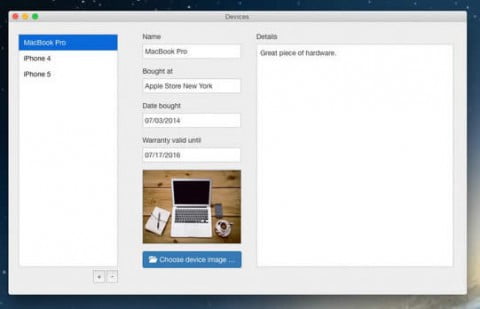 Again, Devices is more suited to iPhone and iPad and there are many such apps available for each, but if you're Mac-bound, it works great. Unfortunately, Devices is priced slightly above my threshold for throw-away money, and there's no try-before-you-buy option.