As the Miller family's official photographer and iPhoto library manager I'm called upon to turn staid and standard photos into collectables.
A photo isn't a photo in this household unless it can be transformed into a work of art, fully eligible for sharing on Facebook or Flickr. That's easier said than done in iPhoto, but the right Mac app can turn any photo into a luscious aquarelle.
Why Not Call It Watercolor?
Aquarelle is just a fancy French-like word for watercolor. Aquarella is an inexpensive Mac app that transforms otherwise pedestrian photos into the artsy craftsy world of watercolor.
Watercolor? Yes, it's that transparent, luminous artistic style that is all the rage among folks who can't do paint by numbers and can't afford oil.
Aquarella artfully blends pools of color to recreate the watercolor look, including the paper and brush details so popular among the farsighted.
The app comes with two aquarelle styles– the fluid brushstrokes and colorful washes, and the two-toned wash with softer colors.
Because aquarelle is something of an acquired taste, Aquarella comes with preset Styles to get you started.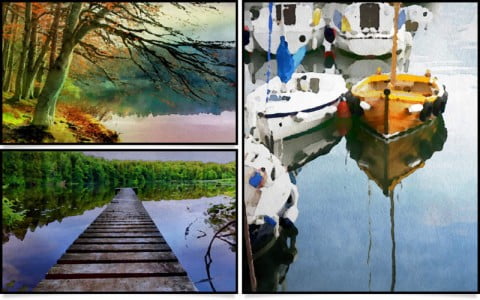 Pretty, right?
Don't worry about focus or composition or depth of field or exposure in the original photo.
Aquarella pays no attention to such trivial details. This is art!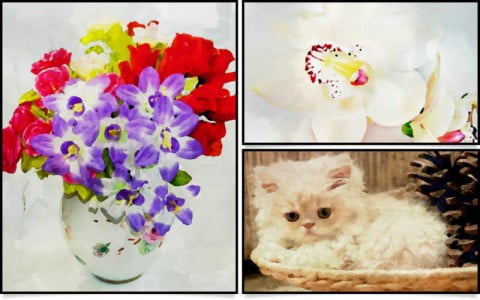 The secret sauce in Aquarella is the numerous preset Styles.
Make an adjustment to any style and save it as your very own custom preset. That gives you thousands and thousands of options.
Color blends as if on paper, including overlapping pigment that appears dark along the edges. Spend countless hours combining color and washes, and creating your own blooms.
Adjust color details, modify wet edges and paper styles, and feel good about yourself for having graduated backwards to what you did in the 2nd grade but without all that paint, water, and wasted paper.
Good results are surprisingly easy to achieve and with little effort by just using the Styles. After that, you're on your own and knee deep in trial and error village. It's fun, but time consuming.