My Mac is loaded up with a dozen or so photo enhancing apps that add custom borders, effects, and filters to my iPhoto collection.
The latest app in my collection brings back a touch of the past to my digital photography efforts. Proof sheets. Contact sheets. Small photos on a grid. Proof Sheet is the Mac app that makes proof sheets. It's an interesting app. But this is the age of digital photos.
Who needs a proof sheet?
How Much Is That Proof Sheet In The Window?
Proof sheets in the old days of contact sheets were a quick and easy way to view photos from a roll of film without having to print each photo.
All the roll's photos were laid onto a grid, usually numbered, so a developer or client could examine each photo and determine which ones to keep, which to reject.
Digital photography means the cost per photo has dropped dramatically. Who needs a proof sheet?
Proof Sheet answers the question by including an array of useful features into an app that spits out proof sheets; contact sheets of images with all sorts of data.
Take a look at all the cool things you can do with Proof Sheet.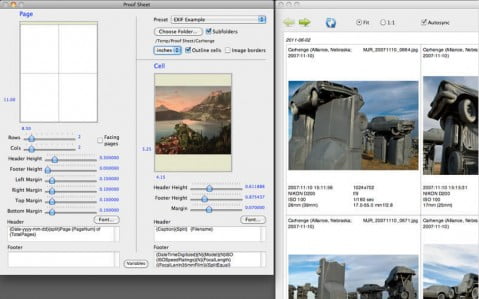 You control the amount and detail of the information you want included with the proof sheet.
Adjust the grid arrangement, change the margins, add page headers and footers, and control the fonts.
Real proof sheets never looked this good.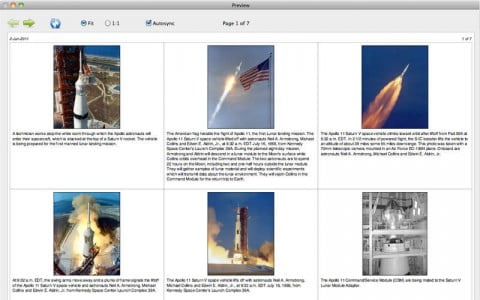 All that data can include dates and times, file names, EXIF and IPTC data. Even create your own per photo captions.
Proof Sheet isn't a photo gallery or page layout app for photos. It's contact sheets using performance enhancing drugs.
The Preview mode lets you see exactly what takes place as you add or remove information about each photo.
The proof sheet can be printed, of course, or it can exported as a folder JPEG images. This isn't an app that every Mac user with a few thousand photos in iPhoto will need.
But if you're serious about photos, and need to share images and detail with others, Proof Sheet is definitely a 21st century version of the original proof sheets.