Boosteroid
Gaming on a Mac has always presented challenges, primarily due to the platform's inherent differences compared to Windows-based PCs, which have long dominated the gaming landscape. However, the emergence of cloud gaming services like Boosteroid is gradually tilting the balance in favor of Mac users. In this comprehensive review, we'll delve into its array of features and pricing, conducting a thorough examination and comparison with alternative gaming solutions tailored for Mac users. Our aim is to verify whether it stands as the ultimate cloud gaming solution for Mac enthusiasts, ushering in a new era of gaming possibilities on this platform.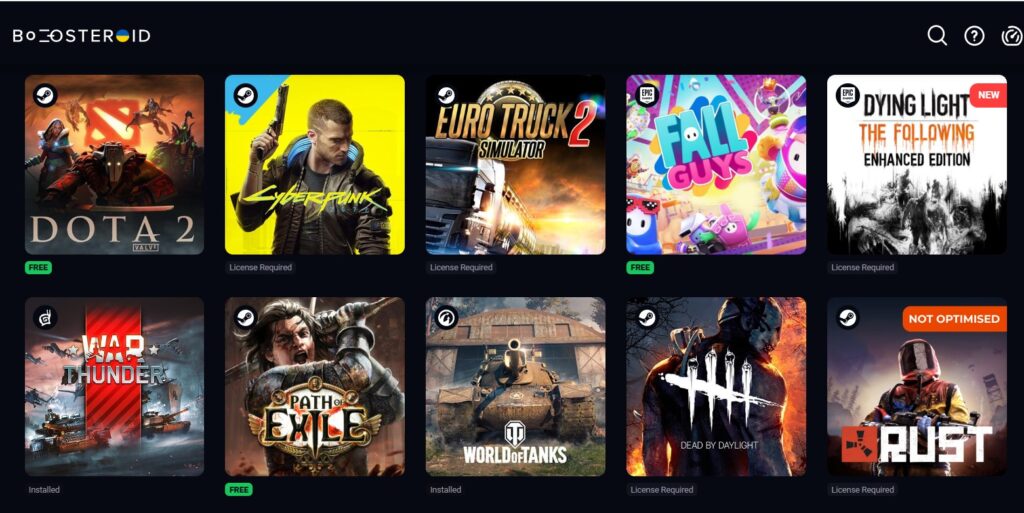 What is Boosteroid?

Boosteroid is a cloud gaming service designed to liberate gamers from the constraints of their hardware, including those using Mac computers. It accomplishes this by enabling users to access and play high-quality games seamlessly on virtually any device. The ingenious concept behind Boosteroid is that it harnesses the power of remote servers to stream these games directly to your chosen device. This means that whether you're gaming on a Mac or any other compatible platform, all you really need is a stable internet connection to unlock the world of your favorite games without a hitch.

Is Boosteroid legit?

The Boosteroid cloud gaming service offers its users a convenient and reliable solution for playing a diverse range of games that might not be natively supported on their devices. It's particularly valuable for those who prefer not to invest in a dedicated gaming PC or console but still want access to an extensive library of games. The service simplifies the gaming experience by eliminating the need for high-end hardware, making it an attractive choice for Mac gamers seeking accessibility and variety in their gaming options.

Is Boosteroid safe?

Boosteroid stands out as a reliable and user-friendly cloud gaming platform. It's designed to address the challenge of running games that are typically unsupported on your device. This service is particularly appealing to Mac users who wish to enjoy a variety of games without the need to invest in a specialized gaming PC or console. With it, accessibility to an extensive game library is at your fingertips, making it a practical and cost-effective choice for Mac gamers who seek to expand their gaming horizons.

Boosteroid Subscription
Boosteroid operates on a subscription-based model, meaning that it's not a free service. To utilize it and access its cloud gaming features, you are required to maintain an active subscription. To get started with the Boosteroid, subscription, you'll need to sign up and create an account. Once that's done, you can check out their subscription plans and choose the one that suits you. After subscribing, you can browse the list of available video games and select the one you want to play, then simply click on "PLAY." It's important to note that you'll need to log into your game account, such as Steam, Origin, or Epic, depending on the game you choose. Also, remember that while you can play both paid and free games with an active Boosteroid subscription, some "license required" games might need to be purchased separately on their respective digital distribution platforms.
Game Library and Compatibility
Boosteroid's library of games is a major highlight of the service. It provides users with a diverse selection of games, ranging from blockbuster AAA titles to indie gems, and even some exclusive releases. What's particularly great is that the service consistently adds new games to its library, so subscribers can stay up-to-date with the latest releases. Another notable feature is its compatibility with multiple gaming platforms like Steam, Uplay, and the Epic Games Store. This means that regardless of where you purchased your games, Boosteroid allows you to enjoy them hassle-free, making it a versatile option for gamers.
Boosteroid Cloud Gaming
Boosteroid's cloud gaming service offers a smooth and accessible gaming experience tailored for Mac users. Its broad game library encompasses both well-known titles and the latest releases, ensuring a varied and exciting gaming experience while eliminating concerns related to hardware capabilities. Additionally, the service boasts compatibility with multiple gaming platforms, including Steam, Uplay, and the Epic Games Store, granting users the flexibility to enjoy their preferred games without platform restrictions. This makes Boosteroid Cloud Gaming a convenient and versatile option for Mac gamers looking to expand their gaming horizons. Below, you can learn more about the performance of the service and its Server locations.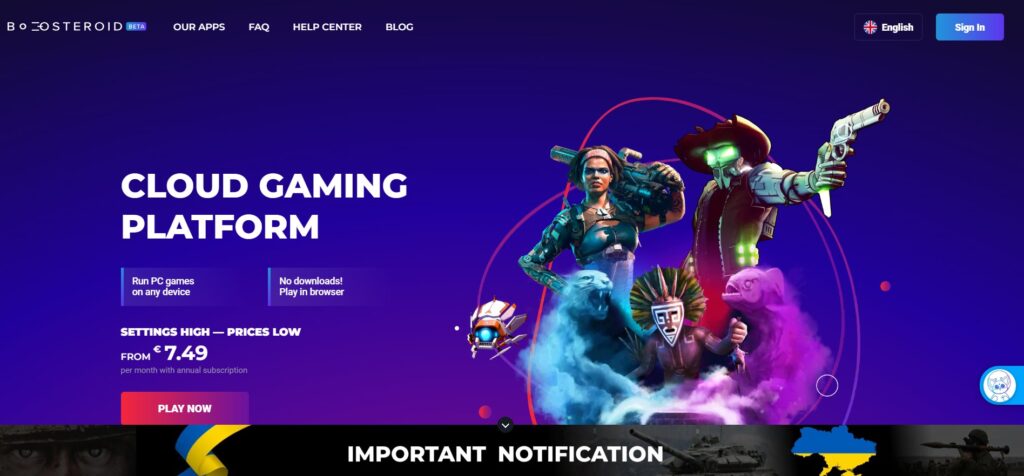 Boosteroid Speed Test
Boosteroid's performance sets a high standard. Boosteroid's Speed Test provides an immersive gaming experience with minimal latency and exceptional graphics quality, even for Mac users with lower-end hardware. It cleverly adapts the streaming quality in real-time to match your internet connection's capabilities, guaranteeing a consistently smooth and enjoyable gameplay session. To fully utilize the service, a stable internet connection with a minimum speed of 15 Mbps is essential. For the optimal experience, it's advisable to connect via a wired Ethernet connection or a 5 GHz Wi-Fi network, ensuring that your gaming adventures on Mac are both seamless and visually stunning.
Boosteroid Server Locations
Boosteroid has meticulously positioned its server locations worldwide, employing a strategic approach to ensure users enjoy minimal latency and top-notch gaming quality. These servers are outfitted with high-performance hardware components, including Intel Xeon processors and NVIDIA graphics cards, to provide Mac gamers with a seamless and speedy gaming experience. Furthermore, Boosteroid employs its proprietary software and cutting-edge algorithms to fine-tune server performance and minimize latency issues. Keep in mind that server locations may evolve as the service continually expands its infrastructure, making it prudent to regularly check the official website for the most up-to-date server location information.
Boosteroid No Resource Available
Occasionally, users might encounter the frustrating "No Resource Available" error message while attempting to access games on Boosteroid. This hiccup primarily arises during peak usage periods when the platform experiences a surge in demand. If you happen to come across this issue, the best course of action is to wait for a bit and then try accessing the game again when user demand has subsided, ensuring a smoother and more successful gaming experience.
Boosteroid vs GeForce Now
When weighing the pros and cons of Boosteroid vs GeForce Now, there are several crucial distinctions to bear in mind. Both platforms provide a diverse selection of games and low-latency streaming, but Boosteroid stands out with its more competitive pricing structure, making it an enticing choice for cost-conscious gamers. Furthermore, Boosteroid's broader device compatibility, including Macs, positions it favorably for Mac users compared to GeForce Now. With the Boosteroid vs GeForce Now comparison below, we will try to assist you in making an educated choice regarding the optimal cloud gaming platform to suit your Mac gaming requirements.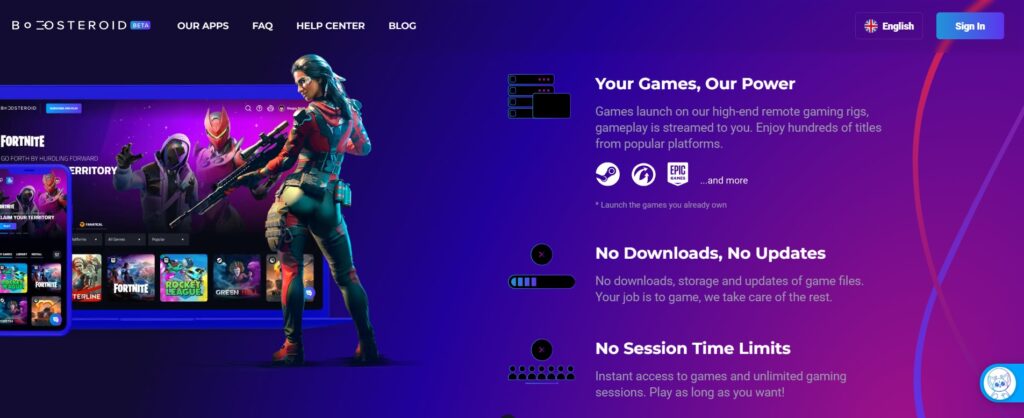 Pricing
In terms of pricing, both Boosteroid and GeForce Now present competitive options for their cloud gaming services. Boosteroid offers an annual subscription at a rate of €7.49 per month, while GeForce Now's Priority plan costs €8.33 per month for a six-month subscription. It's important to note that GeForce Now provides a free version with certain limitations, such as 1-hour gaming sessions and queue wait times, which can extend up to 30 minutes during peak usage periods.
Requirements
Both Boosteroid and GeForce Now have somewhat similar system requirements. Boosteroid mandates a minimum of 4 GB of RAM and macOS 10.10 (Yosemite) or later. It also recommends a minimum internet speed of 15 Mbps and a latency of 40 ms or lower. In comparison, GeForce Now shares comparable requirements, necessitating a minimum of 4 GB of RAM and macOS 10.13.2 or later. Both services advise users to use cable internet connections or connect to a 5G Wi-Fi network for optimal performance.
Image Quality
Boosteroid and GeForce Now's Priority plan both offer 1080p image quality with a maximum FPS of 60. Although in-game settings can be adjusted, these platforms do not surpass these predefined limitations. GeForce Now does offer a premium tier subscription plan that facilitates 4K resolution and up to 120 FPS, contingent on a robust internet connection and greater bandwidth usage. Currently, Boosteroid does not support 4K resolution, and regardless of the chosen subscription plan, all games are capped at Full HD 1080p and 60 frames per second.
Game Library Comparison
In terms of game libraries, GeForce Now boasts a more extensive selection with over 1000 titles, surpassing Boosteroid's approximately 500 games. However, Boosteroid stands out by including many prominent triple-A games that are not available on GeForce Now, such as Overwatch 2, Fall Guys, and Elden Ring.
Game Performance Comparison
Game performance on both Boosteroid and GeForce Now largely hinges on your internet connection quality and proximity to the nearest server. In terms of hardware, both platforms offer comparable gaming rigs capable of running the latest games at ultra-high settings. GeForce Now's Priority rigs maintain a slight edge in terms of average FPS, although since both services cap at 60 FPS, this difference is often negligible.
Free Games
Neither platform provides free access to paid games, but both offer a substantial collection of free-to-play titles. It's noteworthy that Boosteroid features games currently unavailable on GeForce Now, making it worthwhile to explore its library for titles that can't be accessed through the latter service.
In conclusion, the choice between Boosteroid and GeForce Now hinges largely on your gaming preferences and priorities. Key considerations include the available game library, pricing, and performance, all of which should guide your decision-making process.
Boosteroid Review
In today's rapidly evolving digital gaming landscape, cloud gaming platforms such as Boosteroid have emerged as game-changers, offering players a unique blend of accessibility and high-quality gaming experiences. And, as with any new product that garners attention, it's essential to delve deeper into it, looking beyond the marketing campaigns to truly understand the capabilities, benefits, and potential drawbacks. In this Boosteroid review, we'll dissect its offerings, peeling back the layers to provide you with an objective perspective on whether this platform lives up to the hype.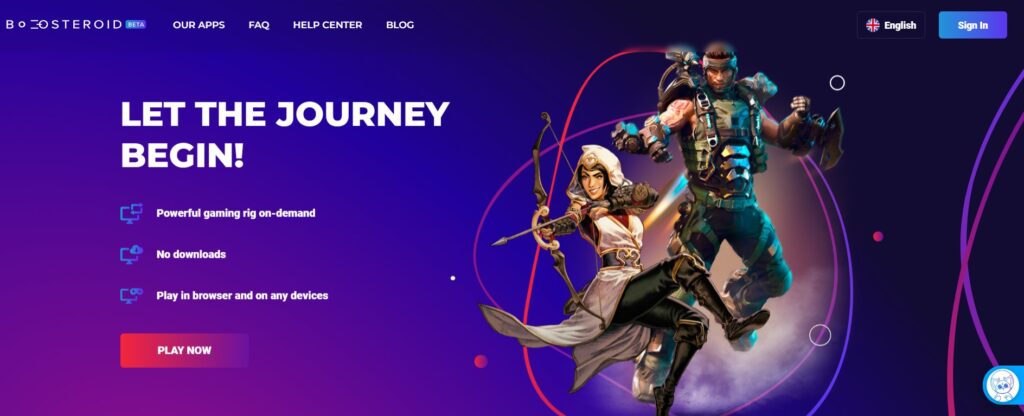 Pros and Cons
Pros:
Enables gaming on Mac and other low-spec devices
Extensive game library with popular titles and new releases
Easy setup and user-friendly interface
Various subscription plans to suit different budgets and gaming preferences
Low-latency gaming experience
Cons:
Requires a stable internet connection with a minimum speed of 15 Mbps
Some users may experience occasional performance issues during peak times
Is there a Boosteroid Free Trail?
Currently, there is no Boosteroid Free Trail offer, but there's still an avenue for testing the service without committing to a long-term subscription. You can opt for the single-month subscription plan, which allows you to experience Boosteroid and assess its performance in conjunction with your internet connection. The official website also provides an internet speed test, enabling you to gauge whether your connection is suitable for cloud gaming. By selecting the single-month subscription, you gain sufficient time to explore the platform extensively without Boosteroid Free Trail and engage in various games. This facilitates a comprehensive evaluation of whether the service aligns with your gaming expectations. The team has hinted at the possibility of offering a free trial in the future, so it's worthwhile to stay updated on this potential option. In the meantime, trying out the single-month subscription serves as a pragmatic means to ascertain whether what you get suits your needs.

Is Boosteroid Free?
Boosteroid is not a free service. However, it presents subscription plans at reasonable prices, catering to diverse gaming preferences and budget constraints. This approach makes the cloud gaming service accessible to gamers seeking a high-quality cloud gaming experience without the burden of exorbitant costs.
Boosteroid Price
Boosteroid price extends to two subscription plans, accommodating varying gaming needs and financial considerations. The Boosteroid ULTIMATE plan is available as a one-time payment of 89.89 EUR, equating to an average monthly rate of only 7.49 EUR. In contrast, the monthly cost of the Boosteroid START plan is 9.89 EUR, rendering the ULTIMATE plan a more cost-effective choice for users looking to optimize their cloud gaming experience while maintaining budget-consciousness.
Boosteroid Mac Setup
Embarking on your cloud gaming journey with Boosteroid on Mac is a straightforward process, designed to accommodate users of all levels of experience, even those that are new to cloud gaming. You can start the Boosteroid Mac Setup by creating an account on the official cloud gaming service website. Select a subscription plan that aligns with your gaming requirements and proceed with the sign-in process. Following this, access the Boosteroid app specifically designed for Mac through the website and execute the installation procedure. Once the app is successfully installed, launch it and use your cloud gaming service account credentials to sign in. With these simple steps completed, your Boosteroid Mac Setup should be done, and you should be ready to dive into the world of cloud gaming and enjoy a seamless and convenient gaming experience on your Mac.

Boosteroid Games List
If you're eager to explore the extensive selection of games accessible on Boosteroid and determine whether your preferred titles are part of the lineup, the Boosteroid Games List is your trusty resource. We diligently maintain this list, continuously incorporating the latest additions to the library. This ensures that you can consistently rely on it for a comprehensive and current overview of the games offered on the platform. Whether you're seeking familiar favorites or anticipating new releases, the Boosteroid Games List simplifies the process of discovering the diverse array of games available for your enjoyment.
Boosteroid vs Parallels
While both Boosteroid and Parallels allow Mac users to play Windows-based games, they differ significantly in their approach. Boosteroid operates as a cloud gaming service, streaming games directly to your Mac, effectively sidestepping the need for high-end hardware. In contrast, Parallels acts as virtualization software, permitting users to run Windows concurrently with macOS on their Macs. Parallels, however, demands a powerful Mac to smoothly handle gaming. Boosteroid, by eliminating the reliance on robust hardware, makes gaming more accessible for users with less potent Mac devices.
Boosteroid vs Boot Camp Assistant
For Mac users seeking Windows-based gaming solutions, Boot Camp Assistant is another option. It facilitates the creation of a dedicated partition on a Mac for Windows installation. While this method grants a native Windows gaming experience, it necessitates a robust Mac and can be intricate to set up, especially in comparison to Boosteroid.
Boosteroid simplifies the process by streaming games directly to Macs, sparing users from Windows installation hassles and hardware constraints. Additionally, its cloud gaming approach conserves valuable storage space on Mac devices, enhancing overall convenience for gamers.
Conclusion
Boosteroid is a promising cloud gaming service that offers an accessible and diverse gaming experience for Mac users. With its competitive pricing, extensive game library, and compatibility with various gaming platforms, this cloud gaming service positions itself as an excellent choice for Mac gamers seeking to relish their favorite games without grappling with hardware limitations. While alternatives like Parallels and Boot Camp Assistant have their merits, Boosteroid's cloud gaming model provides a smoother and more straightforward experience for Mac users. If you're a Mac gamer aspiring to elevate your gaming endeavors, this cloud gaming service appears to be a compelling solution worth exploring.