Gaming on a Mac has always been a bit of a challenge, especially when compared to the more gaming-friendly environment of Windows-based PCs. However, with the advent of cloud gaming services like Boosteroid, the gaming landscape is shifting in favor of Mac users. In this in-depth Boosteroid review, we'll explore the platform's features and pricing, and compare it to other gaming solutions for Mac users. Let's dive in and find out if Boosteroid is the ultimate cloud gaming solution for Mac enthusiasts.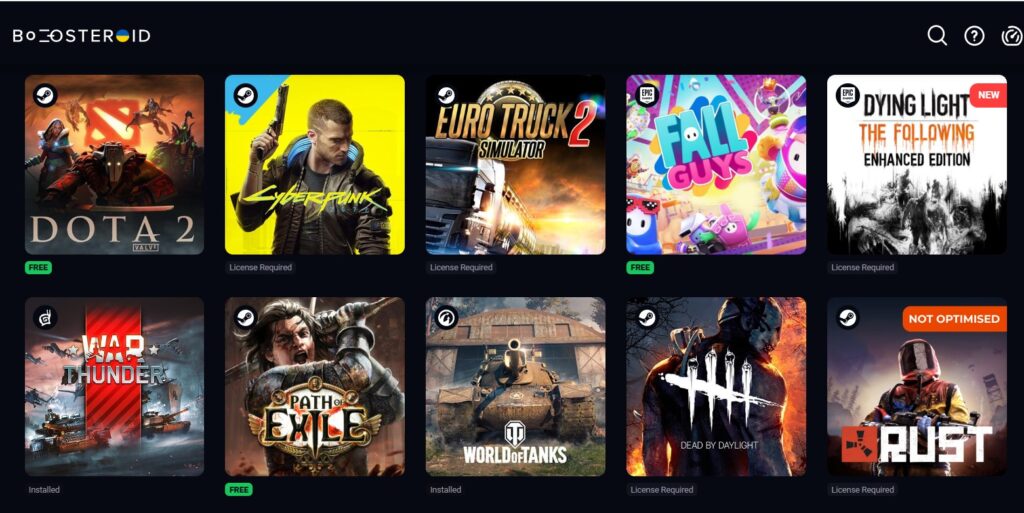 Boosteroid Review
What is Boosteroid?
Boosteroid is a cloud gaming service that allows users to play high-quality games on virtually any device, including Macs. With Boosteroid, gamers no longer need to worry about their hardware limitations, as the service streams games from powerful remote servers directly to your device. All you need is a stable internet connection, and you can start enjoying your favorite games without a hitch.
Setting Up Boosteroid on Mac
Getting started with Boosteroid on Mac is a breeze, even for those who are new to cloud gaming. First, create an account on the Boosteroid website, choose a subscription plan that fits your gaming needs, and sign in. Next, download the Boosteroid app for Mac from the website and install it. Once installed, simply launch the app, sign in with your Boosteroid account, and you're ready to start playing!
Game Library and Compatibility
One of the standout features of Boosteroid is its extensive game library. The service offers a wide range of popular titles, including AAA games, indie gems, and even some exclusive releases. Boosteroid also continually updates its library with new releases, ensuring that subscribers always have access to the latest games. Additionally, Boosteroid supports various gaming platforms, such as Steam, Uplay, and Epic Games Store, enabling users to enjoy their favorite games regardless of the platform.
Is there Boosteroid Free Trail?
Currently, there is no Boosteroid free trial but you can still test out the service without committing to a long-term subscription by opting for the single-month subscription plan. This allows you to experience the service and evaluate its performance with your internet connection. The Boosteroid website provides an internet test that you can run to determine if your connection is sufficient for cloud gaming.
By choosing the single-month subscription, you'll have ample time to explore the platform and play different games, enabling you to assess whether the service meets your expectations. The Boosteroid team has hinted that they may offer a free trial in the future, so stay tuned for updates on this option. In the meantime, trying out the single-month subscription is a practical way to see if Boosteroid is right for you.
Boosteroid vs GeForce Now
When comparing Boosteroid to NVIDIA's GeForce Now, there are some key differences to consider. While both services offer a wide range of games and low-latency streaming, Boosteroid has a more competitive pricing structure, making it an attractive option for budget-conscious gamers. Additionally, Boosteroid supports a broader range of devices, including Macs, which gives it an edge over GeForce Now for Mac users. In this comparison, we'll pit Boosteroid against GeForce Now and help you make an informed decision on the right cloud gaming platform for your Mac gaming needs.
Pricing
Both Boosteroid and GeForce Now offer competitive pricing for their cloud gaming services. Boosteroid's yearly subscription is priced at €7.49/month, while GeForce Now's Priority plan costs €8.33/month for a six-month subscription. GeForce Now does offer a free version, but it limits gaming sessions to 1 hour and requires waiting in a queue before connecting to a gaming rig. During peak hours, the wait time can be up to 30 minutes.
Requirements
Boosteroid requires Macs to have a minimum of 4 GB RAM and run on macOS 10.10 (Yosemite) or later. The service also recommends a minimum internet speed of 15 Mbps and a latency of 40 ms or lower. GeForce Now has similar requirements, with a minimum of 4 GB RAM and macOS 10.13.2 or later. Both services recommend using cable internet or connecting to a 5G Wi-Fi network for optimal performance.
Image Quality
Both Boosteroid and GeForce Now's Priority plan offer 1080p image quality with a maximum FPS of 60. You can make in-game setting adjustments, but the image quality will not exceed these limitations. GeForce Now does offer a higher tier subscription plan that allows for 4K resolution and up to 120 FPS, but this will require a strong internet connection and increased bandwidth usage.
Boosteroid does not support 4K resolution at the moment. Regardless of the subscription plan you choose, all games are played on Boosteroid with the same quality of Full HD 1080p and 60 frames per second.
Game Library Comparison
Boosteroid's game library consists of around 500 titles, which is notably smaller than GeForce Now's 1000+ titles. However, Boosteroid has the advantage of including many popular triple-A games not available on GeForce Now, such as Overwatch 2, Fall Guys, and Elden Ring.
Game Performance Comparison
Game performance for both Boosteroid and GeForce Now largely depends on your internet connection and proximity to the closest server. Hardware-wise, both platforms offer comparable gaming rigs capable of running the latest games on ultra-high settings. GeForce Now's Priority rigs have a slight edge in terms of average FPS, but since both services cap at 60 FPS, this difference is negligible in most cases.
Free Games
Neither platform offers free access to paid games, but both services have a wide selection of free-to-play titles. What is worth noting is that, Boosteroid features games, which are currently unavailable on GeForce Now. That's why it is worth checking its library for titles that can't be played with the other service.
Ultimately, the choice between Boosteroid and GeForce Now will depend on your gaming preferences and priorities. Consider factors such as game library, pricing, and performance when making your decision.
Boosteroid Cloud Gaming
Boosteroid's cloud gaming service provides a seamless gaming experience for Mac users. With an extensive game library that includes popular titles and new releases, users can enjoy a diverse gaming experience without worrying about hardware limitations. The service also supports various gaming platforms like Steam, Uplay, and Epic Games Store, allowing users to play their favorite games regardless of the platform.
In case you want to browse through the games available on Boosteroid and check if your favorite titles are included, you can easily do so by referring to our Boosteroid Games List. We keep this list up-to-date by adding new games to the library regularly. So, you can rely on it to get an accurate overview of the games available on the platform.
Boosteroid No Resource Available
Occasionally, users may encounter the "No Resource Available" error message when trying to access a game on Boosteroid. This usually occurs during peak times when the service experiences high demand. If you encounter this issue, it's recommended to try accessing the game again later when the demand has decreased.
Boosteroid Speed Test
Boosteroid's performance is impressive, offering low-latency gaming and smooth graphics even on low-spec devices like Macs. The service automatically adjusts the streaming quality based on your internet connection, ensuring an optimal gaming experience. To use Boosteroid, you'll need a stable internet connection with a minimum speed of 15 Mbps, and it's recommended to use a wired Ethernet connection or a 5 GHz Wi-Fi network for the best results.
Boosteroid Server Locations
Boosteroid has several server locations across the world, which are strategically located to ensure low latency and high-quality gaming experiences for users.
Boosteroid's servers are equipped with high-performance hardware, including Intel Xeon processors and NVIDIA graphics cards, to deliver smooth and fast gaming experiences to users. The platform also uses proprietary software and algorithms to optimize server performance and reduce latency.
It's worth noting that server locations may change over time as Boosteroid continues to expand its services and infrastructure. Therefore, you should check the official website for up-to-date information on server locations.
Is Boosteroid Free?
Boosteroid is not a free service. However, its subscription plans are reasonably priced and cater to various gaming needs and budgets, providing an accessible option for gamers looking for a high-quality cloud gaming experience.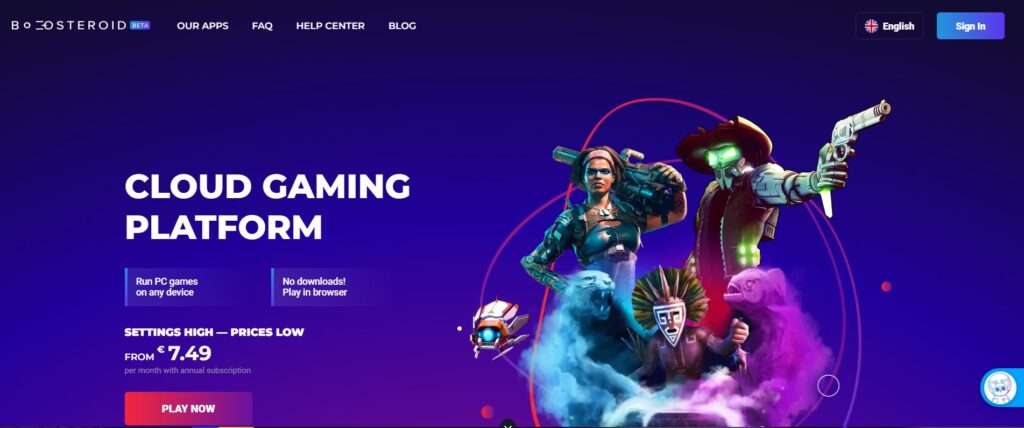 Boosteroid Price
Boosteroid offers two subscription plans to cater to the gaming preferences and budgets of its users. Boosteroid ULTIMATE is available as a one-time payment of 89.89 EUR, which works out to an average monthly price of only 7.49 EUR. To put this in perspective, the monthly cost of Boosteroid START is 9.89 EUR, making the ULTIMATE plan a more cost-effective option.
Boosteroid vs Parallels
While both Boosteroid and Parallels allow Mac users to play Windows-based games, they differ significantly in their approach. Boosteroid is a cloud gaming service that streams games directly to your Mac, while Parallels is a virtualization software that enables users to run Windows on their Mac alongside macOS. While Parallels requires a powerful Mac to run games smoothly, Boosteroid eliminates the need for high-end hardware, making it a more accessible option for Mac users with less powerful devices.
Boosteroid vs Boot Camp Assistant
Boot Camp Assistant is another solution for Mac users who want to play Windows-based games. It allows users to create a separate partition on their Mac to install and run Windows. While this approach provides a native Windows gaming experience, it requires a powerful Mac and can be more complicated to set up compared to Boosteroid.
With Boosteroid, users don't need to install Windows or worry about hardware limitations, as the service streams games directly to their Macs. Additionally, Boosteroid's cloud gaming approach frees up valuable storage space on your device, making it a more convenient option for gamers.
Pros and Cons of Boosteroid
Pros:
Enables gaming on Mac and other low-spec devices
Extensive game library with popular titles and new releases
Easy setup and user-friendly interface
Various subscription plans to suit different budgets and gaming preferences
Low-latency gaming experience
Cons:
Requires a stable internet connection with a minimum speed of 15 Mbps
Some users may experience occasional performance issues during peak times
Conclusion
Boosteroid is a promising cloud gaming service that offers an accessible and diverse gaming experience for Mac users. With its competitive pricing, extensive game library, and support for various gaming platforms, Boosteroid stands out as an excellent option for Mac gamers who want to enjoy their favorite games without worrying about hardware limitations.
While other solutions like Parallels and Boot Camp Assistant have their merits, Boosteroid's cloud gaming approach provides a more seamless and hassle-free experience for Mac users. So, if you're a Mac gamer looking to take your gaming experience to the next level, Boosteroid might just be the answer you've been searching for.