Have you ever wondered why there are so many apps available to Mac users that do some or most of what Apple's built-in apps already do?
Different strokes for different folks seems to apply here. The Mac comes with the Safari browser, yet a dozen or so third party browsers are available. So it is with Mail which has a dozen email counterparts; some free, many not. What about Calendar on the Mac?
Have Calendar, Will Date
What's interesting about such apps is they often do what Apple's apps do but do some things better, and some merely different. Take Fantastical as an example. It's just better than Calendar in every respect and very popular. But it's a calendar.
Calendarique is a simple calendar apps that falls on the lesser end of the spectrum. It's inexpensive. Like Apple's Calendar app, it's available in the Notification Center, but also in the Mac's Menubar.
Click and ye shall receive. A calendar.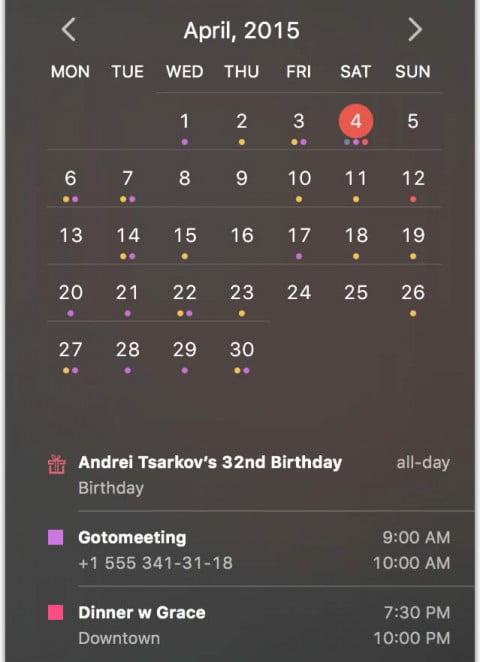 How does that differ from Calendar on your Mac?
Not much, but enough to justify a nominal price tag. There's both a light and dark theme so it plays nice-nice with OS X Yosemite and El Capitan. Click the Notification Center and preview any month. Calendar events are color coded, as is the current date. Calendar can kinda-sorta-mostly do the same thing, but Calendarique has the option of being viewed with a click to the Menubar.
Any app that mimics Apple's own apps should have additional features, and Calendarique is not exception. I'd like to see a quick and easy way to change Events, add Events, or delete Events. Normally more features means more money, but in the case of the free Calendar (not the OS X Calendar) app, that's not the case. Less is more. Free is more.