Way back in the day, long before OS X and Intel Macs took Mac sales to new record levels, there was a little utility that could do no wrong. It's baaack!
The old Mac Classic Apple menu was how tried and true Mac users navigated from app to app, file to folder. Here's the free utility which brings back those glorious days of yesteryear, to add easier navigation to your Mac.
Pop Goes FinderPop
The Apple Menu Items folder from Mac Classic gave Mac users a quick and dirty way to navigate the entire hierarchy of files, folders, and apps with just a click.
When OS X arrived, the NextStep Dock came with it, and the Apple Menu Items folder was relegated to the trash heap of a bygone era.
FinderPop brings back that wonderful Menubar utility that Mac users loved about the Apple Menu Items folder.
What does FinderPop do? It's deceptively simple. One click brings up a custom app launcher and file finder anywhere on the screen.
You won't even need to click an icon in the Menubar. The browser system gives you quick and easy access to files and folders you'd normally use the Finder to, well, find.
The Preference Pane options are extensive considering how easy FinderPop works.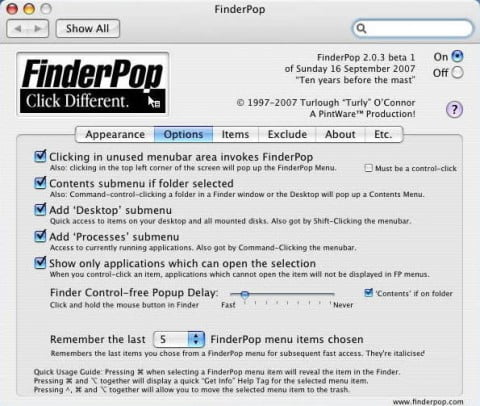 Download FinderPop, double-click, and install in System Preferences.
Then the fun begins. Click the Show FinderPop Items Folder (similar to the old Classic Mac OS Apple Menu Items folder).
You'll have a bit of work to do by adding aliases to favorite apps, files, folders, or anything you want to launch of view (including an alias of the Documents folder).
FinderPop gives you plenty of control and options, but if you've never used a menu-based hierarchical navigation utility before, keep it simple to start.
Control-click or Right-click and the FinderPop contextual menu pops up and reveals all your options. Mac power users will appreciate the many keyboard shortcuts, and Mac newbies will love how easy it makes navigating the Mac's file hierarchy and launches both files and apps.
It's as if someone came to the future from 1999 and brought along a once beloved Mac utility app for the masses.