GeForce Now on Mac
GeForce Now on Mac is one of the main methods that people with Apple computers can use to play a wide variety of games on their machines. Even though Macs aren't designed with gaming in mind, cloud gaming services like GeForce Now make it possible to play a wide variety of titles, including ones that are highly-demanding or ones that lack a native macOS version.
First, let's talk about the gaming experience GeForce Now provides. The streamed games run reasonably smoothly and responsively, even though they aren't installed on the device. However, a solid and fast internet connection is essential to maintain a seamless experience.
One notable advantage of GeForce Now is the increased accessibility it offers Mac users. It allows us to play games that don't have native macOS support, bridging the gap between Mac and PC gamers. Furthermore, GeForce Now addresses hardware and storage concerns through cloud computing, alleviating some of the limitations associated with specific devices.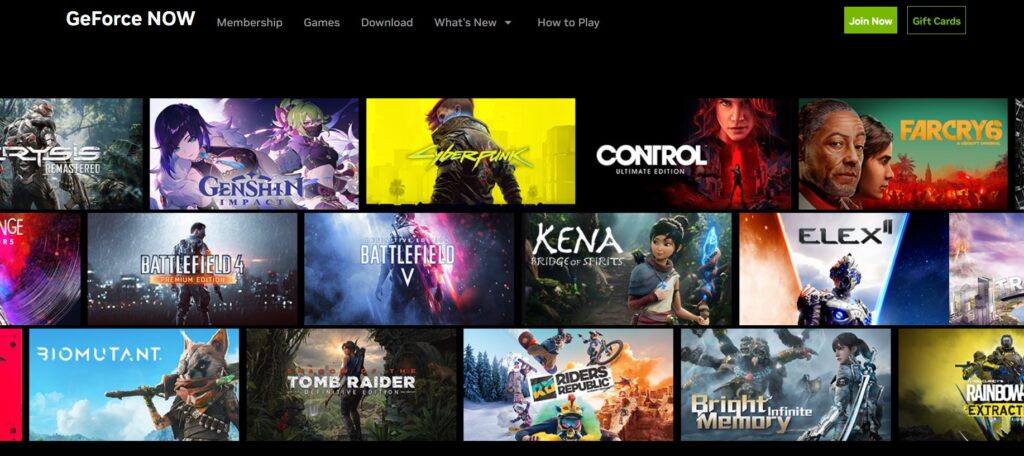 There is a caveat: you'll need to own the games you want to play (except for the free ones). So, be prepared to purchase games from the supported stores. Once you've built up your library, GeForce Now does expand your gaming options.
As for pricing, GeForce Now has a free subscription plan that supports gaming sessions up to an hour, suitable for casual gamers. For more dedicated players, there are two paid options offering longer session times to accommodate your needs. The pricing seems reasonable, considering the convenience and capabilities provided by GeForce Now.
In conclusion, GeForce Now has its merits, especially when it comes to enhancing the gaming experience on Macs and providing access to a wider variety of games without significant hardware or storage constraints. If you're considering trying a cloud gaming service, it might be worth giving GeForce Now a shot. Happy gaming!
GeForce Now for Mac compatibility
The GeForce Now compatibility for Mac machines covers both Intel and M1/M2 models, so it can be used on any Mac that covers the system requirements for the app (which are quite low). The service can be used for gaming on MacBooks and Desktop Macs alike, without any difference in performance.
GeForce Now MacBook requirements
As mentioned, the GeForce Now MacBook requirements are quite forgiving – according to the official website, the service's client can run on any Mac released in 2009 or later as long as its macOS version is 10.13.2 or higher.
However, where more attention should be paid are the internet connection requirements, which need to be met in order to get a good gaming experience. GeForce NOW necessitates a minimum of 15Mbps to game with a 720p resolution at 60 FPS and 25Mbps for 1080p resolution at 60 FPS. Additionally, latency should be below 80ms, as a minimum requirement, but for optimal performance, the advised latency should be under 40ms.
You can test your connection speed and latency directly from the GeForce Now client that you download on your Mac.
How to use Nvidia GeForce Now on Mac?
As you'll see in a moment, very easy to use Nvidia's GeForce Now on Mac – all you need is an account for the service, the dedicated macOS client app, and ownership of the game you want to play. Here are our instructions on how to get everything going:
Firstly, make sure that you own the game that you want to play through the GeForce Now platform and that the game is supported on the platform for the respective store in which you own it.
After that, head over to the

GeForce Now site

and click "Join Now." Choose a subscription option that suits you best and create a new account for the service (or simply sign up with Google). If you picked a paid plan, you'll need to enter your payment details. Then, confirm your registration through the email they'll send you.


Once you're logged in, visit the Downloads section and download from there the installation (.dmg) file for the GeForce Now client for Mac.
Open the installation file and drag the GeForce Now icon to the icon of your Applications folder to finish the installation.
Launch the client in your Applications folder, sign in, and search for the game you want to play using the search bar. Select the game and hit "Play." On the pop-up window, click "Continue."

GeForce Now will test your connection. Even if you see a warning about your internet not being good enough for cloud gaming, you'll still be allowed to proceed. However, be aware that you might experience lag or an unplayable game if your connection is poor.
Finally, connect your GeForce Now to your account for the game store in which you own the respective game by entering your credentials for that store. Your game should start after that, and you'll be able to start playing!
So, there you have it—a step-by-step guide to getting your favorite Windows games up and running on your Mac using GeForce Now. Just follow these simple steps, and you'll be gaming in no time. Say goodbye to performance issues and hello to a whole new world of gaming possibilities on your Mac!