Like it or don't, Mac malware is on the rise as the Mac continues to make marketshare gains against Windows PCs. What? Mac malware? Say it ain't so, Jack!
No, I'm not talking about malicious virus or worms, most of which live under the Windows umbrella. Instead, social engineered malware is on the rise against Mac users, and that includes popup adware, free download malware, and even some applications which are sold as utilities but called malware by users.
Monitor The Monitors
Social malware acts more like a Trojan horse to infect a Mac with nefarious files. Mac users are often conned into installing, or allowing utilities to be installed on their Macs, only to find out later that it's really malware.
Keyloggers are a bit different, but once installed, a secretive keylogger captures all your keystrokes, and in some cases, can then connect to a server over the internet and send what you thought was private information to China, North Korea, Russia, or even parts of the U.S. where such dark things occur.
How do you get rid of all these new forms of malware? Anti-virus applications might help. DetectX helps you find keyloggers and other malware, including leftovers from the popular and highly criticized MacKeeper utility. Run DetectX on your Mac and let it do the deed.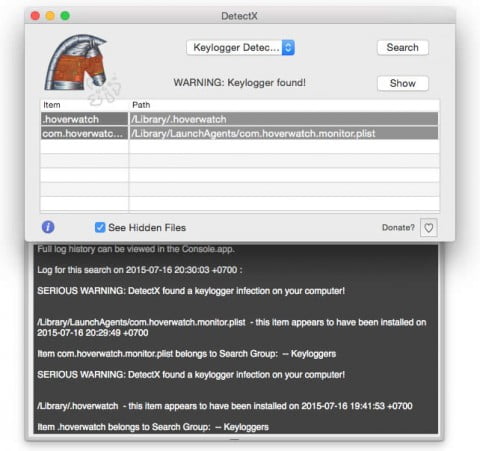 DetectX is not a be all, end all malware scanning app, but it works on some files often missed by typical anti-virus apps on the Mac. Keyloggers are particularly difficult to find, and some may have been installed by employers or office managers. The MacKeeper suite of utilities looks inviting because it's loaded with features, but it can be particularly difficult to remove all the offending files, too.
Click Here for more details on MacKeeper and how DetectX works to help you find and uninstall or delete files and remnants. DetectX looks for four specific categories of malware so they can be removed.
Commercial Applications
Malware and Adware
Blocked Files
Keyloggers
The developer makes DetectX available as donationware, and as a service to Mac users, also provides links to other malware detection and removal utilities.