Most of my day is devoted to slaving over a hot keyboard, cooking up solutions to problems that crop up among the hundreds of Mac and Windows PCs in the school where I work.
I use a MacBook for mobile troubleshooting but my desktop Mac is an iMac. It has the standard built-in iSight camera, which, with the right software, can turn your Mac into a spy cam. Just install the Spy Cam software and the Mac becomes a very expensive but useful surveillance device.
Goodbye, M&M's
If you think the camera installed in your Mac is just for FaceTime and laptop selfies, think again. It's a camera. Your Mac is valuable. Wouldn't you like to know who is mucking around with your Mac when you're not there? Spy Cam uses motion sensor technology and the camera to turn your Mac into a surveillance device.
Click Activate Spy Cam in the Spy Cam app and you're good to go.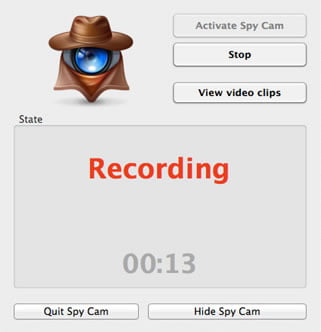 While setup is super simple and straightforward, Spy Cam has plenty of options.
Continuous Mode – it just runs all the time
Intermittent Mode – timed operation
Interval Recording – from 1 to 30 minutes
Video Clip Length – 5 to 60 seconds
Covert Operation – hidden from users
Auto Activates – turns on at login
Password Protected – only you can activate
External Camera– iSight or a connected camera
Preferences are straightforward with standard check boxes for settings, slider bar for video clip size, and an option to select multiple cameras.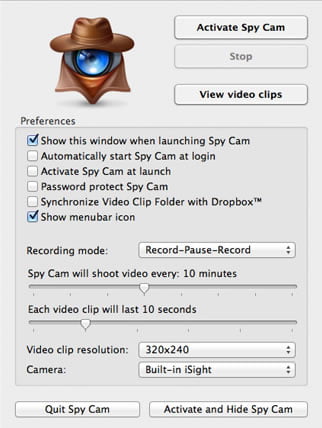 Video clips can be stored on Dropbox but an option to store on iCloud would be useful. Also, the videos are not large, either size or resolution (320×240) but sufficient to determine who might be using your Mac at the moment.
Spy Cam can help identify a thief, too, because video clips are auto-uploaded to Dropbox, and a log is made of every video.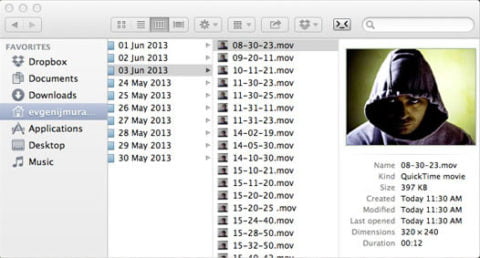 Like a Mac thief is going to wear a hoodie.
One anecdote to pass along regarding Spy Cam. My office desktop sits in front of my iMac which resides on a credenza-like desk behind (so the iSight camera has a good view of everyone who comes into my office). On the desk is an M&M's candy dispenser. Press the handle, get a handful of M&M's. A few weeks ago our school had a work crew in after hours installing new LEDs lights to replace fluorescent lights. Now I'm the proud own of a few videos of members of the work crew helping themselves to my M&M's.
Spy Cam is good for monitoring a babysitter, employees, pets, or even children. The app is available on the Mac App Store but there's a download try-before-you-buy option, too.