Way back in the days before Intel became a staple of the Mac community, back when OS X was but a shell of its current self, there was Mac Classic OS and all the problems associated with that era.
If you can remember that far back, and have both good and bad Mac experiences, then you probably remember tasks like defragging the disk. The tool of choice for discriminating Mac disk master administrators was DiskWarrior, the utility owned by every self-respecting Mac do-it-yourselfer. Guess what? It's baaack!
Probably Never Left
To be honest about it, I don't know if DiskWarrior ever left the Mac scene, but the advent of OS X and an improved file system negated the need for some of what that venerable Mac utility did to save the day.
DiskWarrior is alive and well and still the handiest tool around for repairing a Mac's disk. Sometimes even before you know there's something to be repaired.
Here we are, well into the 21st century, a time when 8GB of storage costs less than 3.3-cents per gigabyte, and, well, disks still have troubles.
While a disk drive can die without notice, and go to that Clean Room in the sky and take all your files with it, more often than not there are signs of trouble ahead. A file won't open. The notorious OS X beachball gets naked and brave and stays on the screen forever, or the Mac crashes for no apparent reason.
Yes, disk drives die and won't hesitate to take your marbles and leave the neighborhood without so much as an adios, a tip of the hat, or a wag of the finger. DiskWarrior can read your Mac's damaged directory, find salvageable files and folders, and take the time needed to build a new, error-free directory, optimized and ready to go.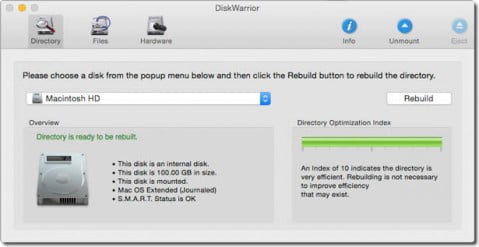 On both hard disk drives and solid state drives (SSDs) in most Macs. Both use HFS+, the Mac OS Extended directory structure.
DiskWarrior isn't intimidating to use, considering the complexity of what goes on in the background. It can find and fix problems with master directory blocks, volume headers, catalog trees, and extent trees– the nomenclature of Mac geeks, but which affect every Mac user when something goes awry.
DiskWarrior is a good OS X citizen these days, and ships with a recovery flash drive that can startup any Intel Mac, or can be updated to handle newer versions of OS X for newer Macs. It even works with File Vault 2 and new Fusion Drives.
The latest version is 64-bit so it's faster than ever, even on Macs with huge disk drives. The bootable flash drive can startup on most Macs and the repair process is faster than using a DVD on a SuperDrive. It can even repair a corrupt Time Machine backup disk.
Pricing isn't for the faint of heart or casual Mac user, but if the files on your Mac are valuable and your backup scheme is hit and miss, sooner or later everything you've stored for years could go bump in the night, and DiskWarrior may be your only recourse (other than prayer, but I'd try DW first).