Not long ago I helped a neighbor switch from an aging Windows notebook to a new MacBook Pro. All went well, including installation of a few of my favorite and highly recommended Mac apps, utilities, and tools.
My neighbor asked which Mac backup tool to use and I rattled off the standard list of SuperDuper, Carbon Copy Cloner, and three or four others. His response? "OK, but if I could use only one Mac backup and sync app to keep files backed up between devices, which one would you recommend." Easy choice.
iSync Because iShould
There is absolutely nothing wrong with SuperDuper or Carbon Copy Cloner or any one of a dozen utilities that are easier to use and less expensive to own. But for any Mac user with needs beyond cloning, who has needs to sync files effortlessly and automatically between and within devices, and throughout a local network, here's my first and last recommendation.
I started using ChronoSync back in the day, and– just like CCC and SD– it's always been rock solid for me, and continues to improve and advance the state of the art of backups. ChronoSync does bootable clone's of your Mac's disk drive, so it competes favorably with the above favorites, but it does more.
Start with the time honored Source and Target destination.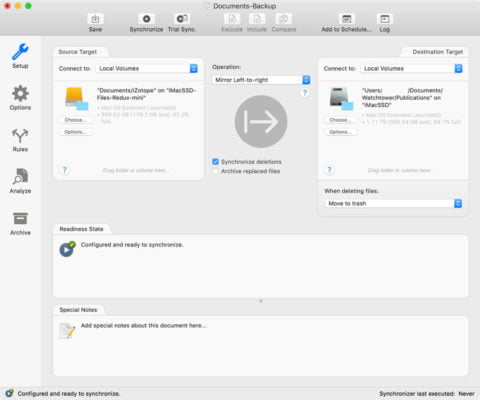 Where ChronoSync shines is the list of options to sync or move or mirror files between two devices, Mac or otherwise. At the high end, what you get with ChronoSync is much like a Swiss Army Knife. It has a built-in backup or sync scheduler. You can sync files, backup files, and even mirror files between two folders, two disks, or two Macs.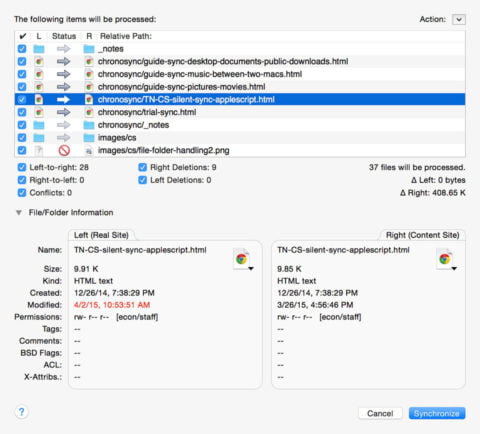 ChronoSync will mount storage volumes automatically and perform assigned backups or syncs. The app logs everything and can send you a notice when a backup is completed. There's even an option to push a notification to your iPhone so you can be assured a backup or sync went as planned.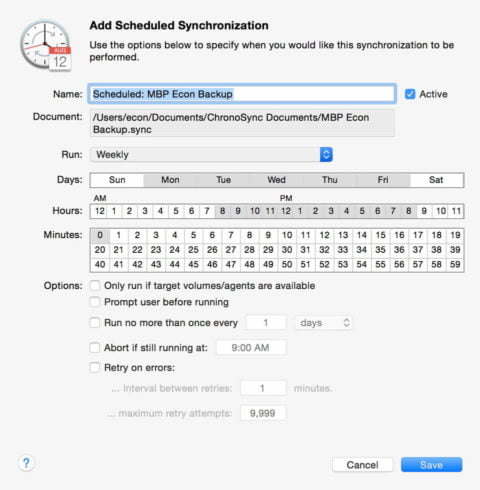 Initial backups of files from one folder to another usually take awhile– the first time. After that, ChronoSync uses a SmartScan component which makes subsequent backups much faster. I started using ChronoSync back in the early days of OS X, around 2003, so I'm mostly familiar with how to set it up and use it in automatic scheduling mode.
Therein lies the only real issue a typical Mac user might have. ChronoSync has so many backup, sync, mirror, clone, and usability features that it can be daunting to try. So, I suggest you go slowly; setup a simple sync from one folder to another, check out the preview before starting the sync, then, once you're comfortable with that, go to the scheduler.
You can easily setup multiple sync operations in a container and have them run according to a schedule.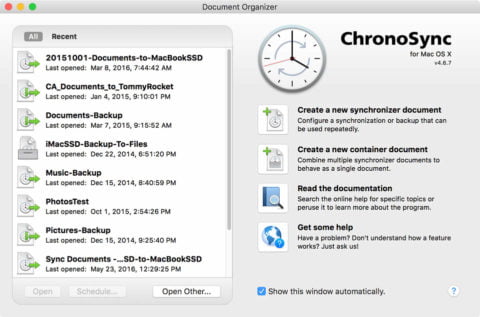 ChronoSync has been a rock solid performer for me through the years and there's never been an upgrade price. The app takes some patience to get used to because there are so many options, but if you could only use a single Mac backup and sync app, this would be the one.