One of the few ways Apple gives Mac users to customize their Macs is the Desktop background; the so-called wallpaper photo. We can choose pre-defined Apple photos, photos from Photos (or, iPhoto), solid colors, or a customized batch of backgrounds.
Once chosen we can change the background picture every x-number of minutes or once a day or randomly or whatever. On OS X El Capitan running on my iMac with the 5K Retina display, I like to change the image every five minutes which adds a different glow to the screen and backgrounds behind open apps. Also cool is this Backgrounds app.
Speedometer, Meet Notifications
Backgrounds is, as the name implies, a Desktop background utility that truly, madly, deeply thinks different. Instead of merely changing the photo, Backgrounds changes everything. First on the list but not as highly valued is the option to display iTunes' current track as wallpaper that can also play music videos. That's not as cool as it sounds because the Mac's screen is cluttered with app windows.
Here's what it looks like displaying iTunes information on the background.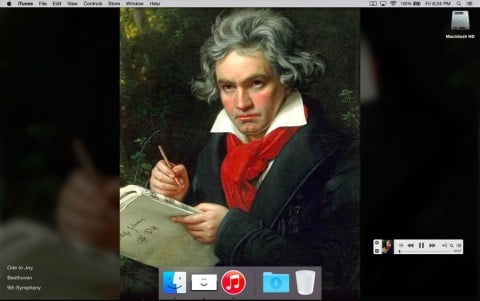 So, Backgrounds also has an option to add a parallax view to the Desktop. Move the Mac's screen pointer over the image and visual things happen. But again, all covered up by open apps.
What got me interested in Backgrounds was the System speedometer (that's what I call it). View your Mac's system stats from within the Notification Center as a Widget, or click to view the speedometer and stats layered over the top of the Desktop image.
Here's what it looks like.
How cool is that?
Still somewhat obscured by app windows, but a Backgrounds gives you a quick glance so you can view useful system stats. Add the time and customize the font, size, position on the screen; even color and shadow, or display or hide the month, day, or seconds, as desired.
There's also an option to run any Quartz Composition as a wallpaper, but I consider that somewhat geeky. The rest of the options certainly justify the few bucks for the entry price but there's no try-before-you-buy option.
Sweet.