It's not exactly a secret the my Mac is loaded with apps. Hundreds. And a few dozen that I use each day.
Through the course of the year I'll try out a few hundred more apps. That means my Mac's Dock is cluttered to the point of nearly unusable. Even the time honored DragThing floating palette launcher is crowded to overflowing. My Dock shortcut icon is filled with app icons and they shift with every new entry or deletion.
I've gone from Dock to floating palette to tabs to find a worthy Mac app launcher.
Tabs? We Don't Need No Stinking Tabs? Or, Do We?
One aspect of DragThing I like is the hot spot. Move the Mac's mouse pointer to a hot spot at the side of the screen, and the floating palette of app icons pops up.
TabLauncher works in a similar manner but doesn't take up the whole screen when launched.
The tabs float quietly on the side (left or right, top or bottom) of your Mac's screen.
Move the mouse pointer over a tab and it pops out a bit, revealing the app icons. Click an app icon and the app launches. Then, the tab retreats back and out of the way.
Here's how it looks during initial setup.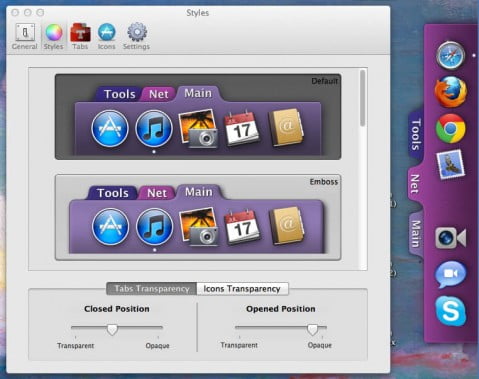 Setting up TabLauncher can be much more complicated than using the app. Usage is drop dead easy.
The Configuration menu is extensive. You control the tab locations, various skins, fonts and sizes and shadows, the text used on each app icon, spacing between icons, and much more.
General Controls allow you to load and save TabLauncher configurations, open at login, display in the Menubar, even import app icons from the Dock (or reset to defaults).
There are seven tab Styles to choose from and Tabs can be customized, too, giving you options on fonts and colors.
You control the Icon text labels (even color and shadow, position, size, and spacing). Preferences even gives you options to manage tab behavior, animations, and effects.
When TabLauncher's Preferences are open, the tabs pop out so you can see you customizations.
In many respects, TabLauncher is a much needed improvement over the Dock, though not quite as easy to set up, but easier to use, especially if your Mac is loaded with apps. Tabs are just a more efficient use of space, and apps are still a single click away.
If you need more than the Dock and don't mind some tweaking and twiddling to configure it, TabLauncher is an elegant way to manage many apps.