If nothing improves without change, then it's allowable to give up the tried and true for awhile and try out something new.
Reminders on the Mac, iPhone, and iPad is useful, but about as simple as snow. Simply using Reminders puts you on the fast track for efficiency and productivity and that means you're likely to graduate to a more capable, comprehensive solution for reminders, lists, and Getting Things Done.
GTD. Mac. iPhone.
There are few Mac or iPhone reminders and list apps with a little muscle that I have not tried in the past few years.
Right up front I'll state the obvious. If the Mac version does not have a corresponding iOS version, then I'm not interested.
Why not? Because we lead busy lives and manage multiple devices; Macs for heavy lifting, iPhones and iPads for on-the-go productivity and communication.
The Hit List for the Mac is much like Reminders would be if it had muscle and features beyond the basics. And, The Hit List is also available for iPhone.
What you can do is make lists and reminders and notes and keep them organized in smart folders, then keep everything synchronized between Mac and iPhone. The Hit List is GTD– David Allen's popular Getting Things Done method for productivity– aware but goes well beyond basic list keeping and focus.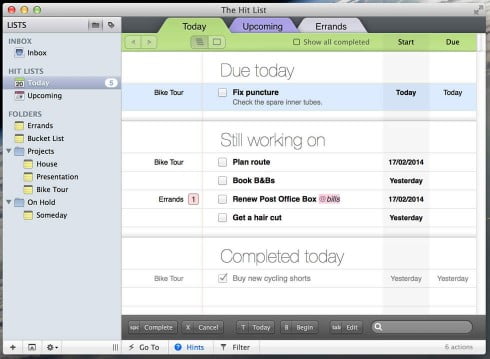 The Hit List for Mac uses the familiar lefthand sidebar to list an Inbox of todo items and reminders, but also what's on schedule for Today and Upcoming. Projects can be stored as folders and todo items and reminders stored within each Project as a task.
That simple organization lets you see what needs to get done, lets you focus on what is important, even to the point of timing progress on a task, but it's just as easy to schedule items– from work to meetings to bills to whatever, with just a few clicks.
Notes can be dropped into Cards and stored so The Hit List is as much reminder as it is list and task maker as it is notetaker and scheduler– all wrapped up in an easy to use app. The iPhone version works differently, of course, taking advantage of touch and swipe to view tasks, make lists, but is instantly familiar.
Sync between Mac and iPhone works well enough, and it's fast, but I don't know how it is synced, how files are encrypted or protected, and why there is no Dropbox or iCloud option.
Otherwise, nicely done, not too complex at first, but with plenty of useful features for any Reminders and Notes user who needs more. You'll pay for the privilege of being more organized, though.
---
Wireless Whole House Audio
Airfoil streams any audio from your Mac to AirPlay, Bluetooth, and Chromecast hardware, all in sync. You can send any audio, anywhere. Get a free trial today!
Cheap Apple
Tera shows how and "Where Apple Is Oh So Cheap" and could afford to give customers a little more.