The early access version of ARK: Survival Ascended – the latest game in the ARK series – recently hit the Steam shelves, and it didn't surprise us that the game missed a macOS port. However, this didn't stop us from attempting to play the game on our Macs via different workaround methods.
We looked at different potential options, none of which worked, until we finally checked the GeForce Now cloud gaming service to find that the game is supported in its library. This let us play ARK: Survival Ascended on our Macs, and now we want to share our experience as well as help you play the game yourself.
The only current method to play ARK: Survival Ascended on Mac
If you want to directly jump into the game, here's a brief overview of the only working method with a link to a guide where we explain how to set it up and use it. And if you want to first read what we have to say about the experience of playing ARK: Survival Ascended on an Apple machine through GeForce Now, you'll find our full write-up further down this page.
GeForce Now is the most well-known cloud gaming service at the moment, and it also has the biggest gaming library out there. Additionally, this is the only cloud gaming service that currently features a free option.
Features:
A free (albeit limited) subscription plan.
Ability to play with 4K and 120 FPS and use RTX technology with its Ultimate plan.
Supports upwards of 1500 games.
Testing ARK: Survival Ascended on Mac with GeForce Now – What we learned
The reason using GeForce Now allows us to play ARK: Survival Ascended on our Macs is that it lets us stream the game from one of GFN's gaming rigs to our Mac, without actually needing to have the game installed locally. This solves the compatibility and system requirements problem and the only condition that needs to be met to have a good performance is the Internet we stream with needs to be fast and stable.
This isn't the first time we test a game through this cloud gaming service, so we had a general idea of what the overall experience would be. At the same time, though, it's worth noting that ARK: Survival Ascended has some ridiculous system requirements as well as some MAJOR optimization issues that were not yet fixed at the time of our testing. In other words, we fully expected that even the super-duper souped-up gaming rigs of GFN might struggle to run this game.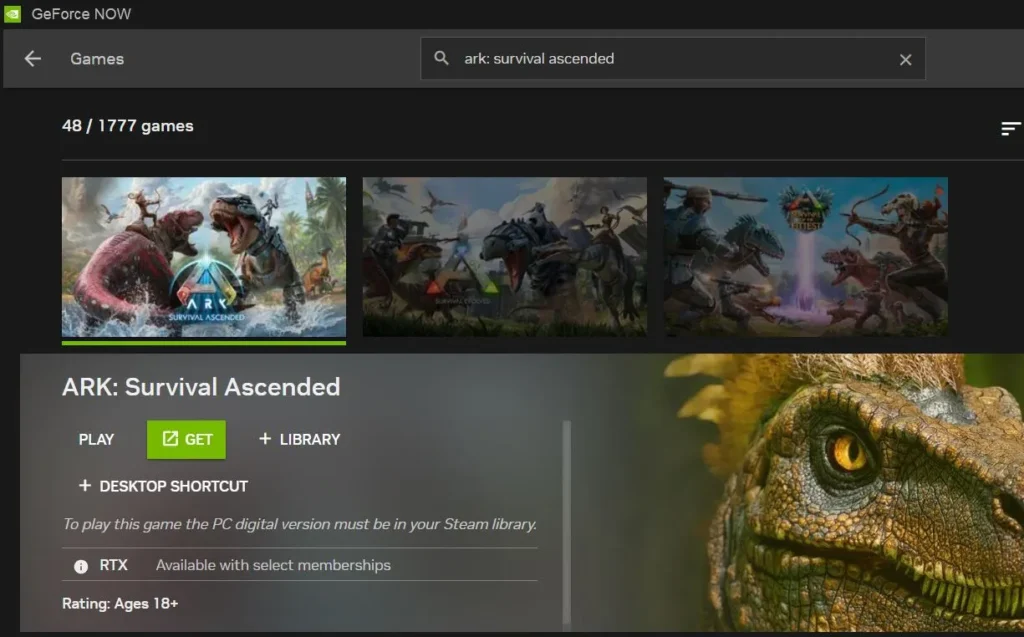 For our tests, we initially opted for the GeForce Now Priority plan. It lets you use a Premium RTX rig and stream any game with an up to 1080p resolution and up to 60 FPS. The Internet required to get a stable and smooth streaming quality with this plan needs to have at least 25 Mbps speed and less than 40 ping.
The internet we tested with had a 30 Mbps speed and 50 latency, so not ideal, but definitely workable. The game started normally, but once we started playing, we quickly started noticing issues. Even though the game was technically running on a powerful gaming rig, we got no more than 45 FPS at medium settings and DLSS set to Performance. It's important to note that this isn't a problem with GFN but rather a problem with the aforementioned lack of optimization in ARK: Survival Ascended.

The streaming quality was actually pretty good, and we got almost no stuttering or image degradation despite the occasional lag spikes that our Internet experienced. Because of this, we did manage to do some quality testing as long as the game behaved. However, as mentioned, the poor state of ARK: Survival Ascended at the time of testing resulted in several crashes and annoying bugs which, again, has nothing to do with GFN as a service. Apparently, other users who've tried to play the game with GeForce Now have had a similar, or even worse experience.
We knew there was no point in trying, but we still decided to see if the game would perform better if we used the GeForce Now Ultimate plan which lets you stream the game from an even more powerful RTX 4080 gaming rig. Playing ARK: Survival Ascended on our Mac with this GFN plan did provide a noticeable improvement, as the FPS rate was sitting between 65 and 70 for most of the time while playing the game with high settings and 2K resolution, but this obviously didn't solve the other problems with ARK: Survival Ascended, so the game crashed on us a couple more times.

Overall, GFN was solid during those tests, with only a couple of minor hiccups in the streaming quality. However, the game itself is indeed in a pretty poor and unfinished state at the moment, so it's probably best to wait until it gets a couple of optimization patches before you decide to purchase it and commit to a GNF subscription in order to play it. As for the GeForce Now plan that we recommend, Priority is an okay option even if the FPS for ARK: Survival Ascended isn't great at the moment, but if you are eager to play the game right now, the Ultimate plan is probably the better option, since it's the only one that can power through the lack performance optimization in this game.
Are there any other methods to play ARK: Survival Ascended on Mac?
ARK: Survival Ascended is a very heavy game, which means that most Macs, including M1 and M2 MacBook Pros, will have a hard time meeting its requirements, making methods to play the game locally, such as Boot Camp, CrossOver, and Apple's Game Porting Toolkit less than ideal. We attempted to run ARK: Survival Ascended with both the Game Porting Toolkit and CrossOver on our 32GB M1 Max MacBook Pro, but we couldn't get it to work. Maybe in the future a viable fix will become available, but for the time being, it seems that neither of these methods are an option.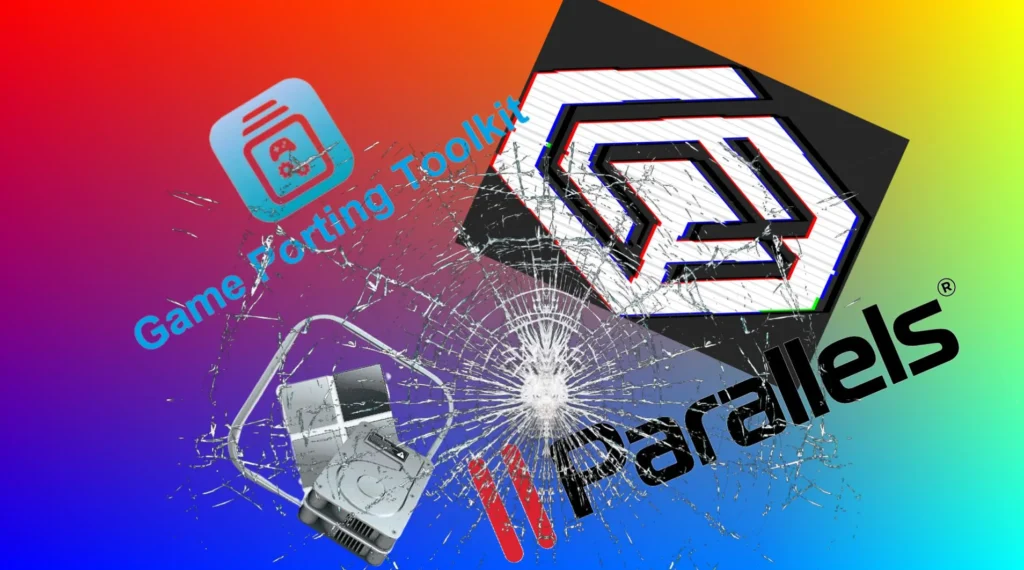 As for the cloud gaming solution, GeForce Now is currently the only platform that can be used to play ARK: Survival Ascended on a Mac. Maybe other cloud platforms will add the game to their libraries in the future, but for the time being, in which case we'll make sure to update this post.
Conclusion
ARK: Survival Ascended seems to be a game that needs some time before it becomes worth recommending as a whole, and it's actually surprising that there's currently a valid way to play it on a Mac machine. If you are thinking about trying the game on your Mac, we recommend waiting for a bit until it receives some optimization, at which point the GeForce Now Priority plan will be a good option to play this game on a Mac. On the other hand, if you are such a big fan of the franchise that you cannot wait, then you may want to go for the GFN Ultimate plan to get the best experience possible in spite of the game's many current shortcomings.