The lack of an FC 24 Mac version didn't surprise anyone, yet there are still plenty of Mac users who want to be able to play this game without the need to get a dedicated gaming PC. And since we, too, wanted to try out the spiritual successor to EA's long-standing FIFA series, we decided to look for workaround methods that could allow us to join in on the fun from our Apple machines.
The only method to play FC 24 on Mac
Of all the different methods we attempted, the only one that allowed us to play FC 24 on any of our MacBooks was to use the Boosteroid cloud gaming service. Potentially, it might be possible to run the game through Boot Camp on an Intel-based Mac, but it would need to be a very powerful one, such as a Mac Pro or a high-end iMac. Unless you have such a machine, Boosteroid remains the sole option for playing this game on an Apple machine, since it's the only cloud platform that has FC 24 at the moment.
If you want to find out more about Boosteroid and learn how to use it, check the following section. And further down, we've also shared our personal experience with this service, while streaming FC 24.
FC24 Mac instructions
Boosteroid is an independent cloud gaming platform that integrates all major vendors to its service and excels in adding support for the latest titles before other platforms. Read our review on Boosteroid. Look at our Boosteroid list of games.
Editor's choice: we recommend Boosteroid as a starting point for most Mac users because of its plug-and-play nature and overall performance. It is especially useful for its constant 60 FPS even on modern titles while not causing your Mac to overheat or requiring tens of gigabytes of storage.
Features: Constant 1080p/60 FPS; Stable connection; Low bandwidth requirements (15 MBPS); Huge gaming library with all the latest AAA titles
Our EA FC 24 Boosteroid experience on Mac
As we said above, we looked at different potential methods to play FC 24 on our Macs, and the only one that managed to get the job done was Boosteroid. There are different reasons as to why none of the other methods worked, and we'll get into that in a moment, but now we want to share what we liked and didn't like about our experience with Boosteroid, and tell you if we recommend it for playing EA FC 24 on a macOS machine.
Since Boosteroid is a cloud service, it lets you play FC 24 by streaming it to you, while the game is running on a remote gaming PC. This solves a lot of problems specific to gaming on a Mac: it obviously resolves the compatibility issue, but it also makes the specs of your Mac irrelevant, meaning that the game can be played even on an old and weak Mac. For example, we played EA FC 24 on an 2016 MacBook Pro without any issues. Also, since the game doesn't need to be installed locally, this also saved us a ton of storage space.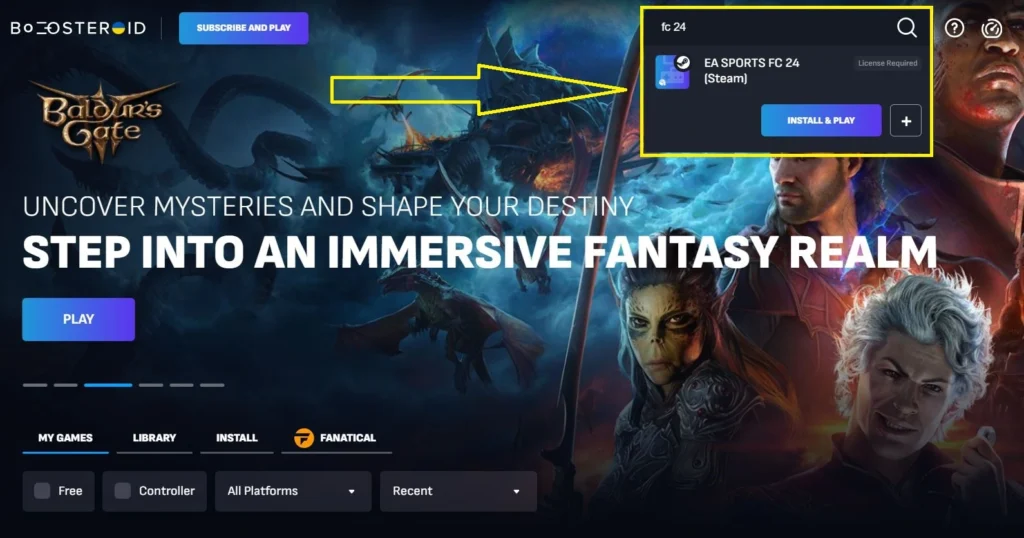 To start playing, we logged into our Boosteroid account, loaded the game, and went straight in. Currently, all of this service's plans provide 1080p and 60 FPS gameplay. To us, this is perfectly fine, but if you are seeking a 2K or 4K experience, this is currently not an option with Boosteroid.

One very important thing to note here is that, although FC 24 is streamed to your Mac at 1080p, if your Internet's bandwidth isn't enough, the image quality you are seeing might be lower because not all visual data can be streamed to you. The good news is that you can get away with a pretty mediocre Internet connection while playing FC 24 through Boosteroid – 25 Mbps and a latency lower than 40-50 ms is more than enough for a smooth experience with this service. Our connection barely meets these requirements, yet we had almost no image degradation or any significant stuttering.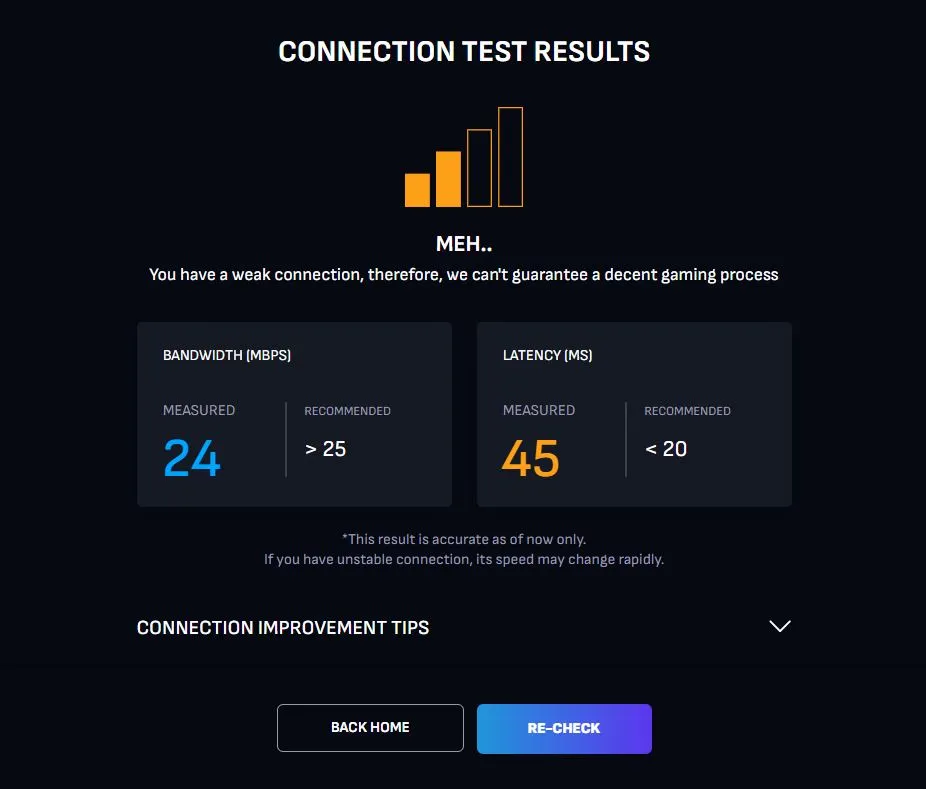 It's not all perfect, though. Even if the gameplay was smooth, it should be said that playing through a cloud service will always result in a higher input and output delay (lag) as opposed to playing the game locally. And in a fast-paced soccer simulator such as FC 24, every millisecond counts, especially at higher skill levels. Good thing that the matches we played were anything but high-level, so this delay didn't affect our experience as much. However, if you are a more competitive player and want to gradually improve at FC 24, then Boosteroid might not be ideal for you.
To summarize, our gameplay experience with EA FC 24 on Mac, while streaming it via Boosteroid, it's certainly not the same as playing the game locally, on a powerful gaming PC, and it's not ideal if you are more on the competitive side. However, it's still definitely a valid option that provides a surprisingly smooth gameplay and image fidelity when you consider that everything is being streamed in real time. In other words, we can absolutely recommend this platform for playing FC 24 on a Mac.
Other potential FC 24 Mac methods we tried (that didn't work)
Usually, there are more than one way to play an unsupported game on a Mac, so we explored other potential options, but in the case of FC 24, none of them seemed to work.
Apple's Game Porting Toolkit is currently one of the most popular workarounds for gaming on a Mac, yet trying to use it to bypass the lack of a version of FC 24 for Mac results in an error caused by the requirement for AVX (Advanced Vector Graphics). This is a hardware requirement, which the architecture of M1 and M2 chips doesn't support, so games like this one that need AVX cannot run on Apple Silicon. The same thing applies for CrossOver.
We also thought about running the game on an Intel-based MacBook by installing Windows on it with Boot Camp, but what stopped us there were the game's GPU requirements. The game requires a minimum of 4 gigs of VRAM, and we do not have that kind of Mac. The only Intel Macs theoretically able to pull this off are desktop models such as the Mac Pro and high-end iMacs.
Lastly, we looked for other cloud gaming options that may offer the game in their libraries, but it turns out that, at the moment, Boosteroid is the only cloud service that supports this game.
Conclusion
FC 24 is one of those games that are particularly ill-suited for being played on Mac, even with the use of various workarounds. Popular emulation methods such as CrossOver and Game Porting Toolkit don't work here due to hardware limitations, and it's a similar situation with the Boot Camp Assistant workaround. The game's also missing from the libraries of popular cloud gaming platforms, such as GeForce Now and Xbox Cloud Gaming. With all that said, there's still a way to EA FC 24 on a Mac, and that is to use the Boosteroid cloud gaming service, which provides a surprisingly smooth experience and should meet the needs of all but the most competitive of gamers.