Can You Play Dota 2 on Mac
Dota 2 is a standout title in the world of MOBAs that offers Mac users diverse ways to delve into its strategic and competitive gameplay. We explored playing Dota 2 on an M1 MacBook Pro using its native macOS version and two cloud gaming platforms: Boosteroid and GeForce Now. Our focus was on testing these alternatives, particularly to see if they could save us the hassle of lengthy downloads and significant disk space usage.
Dota 2 Mac Guide to Cloud and Native Gaming
Playing Dota 2 on your Mac locally involves downloading the native MacOS version from Steam. Here's a straightforward guide:
Install Steam: If you don't have Steam on your Mac, grab it from the Steam website and install it.
Create or Log In to Your Steam Account: For those without a Steam account, create one. If you're already a user, just log in.
Access the Steam Store: Once logged in, explore the Steam Store, where you can browse and purchase games.
Purchase and Download The Game: Find Dota 2, click on it, purchase it, and it'll be added to your Steam library.
Install and Play: In your Steam library, locate Dota 2, click "Install," and the game will be downloaded and installed. After that, hit "Play" to start the game.
Manage and Customize: Utilize Steam to customize your gaming experience. Adjust graphics, controls, and other settings to optimize your gameplay.
The native version of Dota 2 is free, and it caters to both Intel and Apple Silicon machines, ensuring a smooth performance on Mac.
Boosteroid is an independent cloud gaming platform that integrates all major vendors to its service and excels in adding support for the latest titles before other platforms. Read our review on Boosteroid. Look at our Boosteroid list of games.
Editor's choice: we recommend Boosteroid as a starting point for most Mac users because of its plug-and-play nature and overall performance. It is especially useful for its constant 60 FPS even on modern titles while not causing your Mac to overheat or requiring tens of gigabytes of storage.
Features: Constant 1080p/60 FPS; Stable connection; Low bandwidth requirements (15 MBPS); Huge gaming library with all the latest AAA titles
GeForce Now is the most well-known cloud gaming service at the moment, and it also has the biggest gaming library out there. Additionally, this is the only cloud gaming service that currently features a free option.
Features:
A free (albeit limited) subscription plan.
Ability to play with 4K and 120 FPS and use RTX technology with its Ultimate plan.
Supports upwards of 1500 games.
Our Experiences with Dota 2 on Mac
This table provides a comparative overview of the Dota 2 Mac experience across Steam's native macOS version, Boosteroid, and GeForce Now. Each platform has its strengths and considerations that cater to different preferences in gaming setups and connectivity.
| Aspect | Steam's Native Version | Boosteroid | GeForce Now |
| --- | --- | --- | --- |
| Accessibility | Requires local download | Browser-based, accessible | Requires app installation |
| Resolution and FPS | Full HD, 100 FPS | 1080p, 60 FPS | 1080p, 60 FPS |
| Initial Download Time | Quick and free | Streamed, no download | Streamed, no download |
| Internet Requirements | N/A | 20 Mbps (recommended) | 25 Mbps (recommended) |
| Image Quality and Stability | High, stable | Stable, occasional lag | Stable, occasional lag |
| Landscape Detail Preservation | Well-captured | Well-captured | Well-captured |
| Offline Play Availability | Yes | No | No |
| Overall Gaming Experience | Smooth and reliable | Stable and enjoyable | Enjoyable with occasional hiccups |
Dota 2 MacBook Experience via Steam's Native macOS Version
Playing Dota 2 natively on macOS via Steam was a smooth and impressive experience, just as expected. The game is free and downloaded quickly on our M1 MacBook Pro. Once we were set and loaded it, we enjoyed high frame rates (around 100 FPS) at medium/high settings and full HD resolution. We tried to push the quality and resolution higher, but that did lead to some FPS drops during intense moments, therefore, we decided to stick to the balance of full HD settings and disabled additional details, which provided us with a steady FPS. As a conclusion from what we experienced, this native approach for playing Dota 2 on Mac is ideal for those who prefer the reliability of offline play and have enough disk space for the game.
Dota 2 for Mac with Boosteroid
With Boosteroid, we loaded Dota 2 on Mac directly from our Chrome browser and what we noticed was that, the performance aligned with the standards set by other games we've explored on this platform. Our ongoing subscription granted us entry into the game at a 1080p resolution, cruising smoothly at 60 FPS—a combination that truly enhanced the immersive gameplay. The details of the game's landscapes were well-captured at this resolution. However, it's worth noting that to sustain consistently high image quality and a stable FPS, our internet had to meet Boosteroid's service requirements.
Thankfully, Boosteroid's low internet threshold emerged as a notable advantage, and we believe that this is particularly useful for users with limited connectivity. Our test with a 20 Mbps connection, while not an optimal scenario, delivered a stable and enjoyable gaming experience. While occasional lag spikes briefly nudged image quality and introduced slight stuttering, these hiccups were fleeting and didn't overshadow the overall gaming journey.
Dota 2 Mac Experience with GeForce Now
Shifting to GeForce Now, our Dota 2 Mac experience closely echoed the vibes from our time on Boosteroid. The user-friendly interface and streaming performance of GeForce Now were on par, although it does demand a slightly speedier internet connection of at least 25 Mbps to maintain a steady stream at 1080p and 60 FPS. With that said, the game played seamlessly, though occasional bumps in lag momentarily impacted visuals and FPS. Despite these minor speed bumps, GeForce Now delivered a reliable stream and provided, an enjoyable gaming expedition even when grappling with less-than-ideal internet conditions.
If we have to draw a comparison between Boosteroid and GeForce Now based on our experience, both platforms emerged as robust contenders, each bringing its distinct strengths and offerings to the table. While Boosteroid might take a slight lead in terms of game choices and pricing, GeForce Now's extensive server network could promise superior streaming quality across various global regions.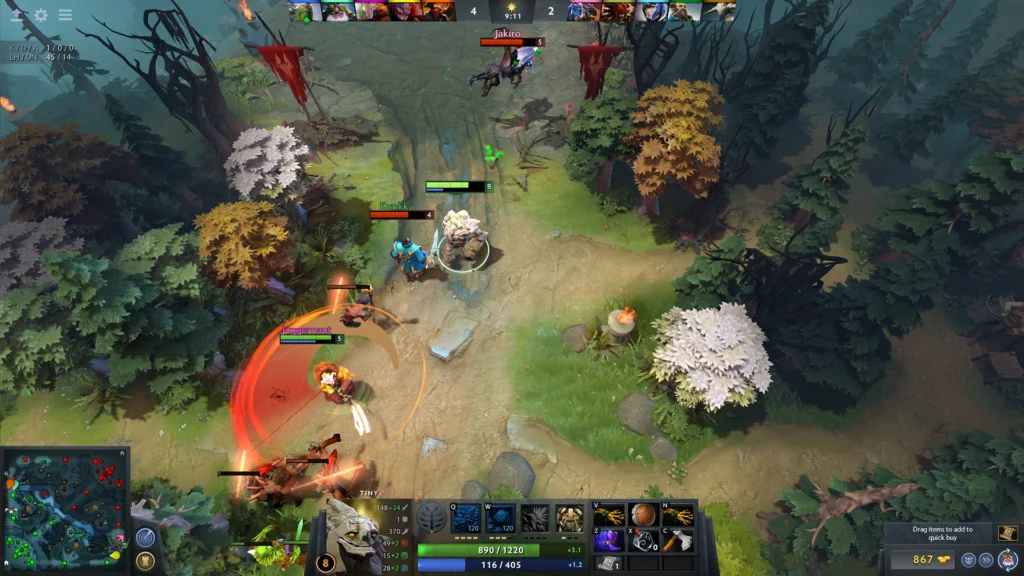 Conclusion: Finding Your Ideal Dota 2 Mac Experience
Without hesitation, the native Steam version is a solid choice for the most straightforward and reliable Dota 2 experience on Mac, especially for gamers with a stable setup and a preference for offline play. It is optimized for Mac, free, and doesn't rely on internet quality. However, from what we tested, Boosteroid and GeForce Now proved to be great alternatives for gaming on the go thanks to their ability to run on various devices (including less powerful Macs) and for gamers like us, both cloud gaming solutions appear to be ideal when we want to jump into Dota 2 on Mac without the hassles of downloads and updates.