Hogwarts Legacy is one of the most demanding and ambitious games of 2023, so, naturally, it's not a title you'd expect to see ported to Mac. But what if you are a fan of the Harry Potter franchise and eager to dive into one of the best gaming representations of the wizarding world on your Mac? We have some good news for you – there are actually several fully-functioning methods to play Hogwarts Legacy on Mac systems. Those are Boosteroid, CrossOver, Apple's Game Porting Toolkit, and, to a lesser extent, Boot Camp. We tested each of those methods and now wish to help you choose the best one for you by sharing our experience.
How to play Hogwarts Legacy on Mac: All methods
Of course, if you can't wait to immerse itself into the magical world of Hogwarts Legacy on your Apple machine, we don't want to hold you back, so here are all the methods we've confirmed to work.
Boosteroid is an independent cloud gaming platform that integrates all major vendors to its service and excels in adding support for the latest titles before other platforms. Read our review on Boosteroid. Look at our Boosteroid list of games.
Editor's choice: we recommend Boosteroid as a starting point for most Mac users because of its plug-and-play nature and overall performance. It is especially useful for its constant 60 FPS even on modern titles while not causing your Mac to overheat or requiring tens of gigabytes of storage.
Features: Constant 1080p/60 FPS; Stable connection; Low bandwidth requirements (15 MBPS); Huge gaming library with all the latest AAA titles
CrossOver acts as a compatibility bridge that enables Windows-based applications to seamlessly run on macOS by translating their underlying code. It comes with a straightforward user interface and speedy setup process, although gaming performance and stability can vary among different titles. It's essential to recognize that emulated games generally offer somewhat suboptimal performance compared to their native counterparts. Therefore, CrossOver truly shines when utilized on relatively powerful Apple Silicon machines, especially those equipped with the M1 Pro or higher, which ensure a much smoother and more enjoyable gaming journey.
CrossOver and Apple's Game Porting Toolkit: As of recently, the powerful Game Porting Toolkit translation layer got integrated into CrossOver, making it possible for DirectX 12 games to be run with it. This makes CrossOver the current best option for downloading and playing games on Apple Silicon Macs.
Features:
Makes it possible for Windows software to operate on macOS by converting their code.
Has an intuitive interface, simplifying the process of getting Windows software up and running on your Mac.
To achieve a smoother gaming experience, CrossOver is most suitable for users with an M1 Pro processor or higher.
Boot Camp Assistant is a built-in Apple app that comes pre-installed on Intel-based Mac models. With its help, users can install the Windows 10 OS in a separate partition on their Macs. Booting from that partition allows the Mac to function exactly as a Windows PC and lets it run all compatible software.
Note: Not available for Apple Silicon models.
Features:
Provides native Windows 10 experience.
Allows running all Windows-compatible programs and games as long as the Mac's hardware can support them.
Testing each method to play Hogwarts Legacy on Mac
Although each of the methods we told you about are viable options for running Hogwarts Legacy on a Mac computer, they work in vastly different ways and, depending on your setup and personal preference, some may be a better option for you than others. We made sure to try each of them, and now it's time to tell you about our experience with them.
Our thoughts after playing Hogwarts Legacy on Mac with Boosteroid
Many users seem to be prejudiced towards cloud services, thinking they are not a good option for gaming, and we were too before we actually started testing them. Like many times before, Boosteroid proved a good option for playing an unsupported game, such as Hogwarts Legacy, on an Apple machine.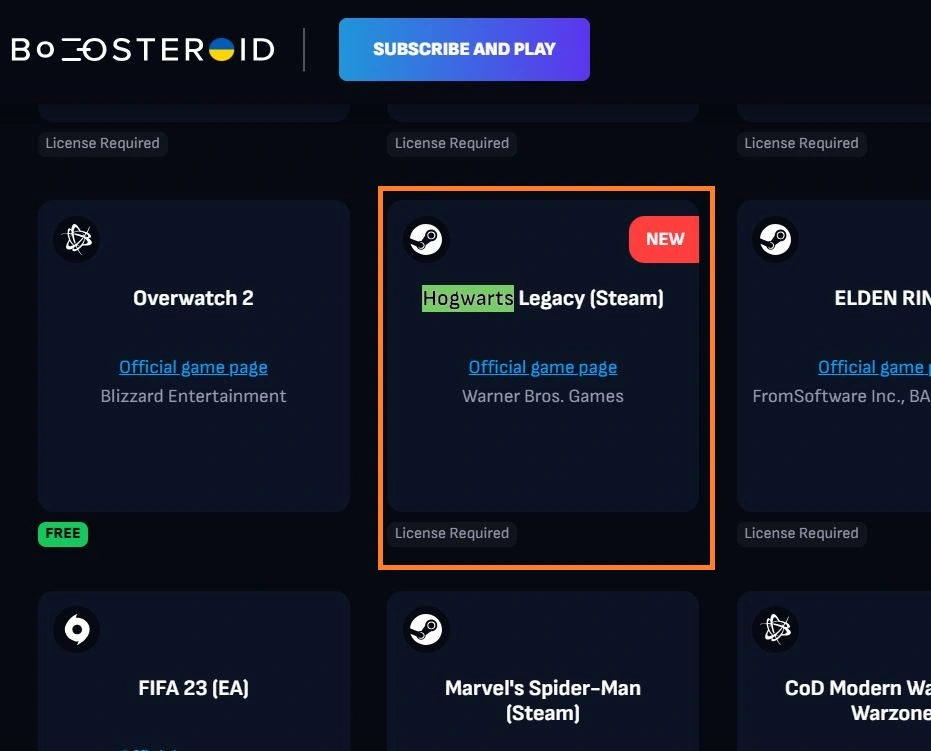 Cloud services work by streaming the chosen game to you, so it doesn't matter if your system is too weak or if it is simply incompatible with the game. The Boosteroid plan we are subscribed to at the moment provides a maximum of 1080p resolution and 60 frames per second for our streams. You do need a decent Internet connection to get that resolution and frame rate, but the Internet requirements for Boosteroid really aren't that high. Anyone with a 15 Mbps Internet and with lag less than 40 ms should be able to enjoy Hogwarts Legacy (and other games) through this service.
When we tested the game with Boosteroid, we made sure to use a mediocre wireless Internet with 25 Mbps speed and around 40 ms latency. Despite this, Hogwarts Legacy ran well on our M1 MacBook Air, save for a couple of instances, where lag spikes caused a brief drop in the resolution and a bit of stuttering. The stream quickly recovered, and we were able to continue playing uninterrupted.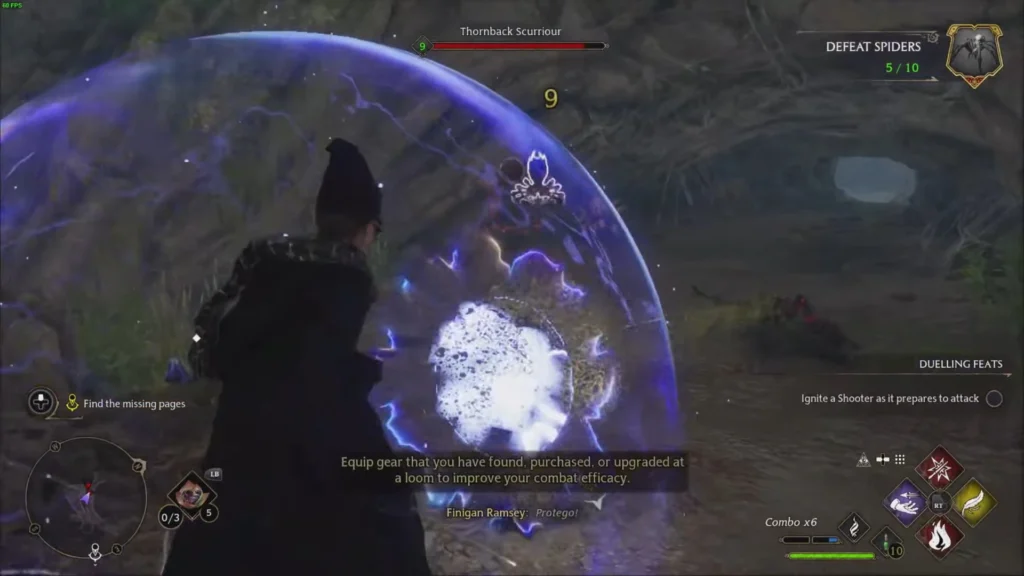 The only other thing that may irk some more demanding users is a slight input delay, caused by the fact that the game needs to be streamed from a remote server and isn't running locally on your machine. This is typical for all cloud services, making this method of gaming less than ideal for competitive multiplayer games. However, for a single-player adventure like Hogwarts Legacy, this really shouldn't be a problem, and we didn't even notice it most of the time.
At the moment, Boosteroid is the only cloud gaming services that features Hogwarts Legacy in its gaming library, but we can say that it is definitely a solid option for playing the game.
Is CrossOver a good option for playing Hogwarts Legacy on Mac?
CrossOver is the other main option for playing Hogwarts Legacy on a Mac. This app lets you download the Windows version of the game and run it directly on your Mac by translating the game's code, making it understandable to macOS.
Here, it's important that your Mac meets the system requirements of Hogwarts Legacy. Since the game doesn't have any official requirements for Mac, it can be difficult to determine what Mac models are powerful enough to run the game, but based on our tests with CrossOver, which we performed on an M2 Max MacBook Pro, you need a Mac with at least an M1 Pro chip to run the game with any decent performance. Anything weaker than that and the game will probably be unplayable.
As for our experience during our tests, we managed to start Hogwarts Legacy with CrossOver on our M2 Max machine without any difficulty. This app is very easy to use and setting it up and starting games in it is intuitive and doesn't require any advanced knowledge or experience.
Before we started playing, we set turned on the D3DMetal option in CrossOver, so that we could run DirectX 12 games. Also, once we were in the game itself, we set its settings to 'Low' and enabled the FSR Quality mode for better visuals at lower performance cost. This gave us a consistent frame rate of 40 to 45 FPS, which, to us, is perfectly respectable performance. Once we tried the Medium settings, the FPS dropped to around 25, so it was still playable, but fewer frames per second were definitely noticeable.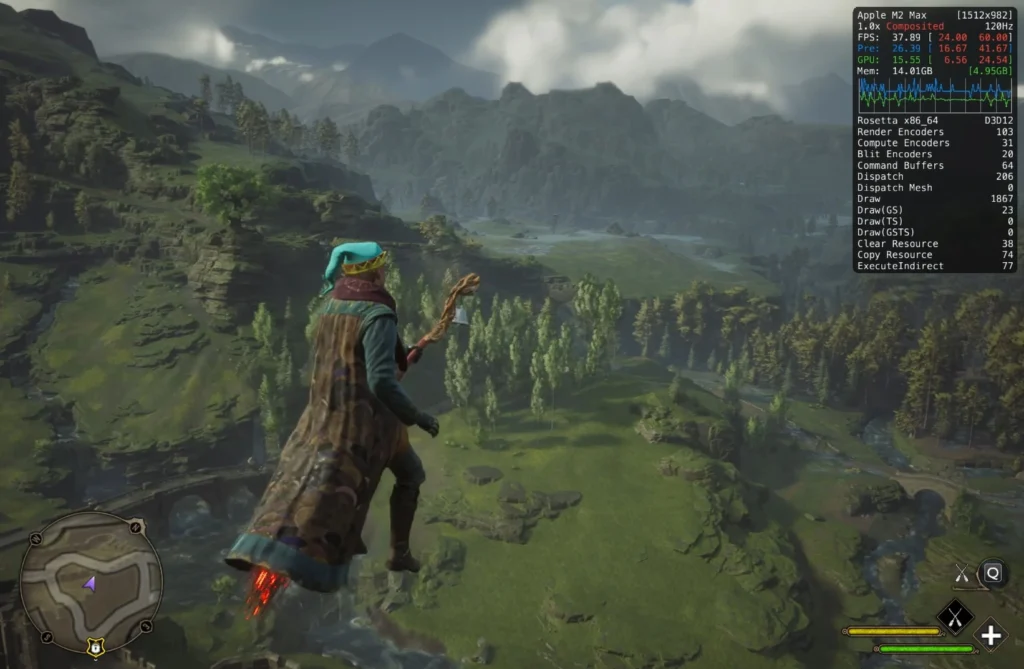 Overall, the game works fine in CrossOver even if the performance isn't what it could be if we were playing a non-existent Hogwarts Legacy macOS port. In other words, we can say that CrossOver is a good option for enjoying this game on an Apple machine, but only if you have an M2 Pro Mac with 16 GB memory or a more powerful Apple Silicon machine.
What about Hogwarts Legacy with the Game Porting Toolkit?
Gameplay-wise, the Game Porting Toolkit provides nearly the same performance as CrossOver, since GPTK is integrated into it. However, if you want to use the free Game Porting Toolkit app instead of the paid CrossOver, you certainly can and Hogwarts Legacy will still run on your Mac. The issue here is that the setup process of the vanilla Game Porting Toolkit is much more time-consuming and confusing. Also, the Toolkit itself isn't user-friendly and more prone to errors and crashes compared to CrossOver.
Despite the disadvantages, we gave it a try and Hogwarts Legacy ran quite well in it. Using the same low settings and FSR set to Quality, we got around 35 FPS – a bit less compared to CrossOver, but still enough to have fun with the game. With the medium settings, our M2 Max machine managed around 20 FPS, which wasn't great, so we didn't spend much time testing this configuration.
In summary, if you really want the free option, the Game Porting Toolkit is indeed a viable alternative for playing Hogwarts Legacy on a Mac computer, but we think that paying for CrossOver is still worth it, considering the many advantages that it brings in terms of performance, ease-of-use, stability, and support.
Hogwarts Legacy CrossOver and Game Porting Toolkit fix
There is an unpleasant bug that many users seem to encounter after playing Hogwarts Legacy for the first time through CrossOver or the Game Porting Toolkit, where they aren't allowed to relaunch the game. The fix for that issue is to open the C: drive of the CrossOver bottle/GPTK prefix where the game is installed, and deleting the ProgramData/Hogwarts Legacy folder.
Is Hogwarts Legacy playable on Mac with Boot Camp?
The last method we'll talk about is where you install Windows on your Mac using Boot Camp and then download and start the game from within the Windows partition. This method only works on Intel-based Macs, which is the main issue, because Intel Macs don't have good GPUs and Hogwarts Legacy is a very graphically demanding game.
In other words, there are very few Intel-based Mac models that could potentially run the game with an okay-ish performance. Maybe an iMac Pro or a Mac Pro can pull this off, but most MacBooks, even high-end MacBook Pros, will either offer very poor performance, or not be able to run the game at all.
We did try this method on a 2018 MacBook Pro with 16 GB of RAM and though Hogwarts Legacy did launch, we were barely getting 20 FPS using the lowest possible settings, so the game was borderline unplayable. In other words, this method is a viable option only to users with high-end desktop Macs.
If you have such a Mac, Boot Camp actually becomes a viable method, because it pretty much guarantees you won't come across any errors, bugs, or crashes, while trying to start and play the game (unless there are problems with the game itself). However, the setup process can take several hours, and you'll need around 200 gigs of free space in order to accommodate both the game and the Windows installation.
Hogwarts Legacy on Mac: Our Conclusion
Despite being one of the most demanding games of 2023, Hogwarts Legacy is definitely playable on Mac and each of the available workarounds is viable in different situations. Overall, we'd say that cloud gaming is the most versatile option that we can recommend to all users, regardless of the type of Mac they have. Then there's the CrossOver/Game Porting Toolkit alternative, which is not bad if you have a high-end Apple Silicon machine, but is not recommended to users with base M1 and M2 Macs and Intel-based Macs. Similarly, Boot Camp can be an okay option but only for users with powerful desktop Macs.