As passionate Mac users and avid gamers, we were excited about the release of Spiderman Remastered, a game that captured the hearts of many players. However, challenged by the fact that it lacks a macOS version, we explored various methods for playing Spiderman on Mac, including cloud gaming with Boosteroid and non-cloud options like Apple's Game Porting Toolkit + CrossOver and Boot Camp. In this article, we'll share our experiences and offer insights on each method's effectiveness.
Spiderman Mac Methods Tested By Us
From what we tested, the Spiderman Mac gaming landscape is currently limited. Boosteroid stands out as the recommended option due to its smooth performance and compatibility with all mac models.
Boosteroid is an independent cloud gaming platform that integrates all major vendors to its service and excels in adding support for the latest titles before other platforms. Read our review on Boosteroid. Look at our Boosteroid list of games.
Editor's choice: For the majority of Mac users, we highly recommend starting with Boosteroid as it is user-friendly and delivers outstanding performance. What sets it apart is its unwavering 60 frames per second, even on the latest and most demanding games, all without pushing your Mac to its limits or eating up massive amounts of storage space.
Features: Constant 1080p/60 FPS; Stable connection; Low bandwidth requirements (15 MBPS); Huge gaming library with all the latest AAA titles
CrossOver acts as a compatibility bridge that enabls Windows-based applications to seamlessly run on macOS by translating their underlying code. It comes with a straightforward user interface and speedy setup process, although gaming performance and stability can vary among different titles. It's essential to recognize that emulated games generally offer somewhat suboptimal performance compared to their native counterparts. Therefore, CrossOver truly shines when utilized on relatively powerful Apple Silicon machines, especially those equipped with the M1 Pro or higher, which ensure a much smoother and more enjoyable gaming journey.
Features:
Makes it possible for Windows software to operate on macOS by converting their code.
Has an intuitive interface, simplifying the process of getting Windows software up and running on your Mac.
To achieve a smoother gaming experience, CrossOver is most suitable for users with an M1 Pro processor or higher.
Boot Camp Assistant is a handy app that's included with Intel-based Mac computers right from the start. It helps you set up Windows 10 on your Mac in its own special section. Once you do that, you can start your machine from that section, and it can work as a full-fledged Windows PC, so, you get the best of both worlds, Mac and Windows, all in one computer.
Note: Not available for Apple Silicon models.
Features:
Provides native Windows 10 experience.
Allows running all Windows-compatible programs and games as long as the Mac's hardware can support them.
Can you play Spiderman on Mac: Our Experiences with Each Method
Here, we provide insights into our experiences with each method for Spiderman on Mac. While our team was keen to explore every possible option, we encountered various results and limitations.
Spiderman Remastered Mac experience with Boosteroid
Boosteroid emerged as the most reliable option for playing Spiderman on Mac. We tested it on a Chrome browser, and we were pleasantly surprised by the overall smoothness and quality. The game ran at mostly consistent frame rates at high settings, and the streaming quality was good enough that we were able to immerse ourselves in the game, without feeling that we were missing out on anything by playing on a Mac instead of a gaming PC. Of course, there were occasional instances of lag and stuttering, especially in areas with a lot of environmental effects, but, overall, Boosteroid offered us a satisfying gaming experience.

Spiderman on Mac using CrossOver + the Game Porting Toolkit
We tried to play Spiderman on Mac using CrossOver and the Game Porting Toolkit, however, the game's system requirements and optimization issues posed significant challenges. We conducted tests on a MacBook Pro 14″ with an M1 Pro chip and 16GB of memory, and our performance evaluation revealed varying results. To run the game, we needed to get a Windows 10 version fix from https://www.applegamingwiki.com/wiki/Game_Porting_Toolkit. During cut scenes in the Remastered version, we achieved a frame rate of 60-80 FPS. However, in actual gameplay, the frame rate dropped to 16-25 FPS, accompanied by frequent freezes every 2-4 seconds. These findings highlighted the importance of exploring alternative gaming methods for a smoother experience.
Spiderman for Mac with Boot Camp
With Boot Camp, we were able to run Marvel's Spider-Man Remastered with okay-ish performance on the 2019 16" MacBook Pro equipped with an i9 9880H, 16GB RAM, and a 5500M 4GB GPU. The game maintained a frame rate of 30 FPS or higher even on high settings with a resolution of 1200p. Once we successfully downloaded the game, the first crucial step was configuring our graphics settings. It became evident that enabling high-performance settings and adjusting compatibility settings were essential to ensure optimal performance. We also recognized that setting a full-screen display mode and carefully tweaking the resolution within the in-game settings significantly contributed to a smooth and visually pleasing Spiderman for Mac experience.
Is Spiderman Remastered on GeForce Now?
Unfortunately, Spiderman Remastered is currently unavailable on GeForce Now due to licensing restrictions, with Sony not permitting the game to be accessible on the service. This decision means that users who wish to play Spiderman on Mac must explore other cloud gaming platforms or local play solutions to enjoy the game on their devices.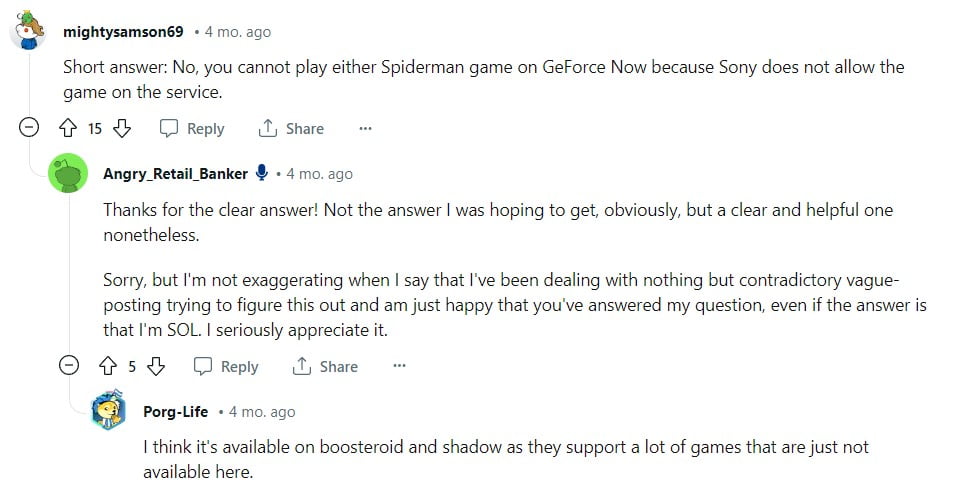 Is Parallels Virtual Machine a Viable Method for Playing Spiderman on Mac?
While some fans inquired about how to play Spiderman on Mac through Parallels, this method presented limitations as well. The game requires DirectX 12, which is not supported by Parallels, and that prevents users from playing the game in this virtual environment.
Other Marvel Games like Spiderman Remastered to Try on Your Mac
If you're a fan of Spiderman Remastered on Mac, there's a whole Marvel gaming universe waiting for you to explore. From becoming Miles Morales in "Spider-Man: Miles Morales" and swinging through New York City to saving the world with your favorite heroes in "Marvel's Avengers" there's something for everyone. For a lighthearted twist, "Lego Marvel Super Heroes" lets you play as iconic characters with a dash of humor. "Marvel Ultimate Alliance 3: The Black Order" is fantastic for cooperative gameplay, while "X-Men Origins: Wolverine" and "Deadpool" offer some intense action with your favorite antiheroes. These Marvel games offer a variety of gameplay styles, so dive in and embark on thrilling adventures in the Marvel Universe!