Can you Play Terraria on Mac
Terraria is a beloved game among Mac users that offers a rich blend of exploration, building, and combat in a unique 2D world. Given the various ways to play Terraria on Mac, we decided to compare cloud gaming platforms like Boosteroid, GeForce Now, and Xbox Cloud Gaming with the local Steam version. Our goal was to determine which method offers the best balance of convenience and performance for Mac gamers, and, in the next paragraphs, you can find our insights on the experience we got.
Playing Terraria on Mac: Cloud Gaming and Local Gaming Instructions
To play Terraria on Mac, the most straightforward method is to grab the native MacOS version from Steam. You can also grab the game with a discount on Cdkeys.com. Here's a step-by-step guide:
Install Steam: If Steam isn't already on your Mac, head to the Steam website and download and install it.
Create or Log In to Your Steam Account: If you're new to Steam, create an account. If you're a seasoned user, just log in.
Access the Steam Store: Once logged in, you'll gain entry to the Steam Store, where you can browse and purchase games.
Purchase and Download The Game: Find Terraria in the store, click on it, and make your purchase. It'll then be added to your Steam library.
Install and Play: In your Steam library, locate Terraria, hit "Install," and let the game download and install on your Mac. After that, click "Play" to dive into the game.
Manage and Customize: Steam allows you to tailor your gaming experience. Tweak settings like graphics and controls to optimize your gameplay.
The native version of Terraria on Mac runs well on both Intel and Apple Silicon machines. Thanks to the Rosetta 2 translation layer, even M1 and M2 Macs smoothly handle the game and deliver a stable and reliable gaming experience. Terraria's modest size (around 200 MB) and low system requirements make it accessible to a wide range of Mac users, as it requires minimal storage and processing power.
Boosteroid is an independent cloud gaming platform that integrates all major vendors to its service and excels in adding support for the latest titles before other platforms. Read our review on Boosteroid. Look at our Boosteroid list of games.
Editor's choice: we recommend Boosteroid as a starting point for most Mac users because of its plug-and-play nature and overall performance. It is especially useful for its constant 60 FPS even on modern titles while not causing your Mac to overheat or requiring tens of gigabytes of storage.
Features: Constant 1080p/60 FPS; Stable connection; Low bandwidth requirements (15 MBPS); Huge gaming library with all the latest AAA titles
Xbox Game Pass is a library solution owned by Microsoft. Its main attractive points are the ability to play hundreds of titles at the price of a monthly subscription and the access to a cloud gaming service that supports the majority of those games.
Features:
Access to hundreds of games without the need to purchase them individually.
Ability to play the Game Pass titles on any device through the Xbox Cloud Gaming service.
GeForce Now is the most well-known cloud gaming service at the moment, and it also has the biggest gaming library out there. Additionally, this is the only cloud gaming service that currently features a free option.
Features:
A free (albeit limited) subscription plan.
Ability to play with 4K and 120 FPS and use RTX technology with its Ultimate plan.
Supports upwards of 1500 games.
What Terraria Mac performance did we get?
Playing Terraria on Mac via Steam
Playing Terraria on Mac was quite an adventure, especially when diving into the native Steam version on our trusty M1 MacBook Pro. The game's lightweight design allowed us to max out settings at 1080p and achieve a solid 60 FPS without a hitch. The good news is that this smooth performance seems to extend even to older Mac models. As noted by fellow Reddit users, the game's flexibility in settings allows it to run smoothly across various Mac models, including an early 2014 MacBook Air, which makes the native Steam version a strong contender for those seeking stability and full control over their gaming experience.
Terraria for Mac with Boosteroid
Moving to Boosteroid, the Terraria Mac experience took a delightful turn. With no strain on our Mac's resources, the cloud gaming platform handled all the heavy lifting remotely and streamed Terraria flawlessly. Consistent FPS and smooth graphics were a given, but what truly wowed us was the sheer convenience – no downloads or installations, just a stable internet connection, and we were immersed in Terraria's world. This hassle-free approach, paired with an intuitive interface, crowned Boosteroid as our preferred choice for enjoying Terraria on Mac.
Terraria for Mac with Xbox Cloud Gaming
Next on the list was Xbox Cloud Gaming, a familiar territory for us as regular users of the Xbox ecosystem. While Terraria gameplay was generally smooth with consistent FPS and decent graphics quality through our GamePass subscription, it didn't quite match the seamless experience we had with Boosteroid. Nonetheless, for those deeply integrated into the Xbox gaming world, it stood as a reliable option.
Terraria on Mac with GeForce Now
When we tested the capabilities of GeForce Now, our goal was to elevate Terraria gameplay with potentially superior graphics. The reality, however, brought a mix of experiences. While the premium membership spared us from the queues of the free tier, it came with an additional cost and demanded a robust internet connection. During peak hours, some of us encountered varying performance levels. Yet, in moments of stable connectivity, Terraria dazzled with beautiful graphics and smooth gameplay. Despite its potential, GeForce Now's reliance on internet stability and the need for a client download made it less convenient compared to the seamless experience offered by Boosteroid.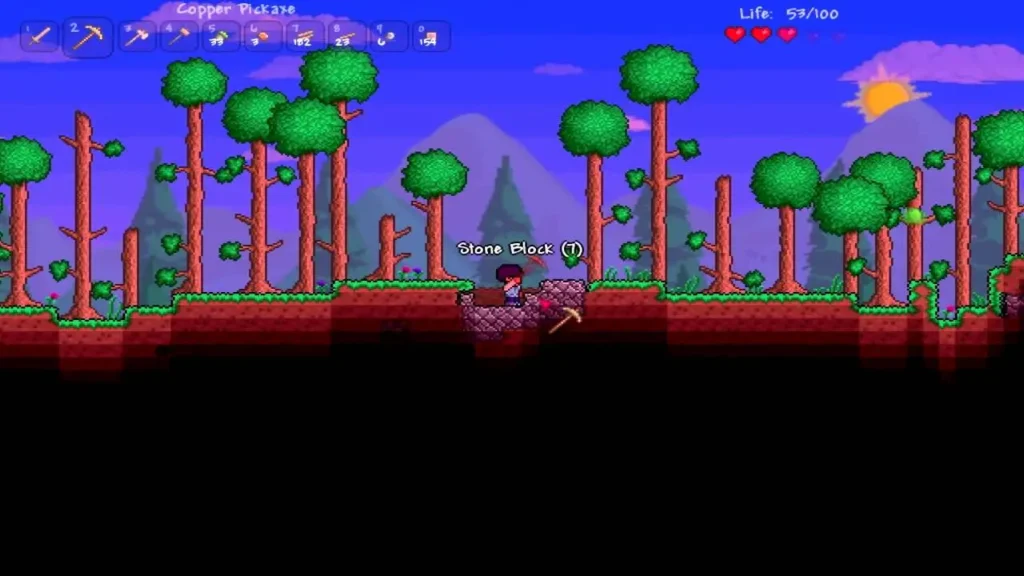 So, Which Terraria Mac Method should you choose?
When it comes to Mac gaming, the choice ultimately boils down to individual preferences and priorities. If stability, control, and ample disk space are your top considerations, the native Steam version of Terraria stands out as the unbeatable champion. It consistently delivers a smooth and highly customizable gaming experience, especially for those who appreciate having complete control over their gaming setup.
On the other hand, for Mac users in search of a harmonious blend of convenience and performance, our testing suggests that Boosteroid takes the lead. Its user-friendly interface, coupled with reliable and hassle-free performance, positions it as the go-to choice for those who want a quick and seamless gaming session without the fuss. For gamers deeply embedded in the Xbox ecosystem, Xbox Cloud Gaming presents itself as a solid alternative that offers a familiar interface and reliable gameplay.
Now, while GeForce Now holds promise for delivering high-quality graphics, it's crucial to note that it needs a strong and stable internet connection to shine. This makes it a suitable choice for individuals with reliable internet access who prioritize top-notch graphical fidelity in their gaming experience.
Ultimately, the best method for playing Terraria on your Mac is a subjective call, and we encourage gamers to explore these options based on their individual preferences and requirements. Our conclusion from testing these methods provides insights, but the final decision rests in the hands of the players.