The Invincible is a cinematic story-driven adventure game that leans heavily into high-end, realistic graphics, so it's not a surprise that the game doesn't have a Mac port. However, it's not the first time that we want to play an unsupported game on our Apple machines, so we had some idea of what workarounds could help us here. After some testing, we eventually managed to run this game in three different ways: with Boosteroid, GeForce Now, and CrossOver. We'll show you how you can use these methods on your own Mac to play The Invincible, and we'll also tell you how our experience with the game went with each method.
The 3 working ways to play The Invincible on Mac: Instructions
Boosteroid is an independent cloud gaming platform that integrates all major vendors to its service and excels in adding support for the latest titles before other platforms. Read our review on Boosteroid. Look at our Boosteroid list of games.
Editor's choice: we recommend Boosteroid as a starting point for most Mac users because of its plug-and-play nature and overall performance. It is especially useful for its constant 60 FPS even on modern titles while not causing your Mac to overheat or requiring tens of gigabytes of storage.
Features: Constant 1080p/60 FPS; Stable connection; Low bandwidth requirements (15 MBPS); Huge gaming library with all the latest AAA titles
GeForce Now is the most well-known cloud gaming service at the moment, and it also has the biggest gaming library out there. Additionally, this is the only cloud gaming service that currently features a free option.
Features:
A free (albeit limited) subscription plan.
Ability to play with 4K and 120 FPS and use RTX technology with its Ultimate plan.
Supports upwards of 1500 games.
CrossOver acts as a compatibility bridge that enables Windows-based applications to seamlessly run on macOS by translating their underlying code. It comes with a straightforward user interface and speedy setup process, although gaming performance and stability can vary among different titles. It's essential to recognize that emulated games generally offer somewhat suboptimal performance compared to their native counterparts. Therefore, CrossOver truly shines when utilized on relatively powerful Apple Silicon machines, especially those equipped with the M1 Pro or higher, which ensure a much smoother and more enjoyable gaming journey.
CrossOver and Apple's Game Porting Toolkit: As of recently, the powerful Game Porting Toolkit translation layer got integrated into CrossOver, making it possible for DirectX 12 games to be run with it. This makes CrossOver the current best option for downloading and playing games on Apple Silicon Macs.
Features:
Makes it possible for Windows software to operate on macOS by converting their code.
Has an intuitive interface, simplifying the process of getting Windows software up and running on your Mac.
To achieve a smoother gaming experience, CrossOver is most suitable for users with an M1 Pro processor or higher.
Testing The Invincible on Mac with Boosteroid and GeForce Now: How good is cloud gaming?
Cloud gaming services like Boosteroid and GeForce Now let you stream The Invincible, as well as other games, directly to your device, so you don't need to worry about compatibility issues or demanding system requirements. However, is streaming truly a viable option for playing The Invincible on a Mac? Let's find out.
The Invincible on Mac with Boosteroid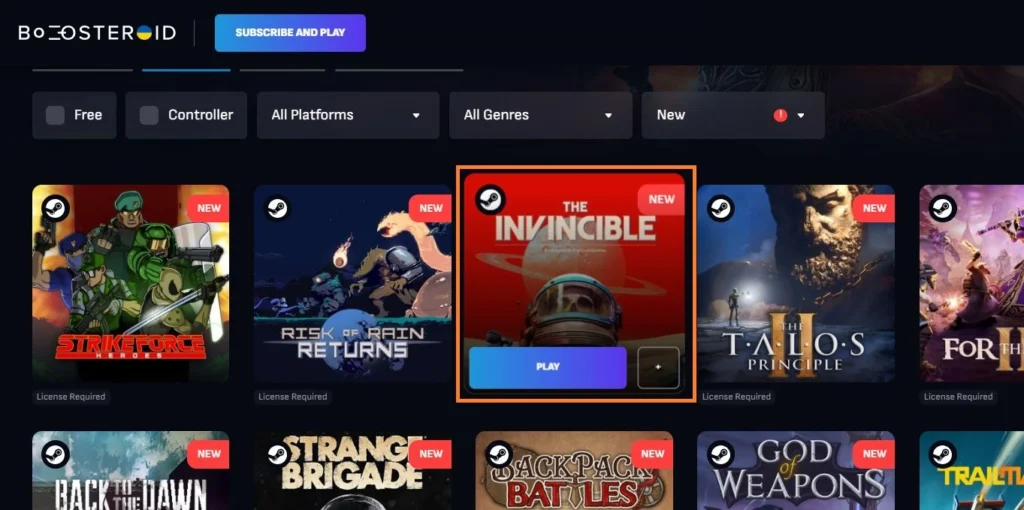 Jumping into The Invincible via Boosteroid was an interesting experience. Boosteroid allows you to play directly in your browser, which is super convenient. We were working with a 25 Mbps internet connection, which is above the 15 Mbps minimum Boosteroid requires. With our plan, we got to enjoy the game in 1080p at 60 FPS. Now, for a game as rich in visuals as The Invincible, you might think 1080p wouldn't cut it. But honestly, it looked fantastic. High settings, ray tracing on – the works. It was all there, impressively rendered on our screen.
Playing The Invincible on Boosteroid felt mostly smooth. We couldn't see our exact FPS, but gameplay felt fluid, except for a few hiccups when our internet got choppy. These moments were brief, though, and didn't spoil our fun. While Boosteroid doesn't support 2K or 4K streaming yet, what we got was more than satisfying for our adventure through the visually captivating world of The Invincible.
The Invincible on Mac with GeForce Now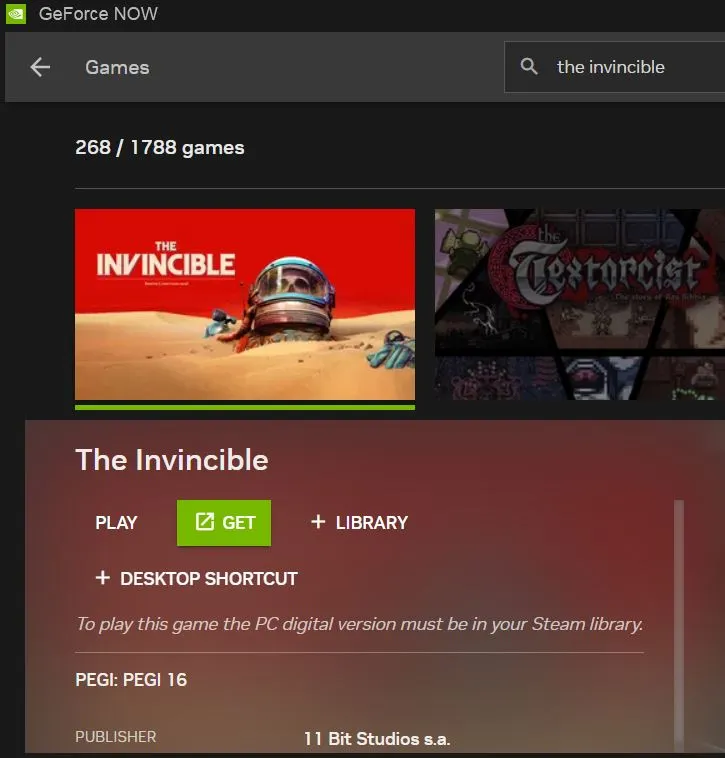 Next up, GeForce Now. We've used this service before, so we had some expectations. Given The Invincible's demands, we were a bit anxious about performance. Starting with the Priority plan, we got a consistent FPS, though there were a few more stutters compared to Boosteroid, and the image quality dropped a bit during internet lags. It was still a good experience, but it seemed like GeForce Now needed a bit more from our internet.
Still, like Boosteroid, GeForce Now also gave us a very pleasant experience with The Invincible, allowing us to play it on all of our Macs – from the high-end M1 Max MacBook Pro, to an older Intel-based MacBook from 2017. We even gave a got the GFN Ultimate plan to try the game in 4K, and it did indeed bring out more of the game's visual splendor, but for this we needed to use a 60 Mbps Ethernet connection to keep the streaming smooth, since more data needed to be transferred.
Cloud Gaming Verdict: Boosteroid or GeForce Now?
So, what's the verdict? Both Boosteroid and GeForce Now handled The Invincible well on our Mac, each with their strengths. Boosteroid felt a bit more consistent with our regular internet setup, offering a solid 1080p experience. GeForce Now's Ultimate plan is fantastic if you have a 4K display and strong internet, but for those with standard setups or fluctuating internet speeds, Boosteroid is a slightly better bet. It delivers a great balance of performance and accessibility, making it our go-to for enjoying The Invincible on a Mac.
Playing The Invincible on M1 MacBook Pro with CrossOver: Performance review
In addition to the two cloud gaming platforms, there's also the option to run The Invincible locally on an M1 Mac, using a translation layer app called CrossOver. With this method, your Internet won't be a factor when playing the game, but your Mac will need to meet the system requirements of The Invincible, which are considerable. At minimum, the game requires 8 gigs of RAM and 6 gigabytes of VRAM. Now, obviously, those are Windows PC requirements, and they don't directly translate to Apple Silicon machines, so it's a matter of testing to figure out which M1 and M2 Mac models make the cut.
In our case, we tested the game on a MacBook Pro with the M1 Max chip and 32 GB of unified memory which, in theory, should be enough to run any game. We set up CrossOver, installed Steam into a new CrossOver bottle, and downloaded the game. We made sure to enable the D3DMetal setting because this is what lets us play DirectX 12 games, such as The Invincible, in CrossOver. We then started the game and, fortunately, it started normally, without any crashes, bugs, or errors, which are not uncommon when trying to play games with CrossOver.
We began playing with the game settings set to Medium, and we were getting around 40 FPS, which isn't amazing, but it's also not bad, considering that The Invincible isn't optimized for Mac and that it was running through multiple translation layers. We also tried using Low settings, and then we were able to get a stable 60 FPS rate. However, or a visually impressive game like this one that's not heavy on the action, we think it's better to sacrifice a bit of your performance for better visuals, so we return to the Medium settings.

Which method is the best for playing The Invincible on Mac?
Overall, CrossOver is definitely a viable option for downloading and running The Invincible on a Mac system, but since this game is really demanding and, obviously, not optimized for Mac, you'll never be able to get a particularly great performance while also playing the game with all of its visual candy turned up. If you just want to play through the story and don't really care that much about the visuals, then CrossOver is okay. However, we think that such a narrative-driven game with amazing high-end graphics is ideal for cloud-gaming platforms because they let you play it with the highest possible settings and any delay that may occur due to the streaming process won't really affect the experience, since this isn't an action-heavy game where you need to have quick, split-second reactions.