How to Play Coral Island on Mac
Coral Island is a charming farming simulator that offers players the joy of island life, but with a catch for Mac users. The game, unfortunately, doesn't natively support macOS, which means Mac users need to rely on workarounds to enjoy farming, animal care, and interaction with the game's 52 NPCs. While playing Coral Island on Mac isn't as straightforward as on a Windows PC, our team decided to explore some workarounds and test them in order to help you find the best method to enjoy the game on your Mac machine.
Coral Island Mac Methods that we tested:
For those eager to dive straight into Coral Island for Mac, we've compiled three effective ways to play the game. If you're curious about our firsthand experience with these options, you can find a detailed overview just below the upcoming table.
Xbox Game Pass is a library solution owned by Microsoft. Its main attractive points are the ability to play hundreds of titles at the price of a monthly subscription and the access to a cloud gaming service that supports the majority of those games.
Features:
Access to hundreds of games without the need to purchase them individually.
Ability to play the Game Pass titles on any device through the Xbox Cloud Gaming service.
Parallels is the best Windows virtualization tool available for Mac. It lets you create a Windows 10 or 11 Virtual machines directly in macOS and then use the VM to run a variety of Windows-compatible software, including games.
Features:
Provides you with Windows OS functionality without the need for a separate Windows installation.
Easy to set up and doesn't take much space.
The only option to get Windows on an Apple Silicon Mac.
Boot Camp Assistant is a built-in Apple app that comes pre-installed on Intel-based Mac models. With its help, users can install the Windows 10 OS in a separate partition on their Macs. Booting from that partition allows the Mac to function exactly as a Windows PC and lets it run all compatible software.
Note: Not available for Apple Silicon models.
Features:
Provides native Windows 10 experience.
Allows running all Windows-compatible programs and games as long as the Mac's hardware can support them.
Our Coral Island Mac Experience
Coral Island on Mac with Xbox Game Pass
Discovering that Coral Island was available on Xbox Game Pass for cloud gaming was an exciting revelation for our team, and we couldn't wait to dive into the lush world of the game. To our surprise, our experience exceeded our expectations – the gameplay was smooth, and the game's graphics, that featured charming characters and adorable pets, remained impressive even while being streamed. The resolution and FPS were consistent at moderate settings, and we were able to enjoy a fluid two-hour gaming session, much like this fan, who shared their experience below.

Our Coral Island Mac Experience with Parallels
Our Coral Island Mac experience with Parallels on the MacBook Pro (15-inch, 2019) was also very smooth. Running the game via a Windows Virtual Machine offered us a stable 30 FPS and a 2880 x 1800 resolution. The gameplay was fluid and this allowed us to fully immerse ourselves in the vibrant world of the game. From what we found, this method proved to be an efficient way to enjoy the game for other Mac users as well, and, according to what has been shared, it runs incredibly well on an M1 Mac Mini.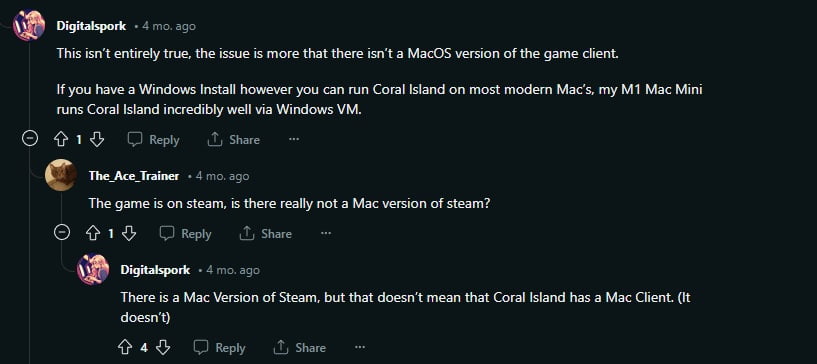 Our Coral Island Mac Experience with Boot Camp
Finally, we tested Coral Island on our Intel-powered MacBook Pro with Boot Camp, which required us to install Windows 10. The game ran well, though we had to slightly lower the settings for optimal performance during character movements. Despite this, the overall gameplay remained immersive, and we reached about 30 FPS with a native resolution. However, we found that some users on Reddit have reported issues like DirectX errors and characters disappearing when using Boot Camp, which indicates that experiences may vary.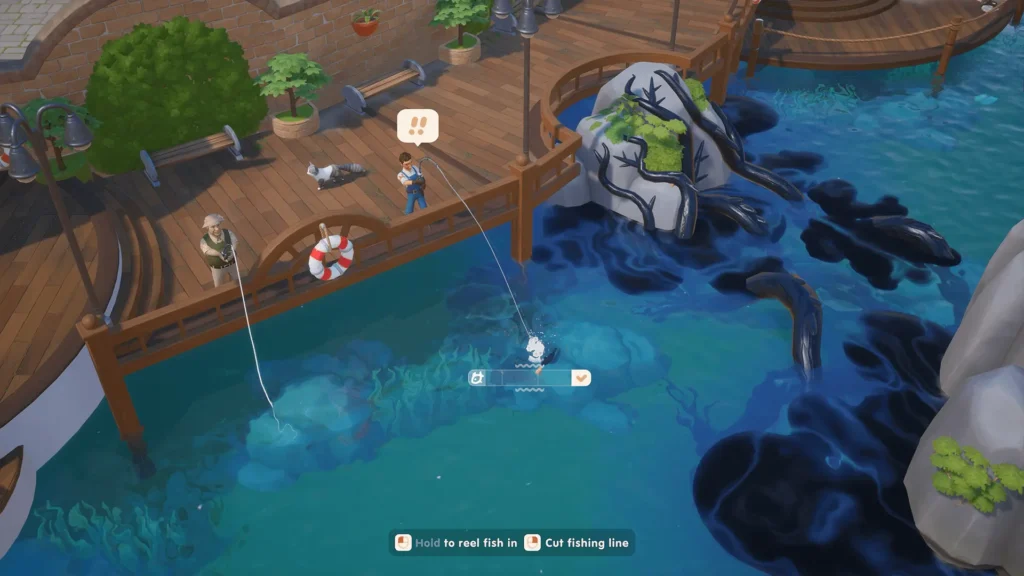 Can you play Coral Island for Mac with the Game Porting Toolkit?
While we didn't test this personally, some Reddit users suggest that Coral Island might run on Mac using the Game Porting Toolkit (GPTK), given its compatibility with DirectX 10 games. This could be a potential method for Mac users to explore, and we are excited to hear about your experience if you decide to share it in the comments below.
Conclusion
When it comes to playing Coral Island for Mac, there are different paths to choose from. For us, Xbox Game Pass stood out for its ease of access and minimal setup that offers immediate playability. Parallels was also a viable alternative because it gave us a good balance between performance and convenience on our Mac model from 2019. On the other hand, Boot Camp was a local gaming method that provided a more traditional gaming experience, although it required some setup and settings adjustments.