Counter Strike 2 is a free update to CS:GO and as such, it fully replaces the latter on Steam, but it also drops the support for Mac systems. This left Mac users like us with no official way of enjoying the latest Counter Strike without getting a Windows PC or a Steam Deck. Fortunately, we found and tested several neat workarounds to play CS 2 on Mac. Now we wish to share our findings, help you pick the best method for you, and show you how to use it.

What are the methods to play Counter Strike 2 on Mac?
During our research and testing of different methods for playing Counter Strike 2 on Mac, we found four methods that can get the job done: the Boosteroid and GeForce Now cloud gaming services, CrossOver, and Boot Camp. These options are quite different from one another, and the one that's best for you will depend on your particular setup. Here's a blitz guide to help orient you which method you may want to gravitate towards:
Cloud Gaming (Boosteroid, GeForce Now) – Recommended to anyone with a

fast and stable Internet

. Very quick and easy setup. This method is

especially good for users with older/weaker Macs

or ones short on storage space.
CrossOver – Good for users with

high-end Apple Silicon Macs (M1 Pro and above)

. Takes about half an hour to set up everything.
Boot Camp – Suitable for users with

Intel Macs

who have

at least 150 GB of free storage space

. Setup process requires 1-2 hours.
Here are instructions for each method, depending on what you choose:
The methods
Boosteroid is an independent cloud gaming platform that integrates all major vendors to its service and excels in adding support for the latest titles before other platforms. Read our review on Boosteroid. Look at our Boosteroid list of games.
Editor's choice: we recommend Boosteroid as a starting point for most Mac users because of its plug-and-play nature and overall performance. It is especially useful for its constant 60 FPS even on modern titles while not causing your Mac to overheat or requiring tens of gigabytes of storage.
Features: Constant 1080p/60 FPS; Stable connection; Low bandwidth requirements (15 MBPS); Huge gaming library with all the latest AAA titles
GeForce Now is the most well-known cloud gaming service at the moment, and it also has the biggest gaming library out there. Additionally, this is the only cloud gaming service that currently features a free option.
Features:
A free (albeit limited) subscription plan.
Ability to play with 4K and 120 FPS and use RTX technology with its Ultimate plan.
Supports upwards of 1500 games.
CrossOver is a compatibility layer app that translates the code of Windows-based software to code that can be read by macOS. It is easy to use and has a quick setup process, but the level of gameplay performance and stability varies between the different games, so your experience while gaming through it won't always be the same.
Since games running through emulation layers tend to have worse performance compared to running them natively, CrossOver is only recommended if you have a decently powerful Apple Silicon machine (M1 Pro or better).
*For a smoother gameplay experience, we strongly recommend checking the tips and fixes included in the CrossOver section down this page.
Features:
Allows Windows games to be downloaded and run locally, without needing to emulate or install Windows on your Mac.
Compatible with M1/M2 Macs.
User-friendly interface.
Boot Camp Assistant is a built-in Apple app that comes pre-installed on Intel-based Mac models. With its help, users can install the Windows 10 OS in a separate partition on their Macs. Booting from that partition allows the Mac to function exactly as a Windows PC and lets it run all compatible software.
Note: Not available for Apple Silicon models.
Features:
Provides native Windows 10 experience.
Allows running all Windows-compatible programs and games as long as the Mac's hardware can support them.
Our experience with playing Counter Strike 2 on Mac
As we said above, we made sure to test each of the suggested methods and see how good (or bad) the experience was. For the majority of the testing, we used an M1 Max MacBook Pro with 32 gigs of unified memory. But since the Boot Camp method only works with Intel-based Macs, for this test we had to use our old 2017 MacBook Pro with 16 gigs of RAM. Here's how the tests went:
Cloud Gaming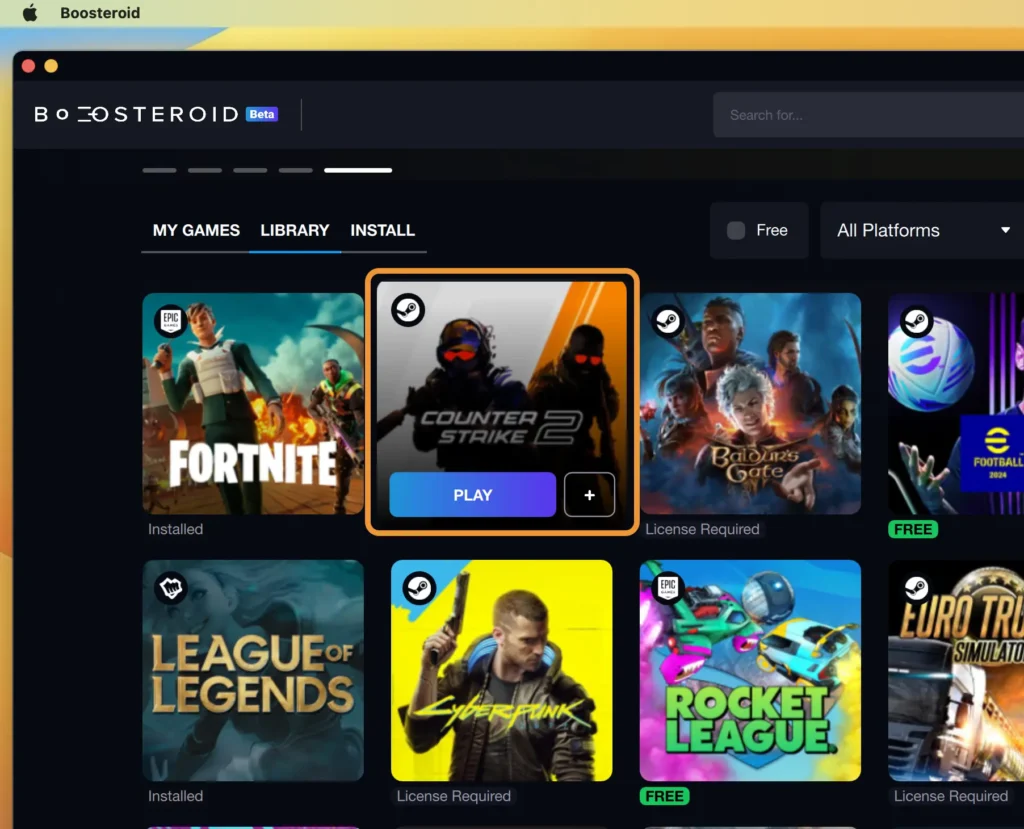 If you are familiar with cloud gaming, then you already know that the game performance and gameplay experience is largely determined by the strength of your Internet. This is because the game isn't actually running on your machine but is being streamed from a remote gaming rig. As a result, the hardware specs of your Mac are irrelevant when using cloud gaming, which is one of the best aspects of this method.
Our plans with both of the suggested services, Boosteroid and GeForce Now, allowed for up to 1080p resolution at 60 FPS, and we were able to get that with both of them even though our Internet (wireless) isn't anything special (25 Mbps and around 40-50 ping). GeForce Now gave us a bit more stuttering and dips in the image quality during the occasional lag spike, with Boosteroid providing a slightly more stable performance, but overall the two options are comparable.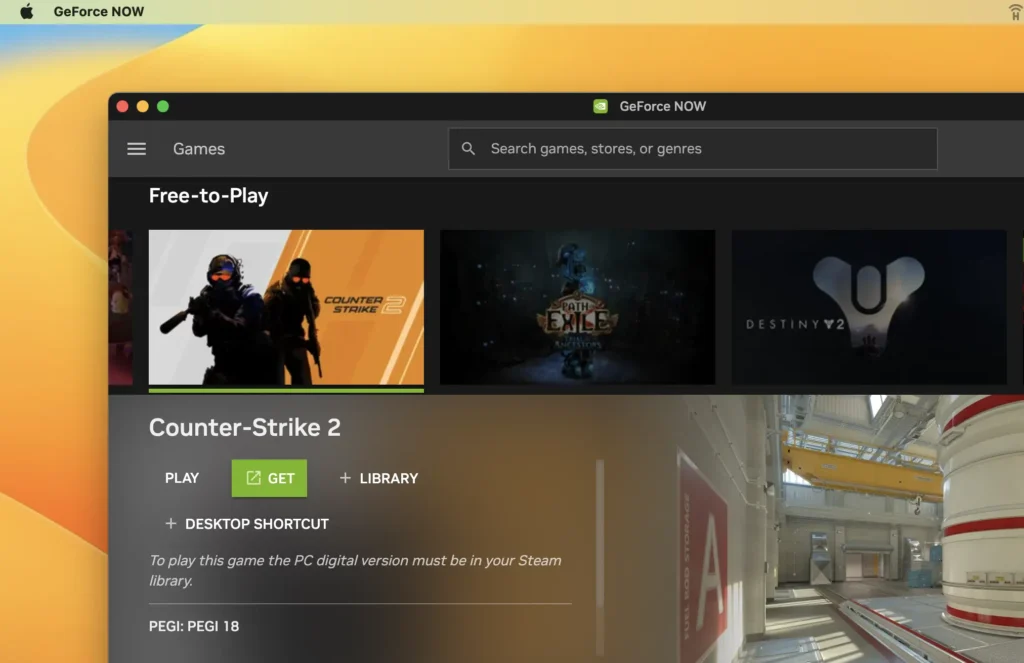 We should note that, since CS 2 is a highly-competitive game, cloud gaming might not be great for higher-level matches, where the outcome is often determined by split-second reactions that can be offset by even the slightest amount of lag. This is because the process of streaming inevitably adds some delay, even with the best Internet. Boosteroid and GeForce Now both have a pretty low delay compared to other cloud platforms, but it's still not the same as playing the game from your computer.
CrossOver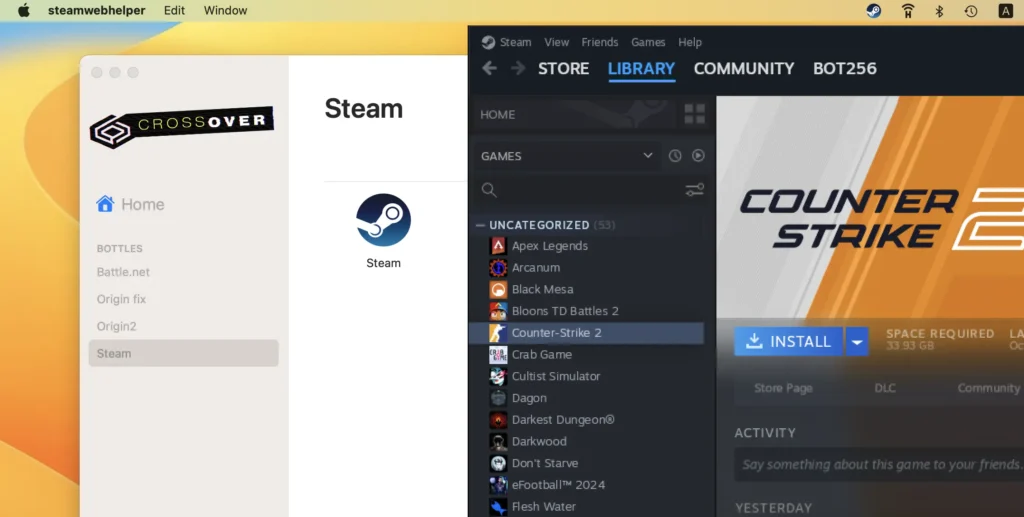 We were happy to find that downloading and starting Counter Strike 2 on our M1 Max MacBook through CrossOver went without any unexpected errors or other hiccups, after applying some useful tips provided by the Mac gaming community (more on that in a bit).
However, as soon as we started the game, we noticed that it is very, very sluggish, with the FPS being in the single digits while still in the menu. Turns out that this is because the game was still caching shaders and animations and needed time to smooth things out. So, after a couple of terribly choppy matches with bots, things started to improve, and we were eventually able to get a respectable 50-60 FPS at low-to-medium settings. Also, we had a couple of crashes, which we resolved using the tips shown below.

Admittedly, Counter Strike 2 didn't perform as well as it should through CrossOver, considering its low system requirements and the fact that we're running it on a powerful M1 Max machine. Also, note that many of the users who've tried this method report a variety of issues, including crashes, fps drops, mouse control issues and more (many of which we also encountered during our tests). If you face any of these, check the suggestions below that should help you fix them.
Despite all this, we still think that CrossOver is a valid option worth exploring, especially since it has a 14-day free trial that gives the user enough time to test things out.
CrossOver fixes and tips
As we stated above, there are some additional setup steps that can help provide a smoother experience with Counter Strike 2 through CrossOver. Here are the ones that helped us the most during our tests:
We enabled DXVK and ESync in the CS 2 CrossOver Bottle for better performance.
Before launching CS 2, right-click its icon in your Steam Library, go to Properties, and copy-paste the following line in the Launch Options field: "-nojoy -+cl_forcepreload 1 -novid". Then close the Properties Window and launch the game normally. Doing this gave us a notable improvement in our FPS rate.
In the game settings, we enabled VSync or else the game would experience frequent crashes.
Our mouse was wierdly laggy, so what helped us fix it was to disable the Mouse Acceleration feature from Apple Menu > Preferenes > Mouse > Advanced.
Maps with lots of water, such as Anubis and Ancient, cause a major drop in the FPS due to the GPU-intensive water physics. This makes the experience a lot less enjoyable and could even make the game unplayable during more heated skirmishes.
The tips shared here are from this Reddit thread, which greatly helped us with improving our experience with CS 2 on our M1 Max MacBook.
Boot Camp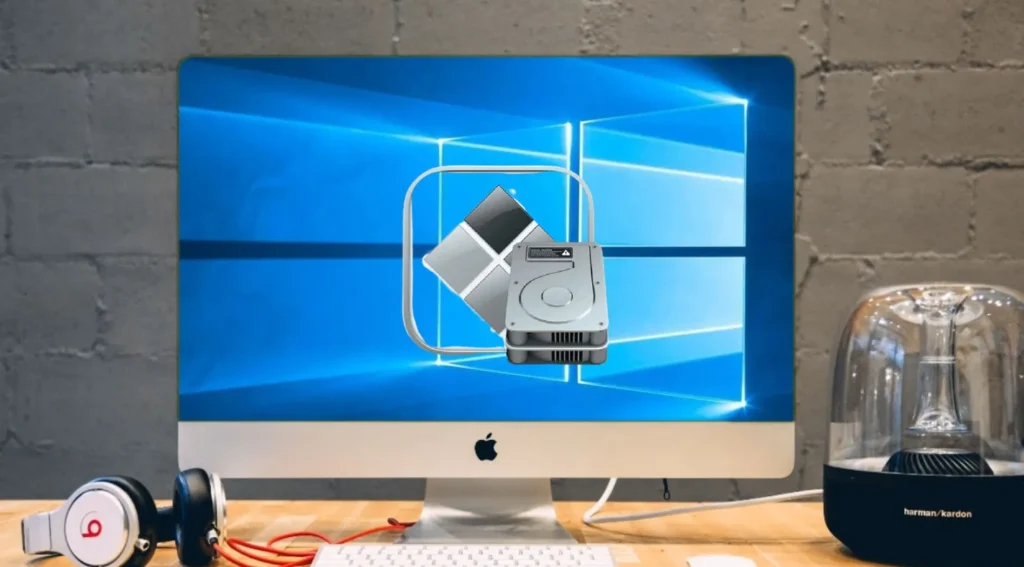 We've tested many games over the years through Boot Camp, so we had a pretty good idea what to expect. Even though our 2017 MacBook Pro is now old and not very powerful by today's standards, Counter Strike 2 actually run better on it compared to the M1 Max and that's for the simple reason we were running the game directly in Windows, for which it is optimized.
CS 2 is a relatively undemanding game, so we bet it will run on even weaker or older Intel Macs when the Boot Camp method is used. However, we did need to spend a couple of hours and a good 150-160 gigs to install Windows and then install the game in the Windows partition, and now we have barely any space left on our Intel Mac.
Ultimately, not a bad option for older machines, but at this point it's probably better to simply go the cloud gaming route.
Conclusion
Even if CS2 currently lacks macOS support, and we doubt this will change anytime soon, Counter Strike isn't fully gone for Mac users and as we showed you on this page, there are still ways to enjoy it on an Apple machine. We admit that none of the methods we tried is perfect, yet they are still valid options to play the game on your Mac.
We personally liked the two cloud gaming methods the most because of how easy they are to use and also, since we aren't the most hardcore Counter Strike players, the inevitable gameplay delay didn't affect our experience too much.
CrossOver was a bit too finicky for our liking and the performance wasn't anything to write home about even on our M1 Max MacBook. It will probably get better with future CrossOver updates, but for now we would personally skip it.
As for the always reliable Boot Camp, it once again didn't disappoint us, even if our editor had to spend his entire Saturday afternoon setting it up. It's a totally valid method for a non-demanding game such as CS 2, but we still recommend it only if you own a decently powerful Intel Mac with at least 16 gigs of RAM.