Are you a Mac user who's always dreamt of enjoying the thrill of Forza Horizon 5 on your device? Well, you're in luck! In this article, we'll provide a step-by-step guide to help you set up and play Forza Horizon 5 on Mac. So buckle up and let's dive right in!
Forza Horizon 5 for Mac
Forza Horizon 5 is an open-world racing game developed by Playground Games and published by Xbox Game Studios. While the game is primarily designed for Windows PCs and Xbox consoles, Mac users can also join in on the fun with a little bit of help. This article aims to guide you through the process of getting Forza Horizon 5 for Mac, so you can enjoy the high-speed action and stunning visuals that the game has to offer.
Forza Horizon 5 Requirements
Before we jump into the installation process, it's crucial to ensure that your Mac is powerful enough to cover the minimum system requirements to run Forza Horizon 5. Failing to do so may result in a subpar gaming experience or prevent the game from running altogether.
Forza Horizon 5 Minimum System Requirements
To enjoy the Windows version of Forza Horizon 5 the developers recommend you to meet the following minimum system requirements:
OS: Windows 10 version 15063.0 or higher
Processor: Intel i5-4460 or AMD Ryzen 3 1200
Memory: 8 GB RAM
Graphics: NVidia GTX 970 OR AMD RX 470
DirectX: Version 12
Network: Broadband Internet connection
Storage: 110 GB available space
Keep in mind that meeting the minimum requirements will allow you to play the game, but you may need a more powerful Mac to achieve higher graphics settings and smoother gameplay.
If you're a Mac user who doesn't meet the minimum requirements for Forza Horizon 5, there's still hope! You can access the game through the Xcloud Microsoft gaming service which is available with Xbox Game Pass. The good news is that you don't have to worry about your Mac's specs because the game is streamed from Microsoft's servers. As long as your Mac meets the requirements for the service, you're good to go.
It's worth noting that Xbox Game Pass is a subscription-based service, so you'll need to pay a monthly fee to access the game. However, if you're a hardcore gamer who wants to play the latest games on your Mac without worrying about hardware requirements, Xcloud is definitely worth considering. Plus, you'll have access to a library of other games to play, so you're not just limited to Forza Horizon 5.
How to Download Forza Horizon 5 on Mac?
As Forza Horizon 5 is not natively supported on Mac, you'll need to use a Windows emulator to run the game. Below you will find instructions for a program that you can use to create a Windows OS environment on which you can run the original version of the game. Once Windows is installed, download Forza Horizon 5 within your Windows environment and install it to play.
Can you play Forza Horizon 5 on Mac?
Playing Forza Horizon 5 on Mac may require some extra steps, but the experience is well worth it. By following this guide, you'll be able to enjoy the adrenaline-pumping action of Forza Horizon 5 on your Mac in no time. Remember to check your system requirements and adjust your in-game settings accordingly for the best possible gaming experience. Happy racing!
You can get the game with Steam and then use BootCamp to play it:
Or, you can select the Xbox Game Pass method and gain access to Forza Horizon 5 and many other games available to play with a single subscription.
Note: If you want to play the game with the Xbox Game Pass method, you don't need to get it separately. It will be unlocked with your access to Xbox Game Pass.
Xbox Game Pass is a library solution owned by Microsoft. Its main attractive points are the ability to play hundreds of titles at the price of a monthly subscription and the access to a cloud gaming service that supports the majority of those games.
Features:
Access to hundreds of games without the need to purchase them individually.
Ability to play the Game Pass titles on any device through the Xbox Cloud Gaming service.
Boot Camp Assistant is a built-in Apple app that comes pre-installed on Intel-based Mac models. With its help, users can install the Windows 10 OS in a separate partition on their Macs. Booting from that partition allows the Mac to function exactly as a Windows PC and lets it run all compatible software.
Note: Not available for Apple Silicon models.
Features:
Provides native Windows 10 experience.
Allows running all Windows-compatible programs and games as long as the Mac's hardware can support them.
Forza Horizon 5 Review
If you're a Mac user and a fan of racing games, then you'll definitely want to check out Forza Horizon 5. This latest installment in the Forza Horizon series has been getting a lot of buzz lately, and for good reason. With its gorgeous graphics, wide variety of cars, and immersive open-world environment, Forza Horizon 5 is a must-play game for any racing enthusiast.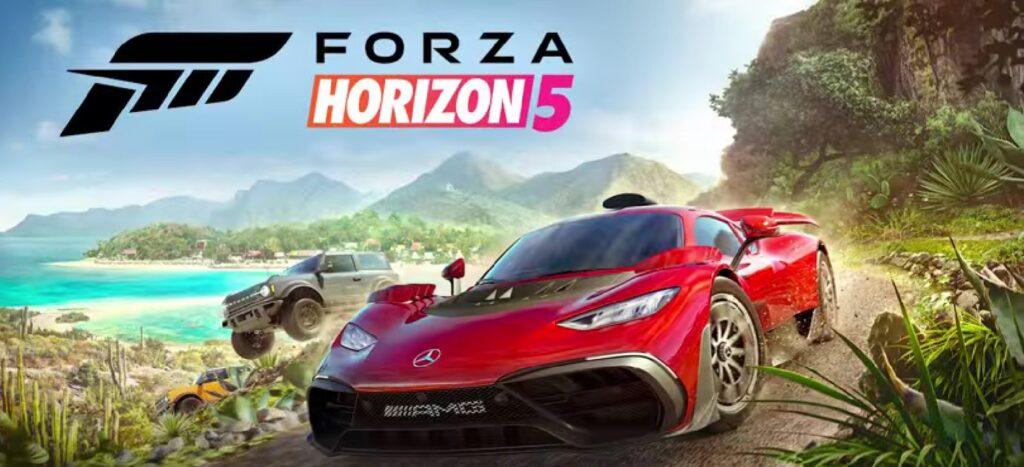 In Forza Horizon 5, you take on the role of a driver participating in the Horizon Festival, a high-speed racing event that takes place across the beautiful landscapes of Mexico. As you progress through the game, you'll be able to unlock new cars, customize your vehicles, and compete in a variety of different races and challenges. Whether you're tearing through the streets of a bustling city or navigating the twists and turns of a treacherous mountain road, Forza Horizon 5 delivers an adrenaline-fueled experience that will keep you on the edge of your seat.
Gameplay and Features
Forza Horizon 5 boasts an impressive array of gameplay features that are sure to keep you entertained for hours on end. Here are just a few of the highlights:
Massive Open World – Forza Horizon 5 takes place in an open-world environment that spans the entire country of Mexico. This means you'll be able to explore a wide variety of different locations, from dense urban areas to sprawling countryside landscapes.
Dynamic Weather – The game features a dynamic weather system that can change on the fly, affecting everything from road conditions to car handling. One minute you might be racing through a sunny desert, and the next you might find yourself navigating a treacherous rainstorm.
Extensive Car Customization – Forza Horizon 5 allows you to customize your cars in a variety of different ways, from upgrading their engines and brakes to changing their paint jobs and decals. You can even create your own custom liveries using the in-game editor.
Online Multiplayer – The game features a robust online multiplayer mode that allows you to race against other players from around the world. You can also join or create your own clubs, compete in ranked events, and even share your custom designs with other players.
Graphics
The graphics in Forza Horizon 5 are stunning, with detailed environments that make you feel like you're actually driving through Mexico. The game features a wide range of landscapes, including deserts, forests, and even a volcano. The lighting effects are also impressive, with realistic reflections and shadows that add to the overall immersion of the game.
Forza Horizon 5 on Mac
Now, if you're a Mac user, you might be wondering how you can play Forza Horizon 5 on your computer. Unfortunately, the game isn't compatible with macOS natively, which means you'll need to use a workaround in order to play it. One option is to use the Xbox Game Pass method, which will allow you to stream the game to your Mac without any compatibility issues. Another option is to install Windows on your Mac using Boot Camp Assistant, and then play the game using the Windows version of the game.
Regardless of which option you choose, there's no denying that Forza Horizon 5 is an incredible game that's worth checking out. With its stunning visuals, intense gameplay, and endless customization options, it's no wonder why so many people are talking about this game. So, if you're a fan of racing games and you're looking for a new adventure to embark on, be sure to give Forza Horizon 5 a try. You won't be disappointed!