What methods are available for playing GTA 5 on Mac?
Our research revealed several viable methods to play GTA 5 on Mac, each with its own set of strengths and drawbacks. For example:
Boosteroid offers a seamless cloud gaming solution, providing gamers access to GTA 5 without hardware limitations, but it's dependent on a solid internet connection, with performance suffering when below 15 Mbps of bandwidth.
CrossOver provides a user-friendly platform for running Windows games on a Mac, although game performance can be very inconsistent from scene to scene.
Parallels creates a robust virtual Windows environment, but can be resource-intensive.
Lastly, BootCamp, exclusive to Intel Macs, is a reliable method but takes up considerable disk space and requires a bit of patience during setup.
The choice ultimately depends on your gaming preferences, hardware capabilities, and flexibility when playing GTA 5 on Mac.
GTA 5 Mac methods and instructions to play
Below you will find an overview of the methods and more detailed instructions. Before diving into them, however, it's crucial to ensure you have the game itself:
Then, select a method to play:
Boosteroid is an independent cloud gaming platform that integrates all major vendors to its service and excels in adding support for the latest titles before other platforms. Read our review on Boosteroid. Look at our Boosteroid list of games.
Editor's choice: we recommend Boosteroid as a starting point for most Mac users because of its plug-and-play nature and overall performance. It is especially useful for its constant 60 FPS even on modern titles, while not causing your Mac to overheat or requiring tens of gigabytes of storage.
Features: Constant 1080p/60 FPS; Stable connection; Low bandwidth requirements (15 MBPS); Huge gaming library with all the latest AAA titles
CrossOver serves as a compatibility bridge, allowing Windows-based software to function on macOS by translating their code. It boasts a user-friendly interface and quick setup, although gaming performance and stability may fluctuate across different titles and lead to varying gaming experiences. It's worth noting that emulated games typically perform less optimally than native ones. As a result, CrossOver is best suited for those with relatively robust Apple Silicon machines, particularly the M1 Pro or higher, to ensure a smoother gaming experience.
Features:
Makes it possible for Windows software to operate on macOS by converting their code.
Has an intuitive interface, simplifying the process of getting Windows software up and running on your Mac.
To achieve a smoother gaming experience, CrossOver is most suitable for users with an M1 Pro processor or higher.
Parallels is the best Windows virtualization tool available for Mac. It lets you create a Windows 10 or 11 Virtual machines directly in macOS and then use the VM to run a variety of Windows-compatible software, including games.
Features:
Provides you with Windows OS functionality without the need for a separate Windows installation.
Easy to set up and doesn't take much space.
The only option to get Windows on an Apple Silicon Mac.
Boot Camp Assistant is a built-in Apple app that comes pre-installed on Intel-based Mac models. With its help, users can install the Windows 10 OS in a separate partition on their Macs. Booting from that partition allows the Mac to function exactly as a Windows PC and lets it run all compatible software.
Note: Not available for Apple Silicon models.
Features:
Provides native Windows 10 experience.
Allows running all Windows-compatible programs and games as long as the Mac's hardware can support them.
GTA 5 for Mac: Our Insights on performance
As previously mentioned, we conducted thorough evaluations of each method to assess their performance on Mac systems. Here's a summary of our testing experiences:
Based on our impressions and some user feedback we gathered, playing GTA 5 for Mac using Boosteroid is generally a smooth experience. We observed a stable frame rate of 60 FPS during most of our gameplay sessions, with only occasional and brief drops to 50 FPS, typically when transitioning to grassy areas. However, it's worth noting that some Steam users have reported a minor inconvenience where in-game settings (control and graphics) tend to reset after each restart. We also experienced this issue and couldn't find a fix for it. Despite this small hiccup, though, the overall gaming experience we had while playing GTA 5 for Mac was good, and this remains our recommended option.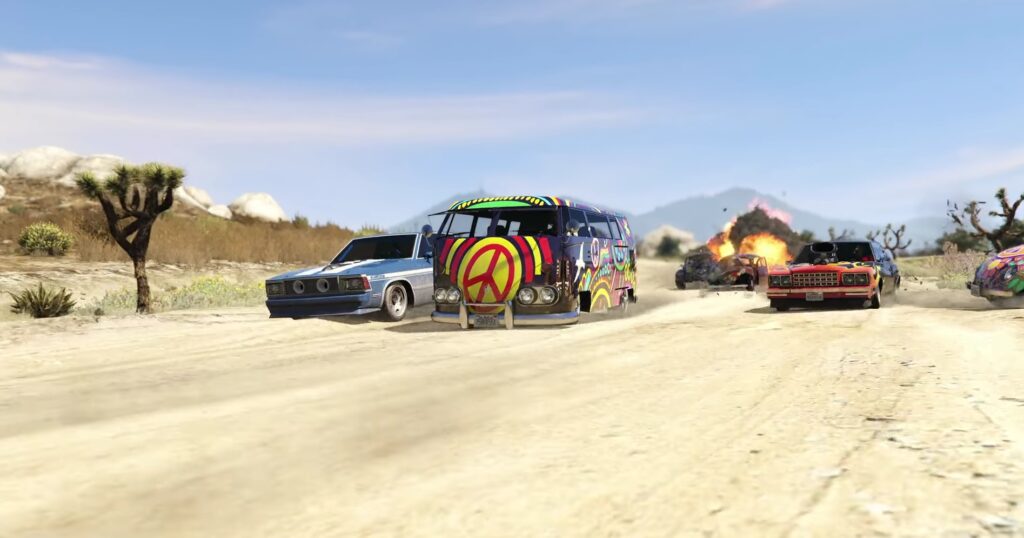 CrossOver + Game Porting Toolkit
We had success running the game on a MacBook Pro 14-inch base model with CrossOver by combining the Rockstar Launcher and the Heroic Launcher to get around issues with the Epic Games Launcher. This process requires downloading CrossOver, followed by the integration of the Rockstar and Heroic Launchers. What we got was a generally reliable gaming experience with all settings set to high, a resolution of 1920×1200 with no filter, no motion blur, mid density and a frame rate of about 55/74 FPS. But if you're a fan of GTA Online, be careful using the most recent CrossOver version, since it can set off anti-bot procedures that might result in bans.
When combining CrossOver and Apple's Game Porting Toolkit on an M1 MacBook Air (8GB), we got good performance with a resolution of 1440×1152, and a frame rate of 30 FPS. For a pleasant experience with this method, we advise you to make sure your setup is proper. Playing the game on medium settings required us to sacrifice some graphical fidelity for smoother gameplay. If you are trying the game from Steam, and it breaks right after start, the "no-esync" executable might save you. To possibly address any problems, use the command "gameportingtoolkit-no-esync /my-game-prefix 'C:Program Files (x86)Steamsteam.exe'", as suggested on this reddit thred.
We managed to run GTA 5 on an M1 MacBook Air 2020 model using Parallels with a frame rate of about 36 FPS and a resolution of 1080p. The performance was good in our tests, and we were able to play, but we encountered some minor issues like occasional stuttering.
Tested on an older Mac model like the 2010 Mac Pro, we got the game running via BootCamp with a resolution of 1920×1080, which is enough for a smooth gaming experience. So, it's reasonable to assume that newer Mac models with more robust graphics capabilities will handle the game without problems. However, it's crucial to keep an eye on your device's temperature during long gaming sessions to avoid overheating.
Tips to elevate your GTA 5 experience on Mac
We have a few more useful recommendations for an improved gaming experience before you start playing GTA 5 on Mac. Of course, you need to make sure your Mac can handle the game with the method that you have selected. For instance, from our testing, it appears that for the GPTK method and Parallels, an M1 base chip and an 8GB of memory should be enough to run the game, and for BootCamp even an old 2010 Mac Pro with 8 GB of RAM should give you an adequate experience. Remember that your particular hardware configuration has a significant impact on how well the game runs on your Mac. Smoother GTA 5 play requires a more powerful Mac system.
When playing GTA 5 on Mac with CrossOver, keep in mind that the game requires a lot of resources. Therefore, to get the ideal mix between performance and looks, the best course of action is to adjust the graphics settings. Also, consider using a gamepad for enhanced gameplay. If you choose Boot Camp, set aside enough hard disk space for Windows and the game. For Parallels, ensure that your virtual machine has an adequate amount of CPU and RAM resources. If you've decided to use Boosteroid's cloud gaming service, then having a solid internet connection with a speed of at least 15 Mbps is required for smooth gameplay at about 60 fps (Full HD 1080p). To achieve that, use a wired connection, which is generally more stable compared to Wi-Fi or place your router closer to your Mac to reduce the chance for network interference.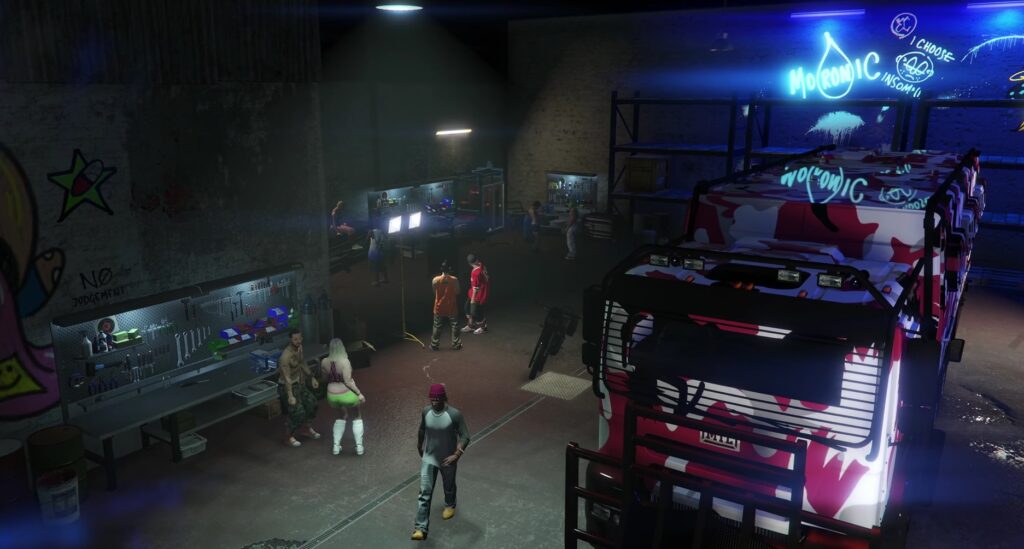 Other games like GTA 5 on Mac
If you're a Mac player seeking for alternatives to GTA 5 on Mac, we can suggest several exciting options. Similar open-world, action-packed, and humorous gameplay can be found in Saints Row: The Third Remastered. Mafia III offers a gripping tale in an open environment for people interested in organized crime and theatrical storytelling. A taste of nostalgia is provided by the classic Grand Theft Auto: San Andreas, which is a previous game in the GTA series. You may also hack your way around San Francisco in Watch Dogs 2 for an open-world adventure with a distinctive twist. These games provide a variety of gaming opportunities and should please any Mac gamer who needs open-world mayhem and exploration.