How to play Honkai: Star Rail on Mac
To the regret of many, there is no native version of Honkai: Star Rail on Mac. However, our team tested various methods in order to find working ways to play this game on MacOS. Boosteroid stood out as an excellent choice that allowed us smooth streaming directly in our Chrome browser. Parallels didn't disappoint us either, and gave us impressive gameplay results with Max resolution. The Boot Camp method pleasantly surprised us with the consistent frame rate it offered, and with PlayCover, the game worked like a charm on our M1 Pro. Below you will see a guide with instructions for each of the methods, plus an overview of our experience.
Honkai: Star Rail Mac Methods & Instructions
Boosteroid is an independent cloud gaming platform that integrates all major vendors to its service and excels in adding support for the latest titles before other platforms. Read our review on Boosteroid. Look at our Boosteroid list of games.
Editor's choice: we recommend Boosteroid as a starting point for most Mac users because of its plug-and-play nature and overall performance. It is especially useful for its constant 60 FPS even on modern titles, while not causing your Mac to overheat or requiring tens of gigabytes of storage.
Features:
Constant 1080p/60 FPS
Stable connection; Low bandwidth requirements (15 MBPS)
Huge gaming library with all the latest AAA titles
Parallels is the best Windows virtualization tool available for Mac. It lets you create a Windows 10 or 11 Virtual machines directly on macOS and then use the VM to run a variety of Windows-compatible software, including games.
Features:
Provides you with Windows OS functionality without the need for a separate Windows installation.
Easy to set up and doesn't take much space.
The only option to get Windows on an Apple Silicon Mac.
Boot Camp Assistant is a built-in Apple app that comes pre-installed on Intel-based Mac models. With its help, users can install the Windows 10 OS in a separate partition on their Macs. Booting from that partition allows the Mac to function exactly as a Windows PC and lets it run all compatible software.
Note: Not available for Apple Silicon models.
Features:
Provides native Windows 10 experience.
Allows running all Windows-compatible programs and games as long as the Mac's hardware can support them.
PlayCover is an emulation tool that makes it possible to run iOS software on M1 and M2 Macs, and this includes mobile games. To play mobile games through PlayCover, you can use a controller that you connect to your Mac, but the great thing about this app is that it lets you customize your key bindings so that you can use your keyboard and mouse to play the game if you don't have/don't want to use a controller.
Note: not availalbe for Intel-based Macs
Features:
Emulates iOS games to be playable on Mac
Advanced customization options, including custom key-bindings
Honkai: Star Rail on Mac: Our Experience
Based on the results we got from our testing, we recommend Boosteroid and Parallels as the top choices to play Honkai: Star Rail on Mac. While both methods have their strengths, Boosteroid is ideal for those who prioritize ease of use and want to dive into the game hassle-free. Parallels, with its performance optimization, is a great choice if you have a well-equipped Mac and are comfortable with a slightly more intricate setup. Of course, your choice should align with your Mac's capabilities and your preference for cloud or local gaming.
With Boosteroid, playing Honkai Star Rail on Mac was a straightforward experience: a few clicks after logging into our account, we were in the game, and we were genuinely impressed by the consistency in performance the service delivered. What made things convenient for us was the absence of extensive downloads or complex installations. This hassle-free approach made this cloud gaming service our top choice for enjoying Honkai Star Rail on Mac as it gave us an accessible and efficient gaming experience that left us thoroughly satisfied.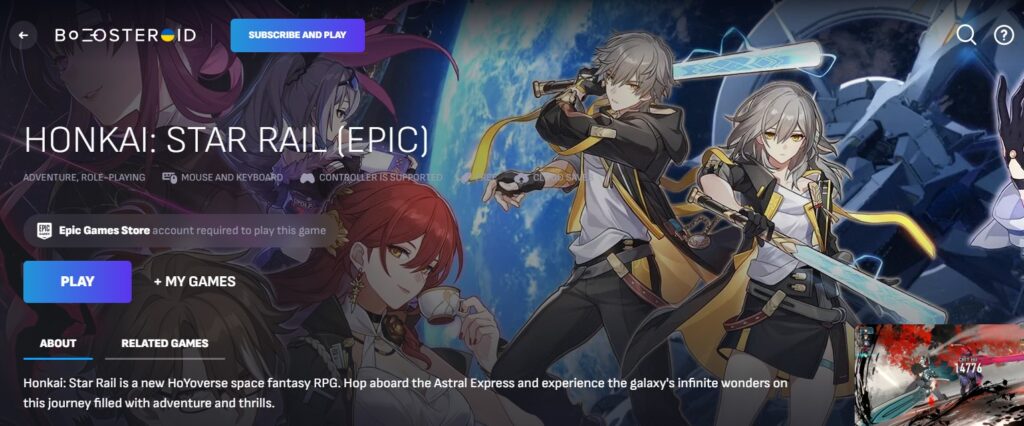 The high number of Mac users asking when they can play the game in the cloud shows that Boosteroid is not only our top choice, but also a trusted service for many others, who seek an easy way to enjoy games on macOS without native support.

Playing Honkai Star Rail using Parallels was also a pleasant experience for us. Our M1 MacBook Pro, equipped with 16 GB of RAM, handled the game well, and we experienced smooth and consistent performance with maximum resolution (with Retina enabled) and graphics set at Very High. This allowed us to conclude that this method proves effective for players looking to have Honkai: Star Rail MacBook fun without compromising on graphical settings or performance.
While testing Honkai Star Rail on Mac via Boot Camp, we were delighted to find that the game ran smoothly on our MacBook Pro with an Intel Core i7 processor and 16 GB of RAM, and maintained a steady 60 FPS at medium settings and 1080p resolution. This setup gave us no hiccups and, even during fast-paced moments in the game, we enjoyed stable visuals, which presented Boot Camp as an ideal choice for those who value both performance and compatibility.
The last test that we performed was with PlayCover, and it left us truly impressed. The game ran exceptionally well, with efficient keyboard mapping despite the lack of controller support. The standout feature was the game's 120 FPS mode, which provided us with a smooth and visually stunning experience. What pleasantly surprised us was how light the game was on system resources – our M1 Pro Mac delivered nearly 5 hours of battery life without any noticeable issues, even when running the game at maximum settings. A key challenge that not only us, but some other players faced, however, is the need to redownload the entire game with each major patch, which can be time-consuming.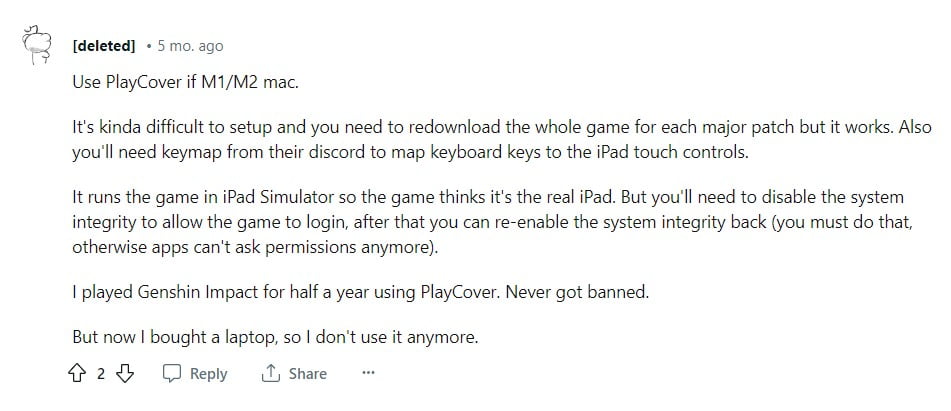 Are there other games like Honkai: Star Rail on Mac?
If you're a fan of Honkai: Star Rail and are eager to explore similar games on your Mac, we highly recommend titles like Genshin Impact. Our team found this game to be a fantastic choice due to its breathtaking open-world environment, diverse character roster, and enchanting magic system. This game offers hours of immersive gameplay and the opportunity to discover a variety of unique abilities as you explore its captivating world. We even prepared a guide on how to play Genshin Impact on Mac, which is an excellent starting point that can help you join in the adventure.