The next installment in the Risk of Rain series, Risk of Rain Returns, is now out, and we were excited to try it out on our Macs. Only, the game doesn't have a macOS version, so we needed a workaround. After a bit of research, we did manage to find four working ways of playing it on a Mac machine: Boosteroid, CrossOver, Parallels, and Boot Camp. We tested each of them and then made this post to share our findings with you, hopefully helping you pick the best option for you.
The 3 methods to play Risk of Rain Returns on Mac + Instructions
We assume that a lot of you would rather directly jump into the game and figure out for yourselves which of the methods works best for you, so here are the three working ways to play Risk of Rain Returns on Mac machines. And in case you want to check out our experience with these three options, you'll find the overview we've written right below the next table.
Boosteroid is an independent cloud gaming platform that integrates all major vendors to its service and excels in adding support for the latest titles before other platforms. Read our review on Boosteroid. Look at our Boosteroid list of games.
Editor's choice: we recommend Boosteroid as a starting point for most Mac users because of its plug-and-play nature and overall performance. It is especially useful for its constant 60 FPS even on modern titles while not causing your Mac to overheat or requiring tens of gigabytes of storage.
Features: Constant 1080p/60 FPS; Stable connection; Low bandwidth requirements (15 MBPS); Huge gaming library with all the latest AAA titles
CrossOver acts as a compatibility bridge that enables Windows-based applications to seamlessly run on macOS by translating their underlying code. It comes with a straightforward user interface and speedy setup process, although gaming performance and stability can vary among different titles. It's essential to recognize that emulated games generally offer somewhat suboptimal performance compared to their native counterparts. Therefore, CrossOver truly shines when utilized on relatively powerful Apple Silicon machines, especially those equipped with the M1 Pro or higher, which ensure a much smoother and more enjoyable gaming journey.
CrossOver and Apple's Game Porting Toolkit: As of recently, the powerful Game Porting Toolkit translation layer got integrated into CrossOver, making it possible for DirectX 12 games to be run with it. This makes CrossOver the current best option for downloading and playing games on Apple Silicon Macs.
Features:
Makes it possible for Windows software to operate on macOS by converting their code.
Has an intuitive interface, simplifying the process of getting Windows software up and running on your Mac.
To achieve a smoother gaming experience, CrossOver is most suitable for users with an M1 Pro processor or higher.
Parallels is the best Windows virtualization tool available for Mac. It lets you create a Windows 10 or 11 Virtual machines directly in macOS and then use the VM to run a variety of Windows-compatible software, including games.
Features:
Provides you with Windows OS functionality without the need for a separate Windows installation.
Easy to set up and doesn't take much space.
The only option to get Windows on an Apple Silicon Mac.
Boot Camp Assistant is a built-in Apple app that comes pre-installed on Intel-based Mac models. With its help, users can install the Windows 10 OS in a separate partition on their Macs. Booting from that partition allows the Mac to function exactly as a Windows PC and lets it run all compatible software.
Note: Not available for Apple Silicon models.
Features:
Provides native Windows 10 experience.
Allows running all Windows-compatible programs and games as long as the Mac's hardware can support them.
Our experience with testing Risk of Rain Returns on Mac with Boosteroid
So, we decided to give Risk of Rain Returns a whirl on our Mac, using Boosteroid. You know, playing a game that's not originally meant for Mac always has its quirks, but we were curious – could Boosteroid really make it a smooth ride?
Setting everything up on Boosteroid was pretty much a breeze. We got ourselves signed up, picked a plan, and bam! We were all set to play Risk of Rain Returns. It's a big deal for us Mac users, right? Normally, we're jumping through hoops to get our hands on games that are pretty much PC-exclusive.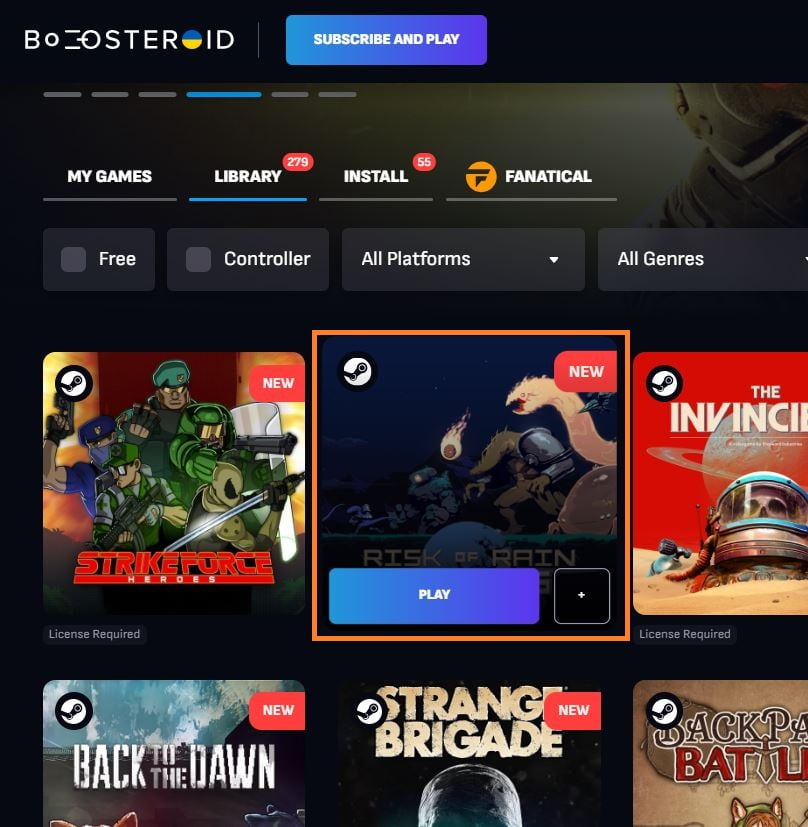 Playing the game on Boosteroid? It was pretty cool, actually. The graphics were crisp at 1080p – the game looked great, and the vibrant world of Risk of Rain Returns really popped on the screen. Sure, our experience leaned heavily on how solid our internet was. We had a steady 25 Mbps connection, which did the job nicely, though we did hit a few bumps with some lag spikes here and there. Not a dealbreaker, but yeah, it can get a bit annoying when you're in the thick of the game.
Now, let's talk about latency. It was there, but it didn't really bother us. We reckon the hardcore gamers might pick up on it more, but for casual players like us, it wasn't very noticeable.
Wrapping it up, here's the deal with Boosteroid and Risk of Rain Returns on a Mac: it's a solid choice. No, it's not like playing on a high-end gaming rig, but for us casual players who just want to dive into games that are usually off-limits on a Mac, it hits the spot. Boosteroid's got this cool way of balancing the techy stuff with the fun of gaming, making it a neat option for Mac gamers who want a taste of the action without all the usual hassle.
Running Risk of Rain Returns on M1 MacBook Air with CrossOver
Unlike Boosteroid, CrossOver actually allows you to download Risk of Rain Returns on your Mac and run it locally by providing a translation layer that enables your macOS to run the game. This is another very popular Mac gaming solution that lets you play many different unsupported games on Mac machines. However, not all games run equally well with this workaround, and some require additional tinkering and debugging to get them to work stably.
Fortunately, as we found out in our testing, Risk of Rain Returns was among the titles that ran well straight out of the box. The test was performed on a M1 MacBook Air, where we got a stable 60 FPS rate without any bugs, crashes, or other irritating issues.
The CrossOver bottle settings we used were an enabled ESync and disabled DXVK and D3DMetal. Later, we also tried enabling the DXVK layer and there wasn't any notable difference. After that, we also tried the D3DMetal setting, but then the game wasn't able to start, so you shouldn't use this for this particular game.
To conclude, CrossOver offers a good alternative for playing Risk of Rain Returns on Mac. We can't say it's better than Boosteroid, since the latter is generally more reliable when it comes to playing other games. Still, CrossOver is definitely a great option for Risk of Rain Returns, and we do recommend it.

Risk of Rain played on Mac with Parallels and Boot Camp
Parallels and Boot Camp are two more options to play Risk of Rain Returns locally on Mac. The first method – Parallels – creates a Windows virtual machine within macOS and lets you run most types of Windows software in it. Boot Camp goes a step further, separating your hard drive into two partitions and installing Windows 10 in one of them, where you can then run pretty much any Windows game as long as your Mac's specs meet that game's requirements.
Testing Risk of Rain Returns with Parallels
Of the two methods, only Parallels works on Apple Silicon machines, so we tested Risk of Rain Returns with it on our M1 MacBook Pro.
An important note about Parallels is that its virtual machine (where the game is running) can use only half of your Mac's hardware resources, so gaming performance will generally be worse compared to CrossOver, where your Mac can spend all of its CPU and GPU power on the game.
However, in the case of an undemanding game such as Risk of Rain Returns, we didn't face any performance problems. Sure, we were getting a bit fewer FPS on average (around 45-50), but it was still definitely playable. That said, if you also want to play other, more demanding games, CrossOver and Boosteroid are the better options.
Testing Risk of Rain Returns with Boot Camp
Finally, we also tried Boot Camp on an older Intel-based MacBook Pro from 2016. With Boot Camp, we installed Windows on the machine and then installed and launched the game in the Windows partition.
Like with the other methods, there weren't any bugs or crashes and everything worked as intended. Since this is a weaker Mac, the performance was a bit worse since, with an average FPS of around 40, but Risk of Rain Returns was still definitely playable.
However, our MacBook soon started to get really hot to the point where it became unpleasant. This is typical for playing games locally on Intel-based Macs, so it wasn't a surprise and it didn't affect the performance. Still, for users with Intel MacBooks, choosing cloud gaming is likely the better option overall due to the overheating issue.