Starfield is likely the biggest game for 2023, and as we all know, big games rarely come to Mac. In other words, to enjoy this expansive new open-world adventure on an Apple machine, we'll need to get creative. Luckily, there are several interesting variants that can grant us what we want: a way to play Starfield on our Macs. After extensively testing those variants, it's now time to tell you about them in case you're also itching to join in on the fun.
Picking the best method to play Starfield on Mac
Of all the options for playing Starfield on Mac that we explored, the ones we concluded are worth being recommended are Boosteroid, Xbox Cloud Gaming, and GeForce Now, and Boot Camp. The first three are cloud gaming services, and the fourth lets you install Windows on Intel Macs and then run locally the Windows version of the game.
We'll tell you in a moment about our experience with each of the methods suggested here, but if you don't have the patience and want to jump straight to it, here's a quick summary to help you choose the method that's best for you, after which you can find more detailed information about it from the table below:
Boosteroid and GeForce Now – We recommend these two if you want to purchase Starfield and play it with mouse and keyboard controls, and if you have a good Internet connection.
Xbox Cloud Gaming – This method is best for users who have a Mac-compatible game controller and who prefer to have the game included as a part of their cloud service subscription as opposed to purchasing it. Fast and stable Internet is also a requirement here.
Bootcamp – This variant is only viable to very high-end Intel-based Macs with lots of free space and an adequate GPU.
Below are the instructions for each of the recommended methods:
Boosteroid is an independent cloud gaming platform that integrates all major vendors to its service and excels in adding support for the latest titles before other platforms. Read our review on Boosteroid. Look at our Boosteroid list of games.
Editor's choice: we recommend Boosteroid as a starting point for most Mac users because of its plug-and-play nature and overall performance. It is especially useful for its constant 60 FPS even on modern titles while not causing your Mac to overheat or requiring tens of gigabytes of storage.
Features: Constant 1080p/60 FPS; Stable connection; Low bandwidth requirements (15 MBPS); Huge gaming library with all the latest AAA titles
Xbox Game Pass is a library solution owned by Microsoft. Its main attractive points are the ability to play hundreds of titles at the price of a monthly subscription and the access to a cloud gaming service that supports the majority of those games.
Features:
Access to hundreds of games without the need to purchase them individually.
Ability to play the Game Pass titles on any device through the Xbox Cloud Gaming service.
GeForce Now is the most well-known cloud gaming service at the moment, and it also has the biggest gaming library out there. Additionally, this is the only cloud gaming service that currently features a free option.
Features:
A free (albeit limited) subscription plan.
Ability to play with 4K and 120 FPS and use RTX technology with its Ultimate plan.
Supports upwards of 1500 games.
Boot Camp Assistant is a built-in Apple app that comes pre-installed on Intel-based Mac models. With its help, users can install the Windows 10 OS in a separate partition on their Macs. Booting from that partition allows the Mac to function exactly as a Windows PC and lets it run all compatible software.
Note: Not available for Apple Silicon models.
Features:
Provides native Windows 10 experience.
Allows running all Windows-compatible programs and games as long as the Mac's hardware can support them.
Playing Starfield on Mac – our experience with the different methods
So, we tested Starfield on our Mac with each of the mentioned workarounds, except Boot Camp (more on that in a moment), and now it's time to tell you about the results from our research, in case you want some more information before committing to a particular method.
Cloud Gaming
As you can already tell, most of our testing was done using one cloud platform or another. This means that it doesn't really matter what hardware we use during the tests, because the game is streamed to use from a souped-up gaming machine that does all the heavy lifting. Still, the machine we used with each of the three cloud services was a M1 Pro MacBook Pro with 16 gigs of memory.
Boosteroid and GeForce Now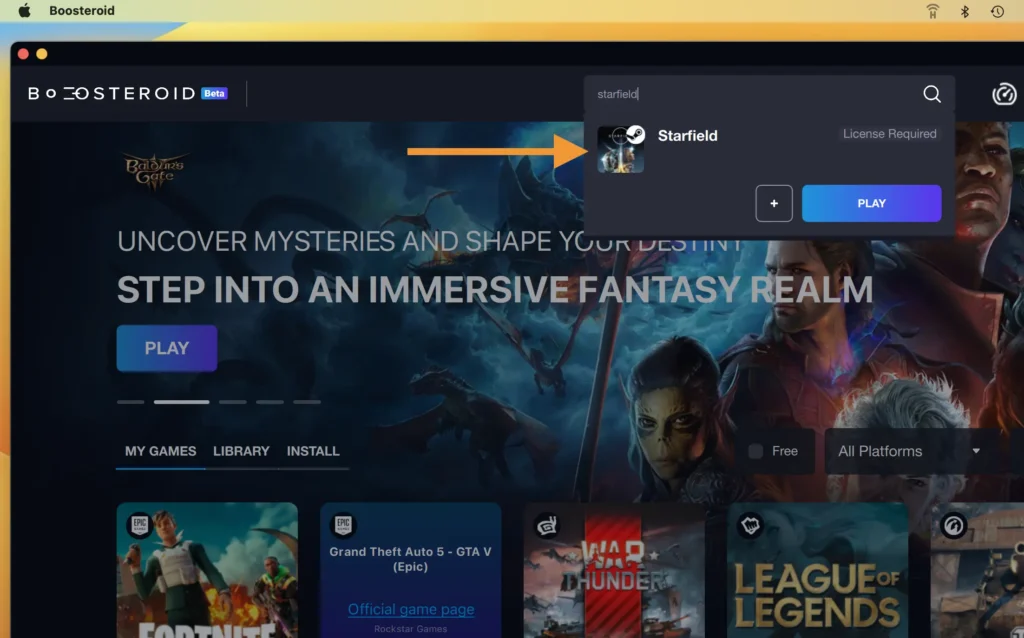 We ran Boosteroid and GeForce Now through their respective macOS apps for a lower packet loss, but you can also use both services directly from your browser. Our plans for the two services are quite similar, both letting us play at 1080p resolution and 60 FPS which, admittedly, leaves out some of the graphical splendor of Starfield, but it's still perfectly enough to enjoy the game.
The Internet we used while streaming the game has a speed of 25 Mbps and a latency of around 40-45 ms. Generally, this isn't ideal for cloud gaming, but we were pleasantly surprised to see that, with Boosteroid, there wasn't much stuttering due to lag spikes and the image quality stayed consistent for the majority of our gameplay sessions. And since Boosteroid doesn't limit the length of your session, we spent a good 4-5 hours taking turns to play the game.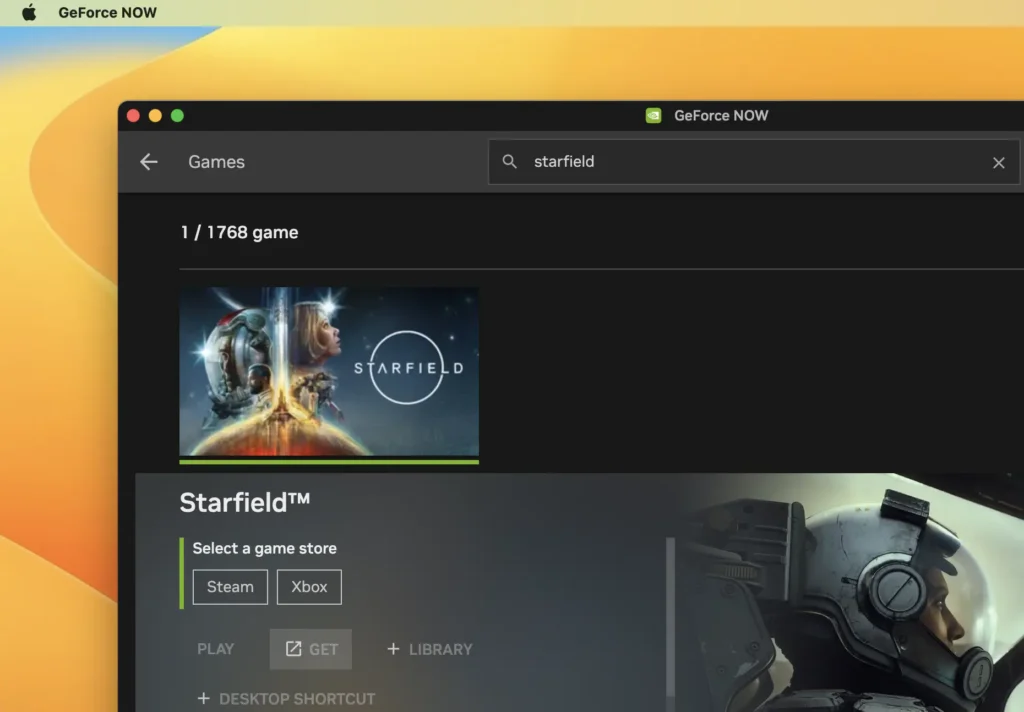 GeForce Now felt a bit more unstable when our Internet was misbehaving, but its client gives a lot of customization options. So after a bit of tinkering, aimed at reducing how much bandwidth is being used during the streaming, we were able to lower the amount of stuttering to a point where it didn't bother us.
Overall, we were satisfied by our experience with both services, and we can even recommend them to Windows PC users, whose machines aren't powerful enough to run Starfield with decent performance.
Xbox Cloud Gaming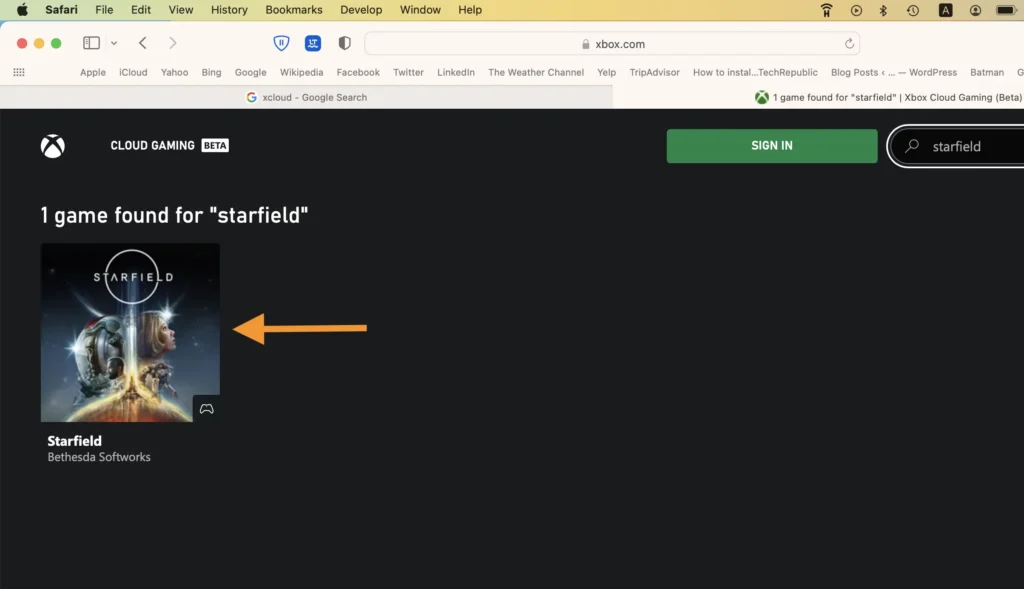 Using Xbox Cloud Gaming is a bit different from the other two cloud services. To gain access to it, you need to subscribe to the Xbox Game Pass Ultimate, and this subscription also lets you grants you access to a huge gaming library. You can play most of the games available in the library through the Xbox cloud platform without needing to own the games (think of it like Netflix for games). This makes the Game Pass/XCloud option great if you haven't purchased the game yet and would prefer to simply "rent it" and stream it.
As for our experience with this cloud service, since it doesn't have a native macOS app, we ran it in the browser, but it surprised us with its stable streaming and consistent image quality. This service, too, provides 1080p and 60 FPS, but we found that the Microsoft Edge 'Clarity Boost' significantly improved the visual fidelity while gaming with XCloud.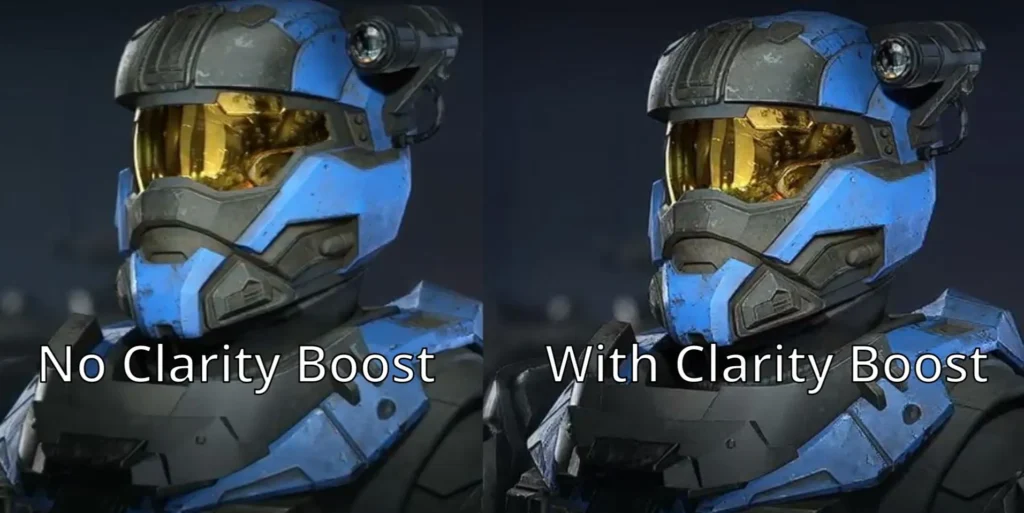 One aspect of XCloud that may be a downside for some is that it uses console controls, so you'll need a controller connected to your Mac while playing Starfield (or any other game) through this service. The alternative is to use a browser attachment that translates keyboard and mouse inputs to console controller commands. Since we didn't initially have a controller during our tests, we tried the browser extension and though it let us play the game, the experience was subpar due to the emulated controls. Later, we tried again with a controller, and then the experience was much better and making the XCloud option as good as the other two cloud platforms.
Boot Camp
Since this method involves running the game locally, it requires a Mac that meets the system requirements of the game, which are particularly high. Unfortunately, but unsurprisingly, we do not have a powerful enough Intel Mac that can even attempt to start the game.
In fact, we weren't sure that such a Mac even exists, so we did some research, comparing the Windows requirements for Starfield with available Intel Mac hardware, to see if there was any overlap. What we concluded is that, in order to reliably run Starfield through Boot Camp, the Intel Mac you'll need will have to be either a later Mac Pro or iMac Pro model with a higher-end GPU configuration that has at least 8GB of VRAM, but preferably 12.
Note that this is in the realms of theories and speculation, and we can't guarantee that Starfield will run on such a Mac, but if there's an Intel-based Apple machine that can run this game, it should be one of these two. In either case, the Boot Camp method is pretty much unusable as a way to play Starfield on Mac due to the hardware limitations of Intel-based Mac machines. As such, we obviously do not recommend it.
What about GPTK?
Some of you may be wondering if it's possible to play Starfield on an M1/M2 machine with the help of Apple's Game Porting Toolkit. We asked ourselves the same question and after some research, we learned that the game's requirement for AVX, which is something that M1 and M2 Macs do not support. In other words, even if someone gets through all the debugging required to get the game to work in GPTK, it still won't run on an Apple Silicon machine, leaving cloud gaming as the only alternative to enjoying Starfield on an Apple computer.
Conclusion
Starfield is certainly not among the games suitable for local play on a Mac, even with the help of workarounds such as Boot Camp or the Game Porting Toolkit, but its availability on several cloud services still provides Mac users with a valid way for playing this game. In fact, we suspect that a lot of PC owners are also choosing to stream the game, as it is so demanding that only high-end gaming rigs are currently able to run it with decent performance.