As fans of FNaF, and avid Apple users, we totally understand the craving of many gamers to experience this indie franchise on Mac. The lack of official macOS support, particularly for the recently popular FNaF: Security Breach, however, made us seek workarounds. In this article, we will share the experience we've gained along the way and the methods that helped us play FNaF on Mac. Our main focus was to get Security Breach to run on macOS, but we found that the local play methods that we tested with this game, may work for other FNaF titles too. 
FNaF Mac methods that we tested
As we explored the options, we found that there are five FNaF Mac methods that  are worth our attention – Boosteroid, GeForce Now, CrossOver, Parallels, and Boot Camp. But which one's the perfect fit for you? For FNaF: Security Breach, all roads are open, however, based on the results we got from our tests and the game's demanding nature, our top recommendation is cloud gaming. For other titles in the Five Nights at Freddy's franchise, you can choose from CrossOver, Parallels, or Boot Camp because they are not available on cloud gaming platforms at the moment. 
Recommended method – works for FNaF: Security Breach only
Boosteroid is an independent cloud gaming platform that integrates all major vendors to its service and excels in adding support for the latest titles before other platforms. Read our review on Boosteroid. Look at our Boosteroid list of games.
Editor's choice: For the majority of Mac users, we highly recommend starting with Boosteroid as it is user-friendly and delivers outstanding performance. What sets it apart is its unwavering 60 frames per second, even on the latest and most demanding games, all without pushing your Mac to its limits or eating up massive amounts of storage space.
Features: Constant 1080p/60 FPS; Stable connection; Low bandwidth requirements (15 MBPS); Huge gaming library with all the latest AAA titles
Note: Works for FNaF: Security Breach only
GeForce Now is the most well-known cloud gaming service at the moment, and it also has the biggest gaming library out there. Additionally, this is the only cloud gaming service that currently features a free option.
Features:
A free (albeit limited) subscription plan.
Ability to play with 4K and 120 FPS and use RTX technology with its Ultimate plan.
Supports upwards of 1500 games.
Note: works for FNaF: Security Breach
CrossOver acts as a compatibility bridge that enables Windows-based applications to seamlessly run on macOS by translating their underlying code. It comes with a straightforward user interface and speedy setup process, although gaming performance and stability can vary among different titles. It's essential to recognize that emulated games generally offer somewhat suboptimal performance compared to their native counterparts. Therefore, CrossOver truly shines when utilized on relatively powerful Apple Silicon machines, especially those equipped with the M1 Pro or higher, which ensure a much smoother and more enjoyable gaming journey.
Features:
Makes it possible for Windows software to operate on macOS by converting their code.
Has an intuitive interface, simplifying the process of getting Windows software up and running on your Mac.
To achieve a smoother gaming experience, CrossOver is most suitable for users with an M1 Pro processor or higher.
Note: works for FNaF: Security Breach and Five Nights At Freddy's
Parallels is a Windows virtualization tool available for Mac. It lets you create a Windows 10 or 11 Virtual machines directly on macOS and then use the VM to run a variety of Windows-compatible software, including games.
Features:
Provides you with Windows OS functionality without the need for a separate Windows installation.
Easy to set up and doesn't take much space.
The only option to get Windows on an Apple Silicon Mac.
Note: works for all FNaF games
Boot Camp Assistant is a handy app that's included with Intel-based Mac computers right from the start. It helps you set up Windows 10 on your Mac in its own special section. Once you do that, you can start your machine from that section, and it can work as a full-fledged Windows PC, so, you get the best of both worlds, Mac and Windows, all in one computer.
Note: Not available for Apple Silicon models.
Features:
Provides native Windows 10 experience.
Allows running all Windows-compatible programs and games as long as the Mac's hardware can support them.
Our experience with FNaF on Mac 
During our attempts to play FNaF: Security Breach on Mac, we carefully researched and experimented with the methods above and came across various gaming experiences and limitations. In this section, we'll share our insights into how each method performed, as well as the challenges we encountered.
Can you play FNaF on Mac with cloud gaming (Boosteroid and GeForce Now)
Our experience with both Boosteroid and GeForce Now was quite positive, offering us a smooth gaming experience with minimal lags and an average FPS of around 57-60. Both services maintained consistent image quality. Interestingly, we also came across a Reddit user who shared a unique issue with GeForce Now while trying to access the Fnaf: Security Breach Ruin DLC. The problem arose due to GeForce Now initiating the game's launch before the DLC fully downloaded, causing the game to think it was missing.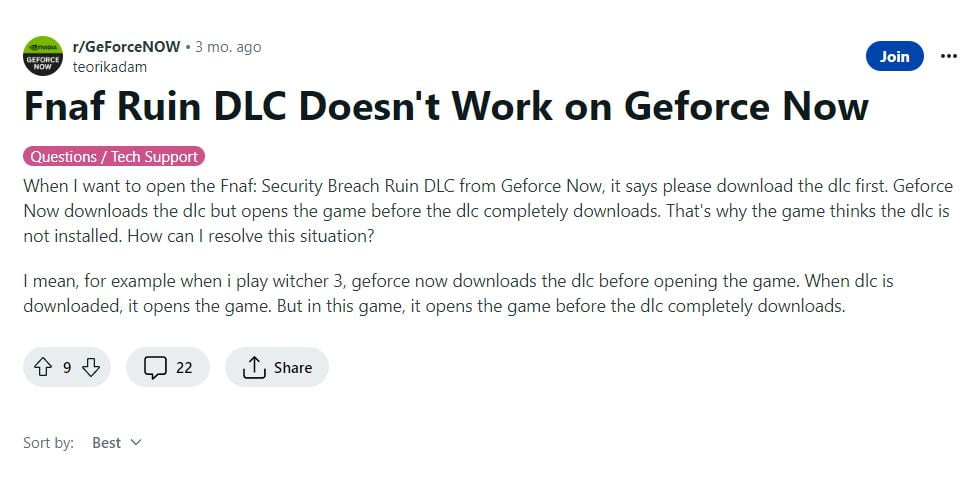 A suggested workaround involved swiftly canceling the game launch through the library, which triggered the DLC download. While we didn't test this fix ourselves because we didn't encounter this problem during our testing, it appeared to work based on the user's experience.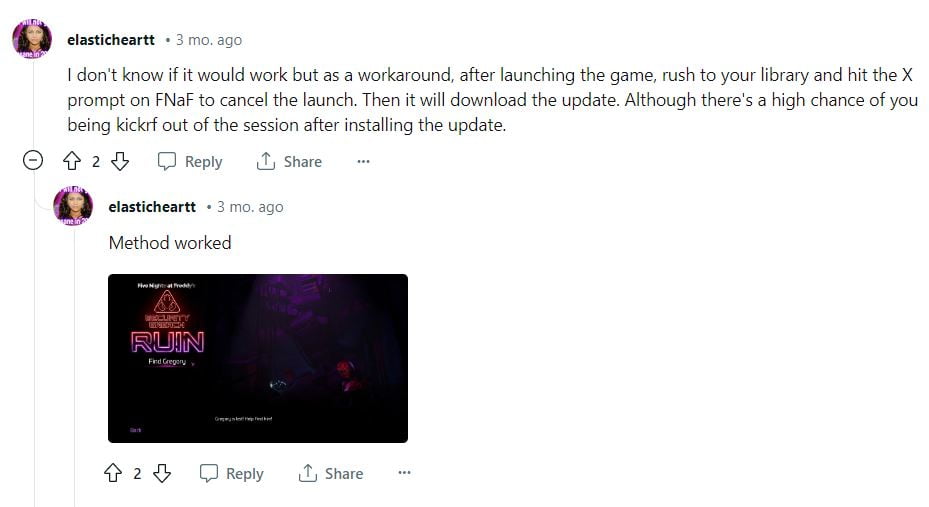 How to play FNaF on Mac with local play methods
The first local method that our team tried for playing FNaF SB on Mac was Crossover and the Game Porting Toolkit. We opted for an M1 Pro-powered MacBook Pro, boasting 32 GB of memory, and the results were pleasantly surprising. With this setup, we enjoyed a consistent 80-120 FPS on medium settings, and maintained a resolution of 1920×1080. It's important to note that while our experience was smooth and fluid, users with the M1 chip can expect varying performance and slightly lower frame rates, averaging around 40-60 FPS. However, this frame rate range still ensures an enjoyable gaming experience, making this local method a compelling choice for Mac gamers.

When we tried to run Security Breach using Parallels on a MacBook Pro from 2021, specifically the M1 Max variant with 32 GB of memory, the performance was not optimal. Even on the robust M1 Max, the game gave us a less than satisfactory frame rate that fluctuated between 15-40 FPS at a resolution of 1920×1080, which significantly impacted the gaming experience. When we researched further, we found that other users have also had a less than ideal performance with this method, and our tests show that nothing much has changed.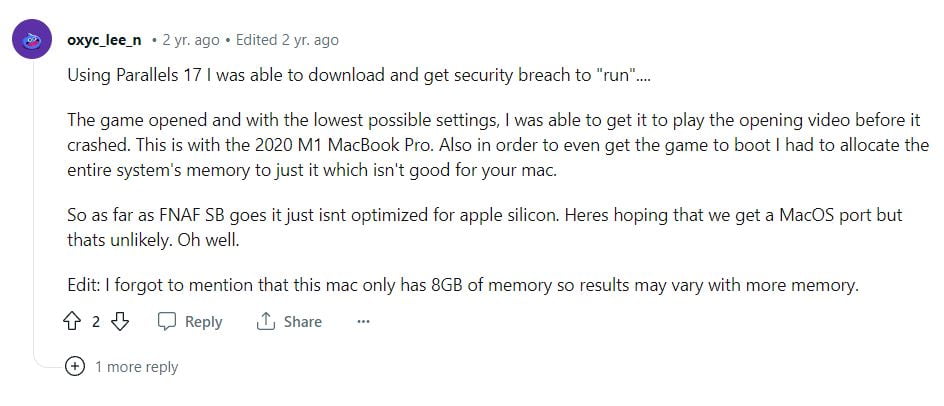 With BootCamp, we ran the Windows version of the game on an Intel-based 2019 16" MacBook Pro equipped with 16GB RAM, and what we got was a gaming experience at about 30 FPS with a resolution of 1080p. We did not face major image drops or stuttering, which allowed us to put the BootCamp method as the second best in the local gaming options.
We haven't tested all FNaF titles using this method, but our experience with Boot Camp suggests that it should be a viable option for enjoying these games on your Mac, provided your system is robust enough to accommodate the installation and operation of the Windows OS alongside macOS.
Are there other games like FNaF for Mac? 
If you're a fan of Five Nights at Freddy's and looking for similar thrills on your Mac, there are several games we think you'll enjoy. Try "Emily Wants to Play" for a nerve-wracking encounter with creepy dolls and eerie sounds as you explore a haunted house. "Hello Neighbor" offers suspenseful stealth gameplay as you sneak into your neighbor's house to uncover his secrets. For a different kind of horror, "Soma" takes you deep underwater in an atmospheric, story-driven game filled with mystery. "Bendy and the Ink Machine" combines puzzle-solving and jump scares in a vintage animation studio. These games are sure to give you the chills, just like FNaF!